PMP Training Course Materials
Have you checked Amazon or course materials from some of the PMP certification training companies lately? They replace the nearly 1000 page PMBOK® Guide with another 1000 page book or worse, create another combined 3000 pages of content to read and digest!
While most companies focus on providing copious content without paying attention to quality, PMTI believes that a PMP certification training course should address and tailor each student's needs while maintaining the highest quality for success in the exam on the first try.
So, our course material is designed to be comprehensive, targeted, and is feedback-driven. Our instructors, PMBOK® Guide authors, and veteran trainers, prepare our course material incorporating modern learning techniques and latest exam updates to prepare you exceptionally for this challenging exam.
Here is what you'll get in our class:
1. PMP Certified Instructors
Everyone has their own learning pace. That's why every instructor in 4PMTI is trained to recognize your strengths and weaknesses and will adapt the PMP training module to suit your individual needs. To ensure you learn from proven and experienced facilitators, we hire those who trained at least 1000 or more PMP aspirants, have great reviews, and have a high success rate.
To deliver a customized training personalized to you, our instructors hold multiple certifications from PMI and other institutions, such as Program Management Professional (PgMP®), Portfolio Management Professional (PfMP®), PMI's Risk Management Professional (PMI-RMP®), PMI Scheduling Management (PMI-SP®), Ph.D., CSSMBB, CSM, PMI-ACP, Certified Disciplined Agile Coach, and more.
2. PMP Exam Prep Books
You will receive four PMTI proprietary books when you enroll in the class. Instantly upon registration, you will receive the digital copies of PMTI course books. The hard copy versions of the books are shipped out directly to a student's shipping address immediately upon registration for virtual class participants or provided in the classroom for in-person class participants.
PMP Certification Exam Prep Blue Book (With PMP Exam Strategy)
The Blue Book will be your primary training & guide book during your 4-day PMP training boot camp class. The book is organized along the PMP exam outline defined by PMI.
About 70% of the content includes an overview, details, and useful examples of each of the 49 processes in the five process groups and the ten knowledge areas covered in the PMP certification exam using adult accelerated learning techniques. Since the exam covers material not discussed in the PMBOK® Guide, we also include additional content to address those questions.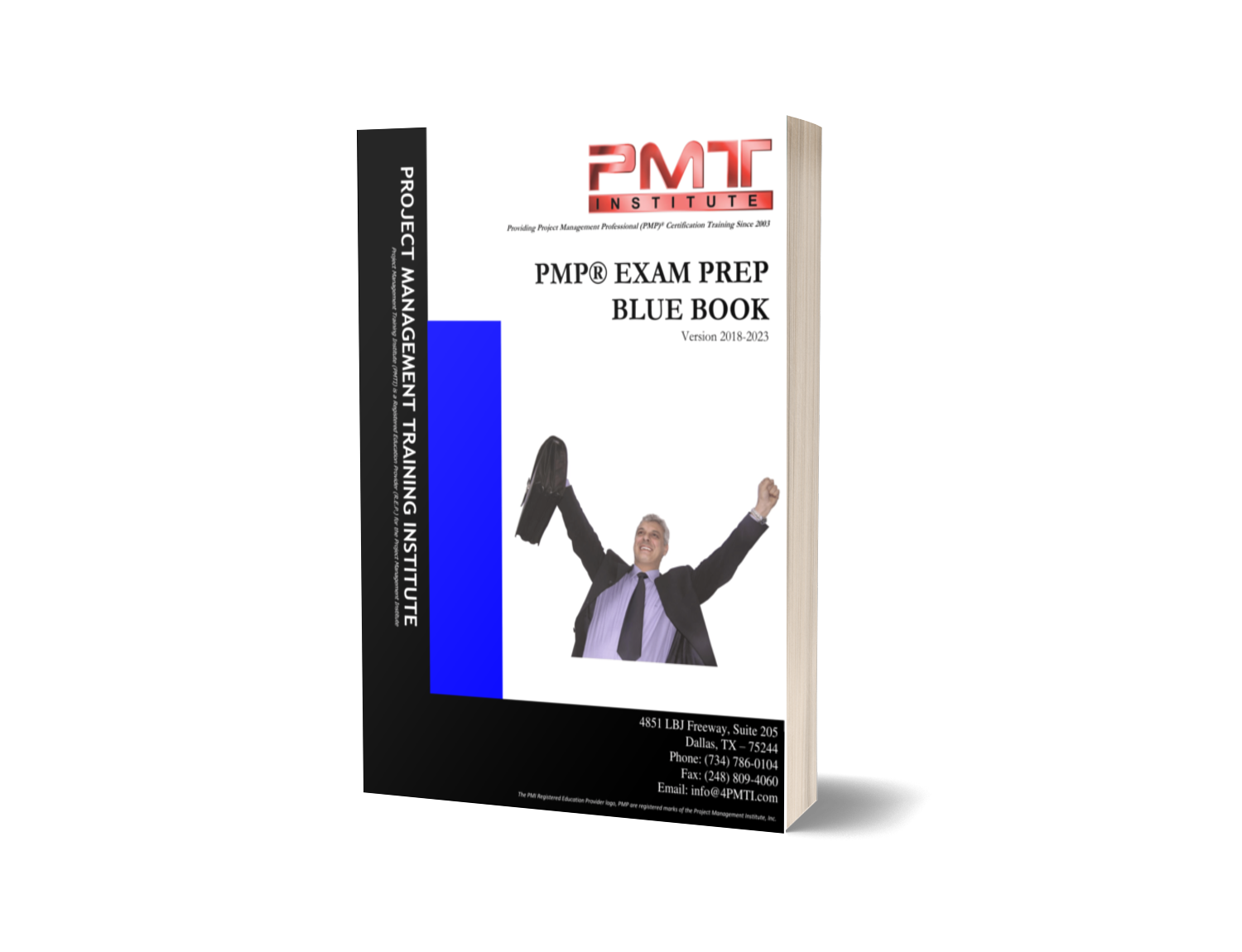 PMP Certification Exam Prep Brown Book
This Brown Book is a question bank with around 1,000 PMP certification test type questions for your practice.
It includes answers, full explanation, reasoning, the knowledge area & process group that corresponds to the questions and references to the topic. As students complete these mock PMP exams, the instructors do an in-depth analysis of the questions missed, so they are confident and better prepared. Our simulated online exam provides detailed analysis and breaks down your scores by knowledge area, process group, and provides areas of improvement.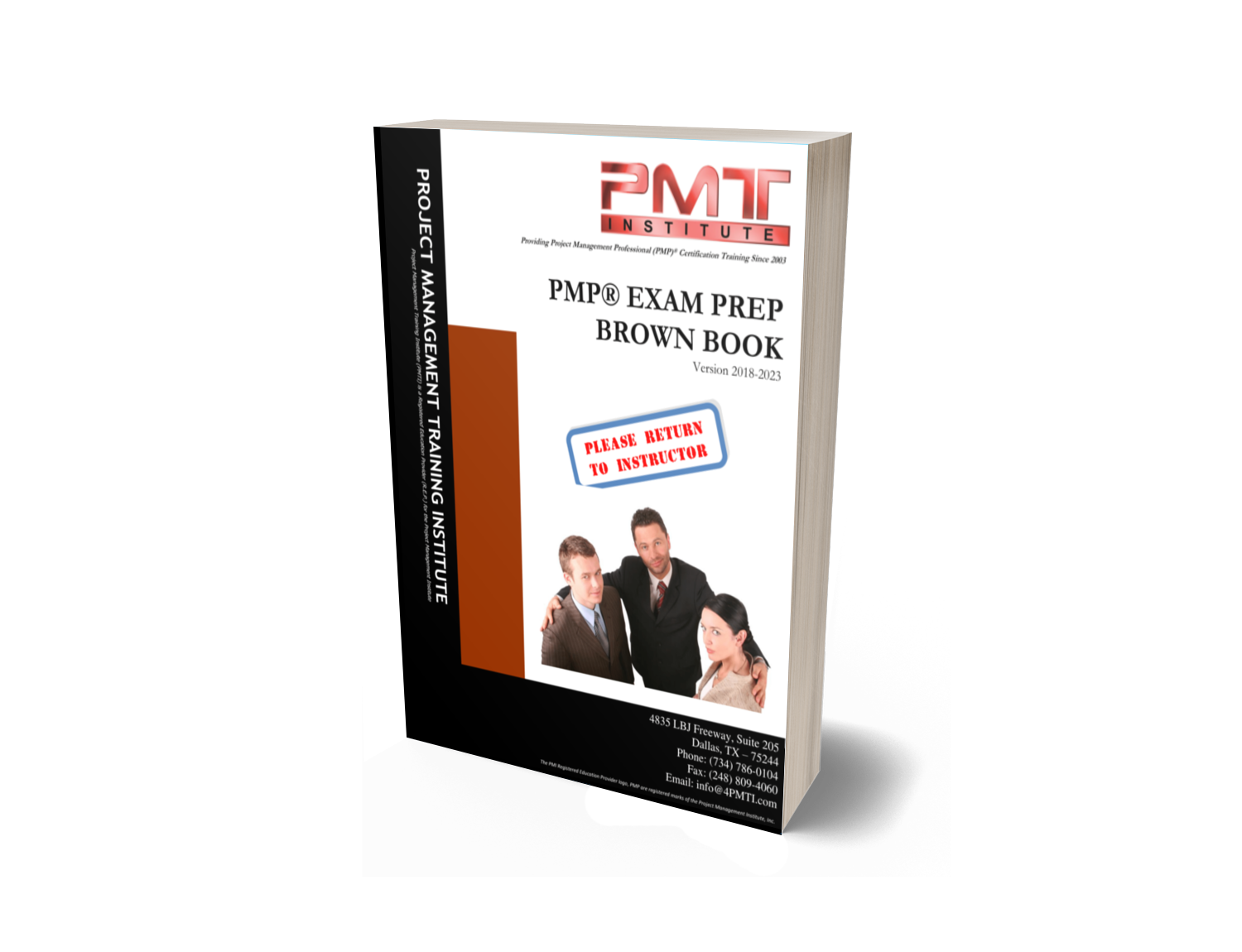 PMP Exam Strategy
The PMTI Blue Book features a special PMP strategy section on techniques that have helped 99% of our students pass the PMP exam. The students review the strategy section daily in class and apply it when taking the mock exams. Most students study it twice before taking the PMP exam.
Ten Knowledge Areas and Five Process Groups
Our blue book follows the PMP exam outline published by the Project Management Institute, so you prepare precisely for the appropriate content.
Agile Content
The PMP exam includes agile content that addresses emerging methodologies. PMTI course material will prepare you to answer agile related questions effectively.
PMTI PMP Process Flow Diagram
A critical area of PMP exam is to be able to answer questions about what a project manager would do next if a problem occurs or a situation occurs. Most companies do not broach this subject at all. We address this in-depth by walking our students through the entire project management business value chain using a process flow diagram.
PMP Exam Prep Chapter Questions
The questions you tackle in PMTI PMP boot camp in preparation for the PMP exam represent the real questions in terms of difficulty, completeness, length, and the type of questions. Other providers focus on providing thousands of outdated, long, easy, unfocused questions and do not cover the exam's content. Such question banks will not only waste your time but will mislead you.
PMP Exam Prep 4-Hour Mock Exam
The first three days of the class prepare the participants to crawl, then walk, run, and sprint.
On the last day, our course puts everything together to bring your preparation to fruition by conducting a 100% simulated PMP exam test to help you learn the intricacies and fix the gaps and shortcomings. Our tests will provide valuable analytical visual charts to demonstrate areas of improvement or strengths.
PMP Exam Prep After-Class Questions
PMTI recognizes that some may need additional preparation after the class. We provided extra questions to practice after class.
PMP Certification Exam Prep Grey Book
The Grey Book is an accompaniment to the Blue Book. It contains inputs, tools, techniques, and outputs (ITTOs) and distilled knowledge for the exam in a workbook format.
Knowing the key ITTOs and how they related to the processes is critical to answering "What does the project manager do?" or "What could the project manager have done to avoid?" questions. Practicing will help with recall during the PMP exam.
If you learn better by writing and engage your kinesthetic learning skills, this is a perfect aid! Students who struggle with terminology also find the gray book a great help in their preparation.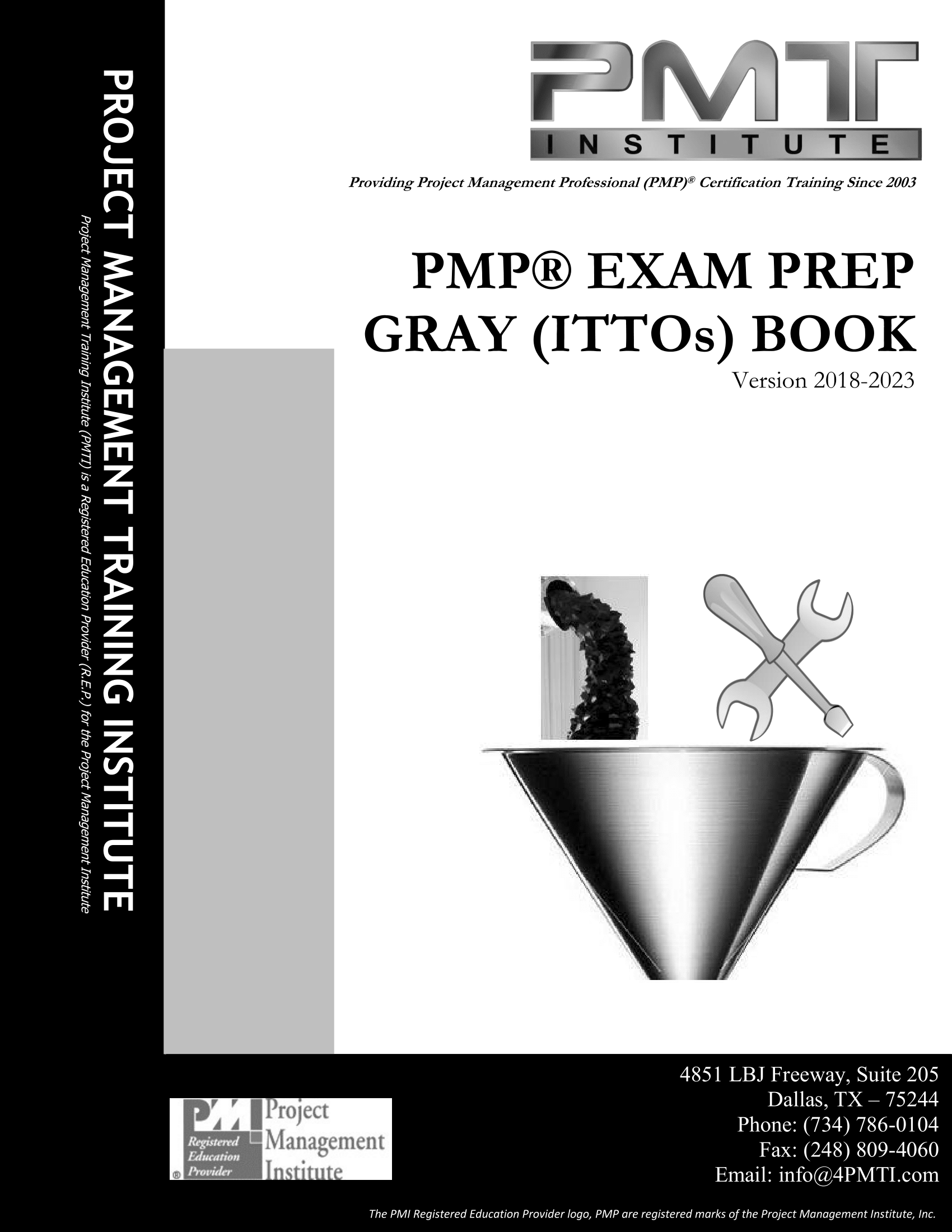 PMP Certification Exam Prep Orange Book
The Orange Book will provide you with useful templates and sample forms that you can use inside the class & for your future projects outside the class. Students who are visual learn by seeing examples of project management artifacts. If, for instance, a RACI chart description does not suffice, you will find a practical template in this book that you can use in your project.
Project Management Sample Template
It's filled with PMBOK® Guide methodology templates that outlines generally recognized best practices in the industry.
You can fill out examples representing real-life situations that appear in the PMP certification test in this book.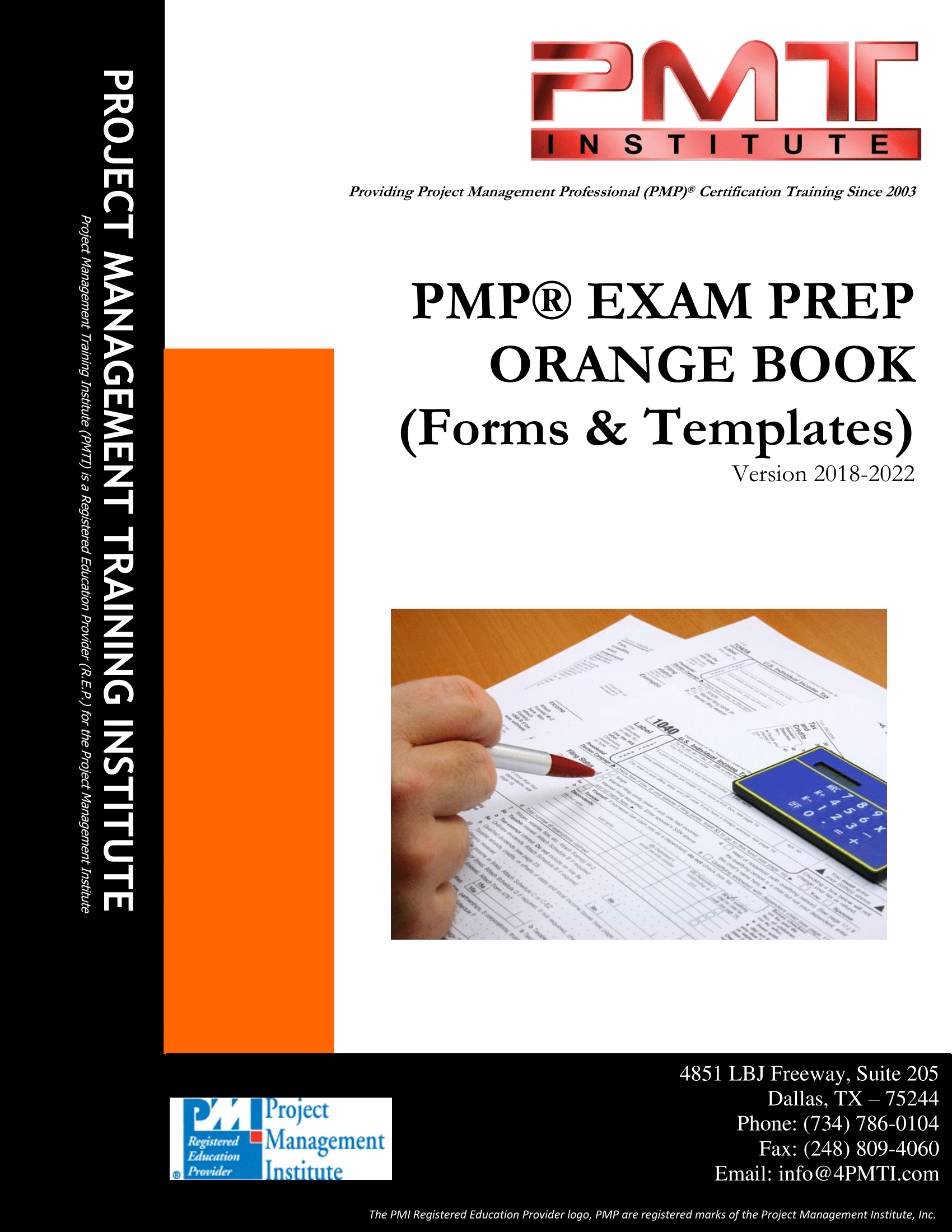 3. Online PMP Training Videos
Complimentary online PMP training courses
Our online PMP training course videos will help you prepare for your PMP certification exam as many times as you like.
Every online class is recorded and made available to participating students immediately upon completion for a quick rewind.
You can schedule your PMP exam right after completing your PMP training because our 35 contact hour online training course fulfills the requirement set by the PMI (Project Management Institute).
Complete recorded video of PMP training materials
Additionally, our in-class PMP training (Led by our Chief Training Officer) will also be recorded & available to you via our online platform. Our CTO, Yad Senapathy, brings his experience in contributing to the PMBOK Guide to these sessions.
You can review the recorded PMP training module & practice at your leisure.
You will hear and watch multiple instructors with different styles present for greater absorption of the information.
Complete recorded video of PMP training materials
You'll also receive over 15 hours of supplemental PMP training videos on critical pmp exam topics.
The materials cover Scope Management to Procurement Management and everything in-between, led by our Chief Training Officer. Besides helping you strengthen your PMP knowledge even more, these videos are jam-packed with practical advice that will help you become a better Project Manager.
4. PMP Certification Exam Success Kit
PMP certification exam diagnostic test
Measure your readiness to take the PMP certification exam & let our instructors personalize your training to your needs by taking our 200-question PMP certification diagnostic test. We suggest you do this test once before the class to gain a perspective of the PMP exam and learn about their areas of strengths and weaknesses. Once you determine the questions you missed, you can go back to the online books we provide and the videos to fill gaps or correct knowledge inconsistencies.
PMP certification success road map
The PMP certification process can be overwhelming. But don't worry because we've provided you with the PMP certification success road map, which will assist with time management, training plan, and ensuring you're on the right path to pass the PMP exam on your first try.
It breaks the entire process down into steps giving you the aids necessary to complete each of the steps quickly.
PMP certification application prep tool
To ensure that your application process is accurate & complete, we will also provide you with a PMP certification application prep tool to simplify your application process. The Excel-based tool describes the PMP exam requirements in understandable language and provides a simple way to document non-overlapping project management experience. You will also need to describe your deliverables in 200 words or less. This tool provides examples and a template to create your project descriptions quickly.
PMP memorization math & process sheet
Be extra prepared for your PMP certification exam with our memorization document that has been developed and refined by our PMP certified professional trainers over multiple iterations for more than 17 years. A custom-designed big poster of the PMP process flow diagram helps organize your thoughts about what happens next, what the project manager should do, and what ITTOs is the PM using within a specific process.
There is a 3-hour video to describe this entire process flow. We recommend an initial review before the class and another one a day before their exam. No wonder our students nail the "what do you do next?" or "What does the project manager do?" questions.
Most companies provide memorization sheets with irrelevant Math formulas such as critical path method and standard deviation. We focus on keeping our memorization sheets current with the exam specification.
5. Free 53 PDU's to Extend Your PMP Certification to 6 Years
After you completed your PMP certification process, we'll give you access to 2 complimentary online courses that'll give you an additional 53 PDU credits that'll allow you to maintain your PMP certification for three more years. These courses extend beyond PMP and provide you knowledge on "establishing a PMO" and learning about "organizational project management maturity."
Project Management Training Institute is the ONLY training company that offers you this benefit. Moving forward with us means you get an additional three years of PMP certification — 6 years in total. This unique benefit is part of our commitment to giving you the best value for money and helping you move up to the top of the corporate world and become ultra-successful.
6. 4PMTI's Swag Bag
You'll also receive a complimentary 4PMTI Swag Bag that includes an assortment of goodies like a free messenger bag, a luggage tag, pens, post-it notes & flags, and other trinkets that will be useful for your professional life.
7. Free PMTI Tutoring Sessions
Every week PMTI conducts a 2-3 hour exam review and rewind session with our CTO and PMBOK Guide contributor to the 5th and 7th edition. These are virtual sessions conducted on Zoom and GoToMeeting. Students rave about these sessions and use them extensively to answer troubling questions and dive deeper into difficult topics allowing you to learn and reinforce your knowledge. Most companies provide tutoring with an instructor reading from a coursebook or reading questions and correct answers from their question bank, which wastes your time and money. Our virtual sessions are a step up. We analyze students' problems, discuss concepts, and verify their learning with pop quizzes and mock exams.
8. PMTI PMP Course Reminders
PMTI sends timely reminders with what you need to complete before the class, as well as about the class sessions. These emails contain critical contact information for getting answers to your questions from PMTI and the instructor.
9. 35 Contact Hours
After you complete our 35 contact hours in-person/online class, you'll receive a course completion certificate stating you completed a PMI-approved course from a PMI Authorized Training Provider (PMI-ATP). The certificate verifies you have completed a PMI registered training course.
10. After Cass Survey and Support
When your class is complete, we collect anonymous and direct feedback from each of our students. If there are concerns, issues, or opportunities to improve a student's performance, they are noted and immediately addressed. Our instructors, staff, and chief training officer are available directly by email, phone, and Zoom virtual meetings. No other company provides access at this level.
As you can see, our course material, unlike other course providers' materials are designed to be concise, yet targeted to the goal of achieving your PMP certification. Our expert and effective instruction combined with precision course content and a high-utility online student portal is a guaranteed plan for success in the PMP exam. Don't delay! Join one of our PMP certification training courses today!
---