Communication is an essential tool to help us connect with others. It is a fundamental attribute to our day-to-day lives. If communication is effective, others can grasp your information quickly and act upon it. The lack of effective communication may lead to misunderstanding, ill-formed decisions, misconceptions, and errors. The term 'Effective Communication' might sound easy, but it is challenging to master in reality. Many conversations do not mean that you are communicating. This is why the PMBOK Guide - Sixth Edition has included team communication as a critical knowledge area in the PMP examinations.
Importance of Effective Communication in an Organization
Every year, miscommunication costs companies an average of $420,000. Organizations prefer to hire managers with good communication skills, as effective team communication results in increased work efficiency. Expert Market's survey says that 28%of employees were unable to deliver work on time, citing poor communication as the reason. Efficient team communication results in good productivity, clarity of tasks, and realization of the team's target timelines.
In an organization, a project manager's communication channels are as follows:
Managers communicate with their team;
Managers communicate with their peers to solve problems between departments or within the organization;
Managers communicate with external vendors and suppliers to manage finances, proposals, or estimates;
The team communicates back to their managers seeking work-related information and gaps.
Simply put, good communication skills are essential for any manager as, 90% of the time, it involves communication.
A project manager should be an excellent communicator, as each step of a project cycle requires it. Right from initiating a project through Planning, Executing, Monitoring, Controlling, and Closing, there is a lot of communication happening to and fro. According to PMBOK, communication is the core competence that a project manager should possess to drive the team towards a clear goal. It also adds that if communication is not done right, it will jeopardize project outcomes and risks the budget.
A study says that 57%of projects fail due to a breakdown in communications. A project manager with good communication skills is successful as he can help his organization move towards more significant ROI by successful projects. Communication skills also equip you to build a healthy and trusting relationship with your team and stakeholders, driving the project towards success.
Impact of Poor Communication in a Project
Project managers are thought leaders with good communication skills. They make sure that the team works in complete cohesion. But there are times when issues arise when communication is not as effective as it should be. Let us understand the impact that poor communication causes on a project's balance before we discuss the solution.
Miscommunication
The basis of effective communication is that the information we pass on to the receiver is received in the same way. While running a project, a manager must inform stakeholders of any changes in their expectations. Lack of communication causes the customer to expect something and receive a different outcome.
Confused Team Members
Not only the stakeholders, lacking effective team communication causes confusion in the team as well. Delays in deliverables and low team performance are a few of the many issues faced due to lack of communication.
Timely Communication
Changes are permanent in a project. Communicating the changes to the stakeholders and passing them on to the team requires clarity in communication. Most projects fail due to poor communication. Stakeholders and team members need quality information to work effectively. To be successful, you'll need a well-thought-out communication strategy ingrained into your project.
Listening
A successful project manager needs to communicate, but he should also master listening, managing work, and handling the emotions involved. This is where many find it problematic.
Communication is a two-way bridge. Speaking alone doesn't contribute to communication. Listening is also equally important. Listening is again wholly different from hearing. A good listener will pay attention to the details he hears and the speaker's tone, body language, and expressions. A good manager should practice mindful listening. Genuinely listening to your team will give you an insight into problems, risks, and opportunities you might face while driving the project towards completion.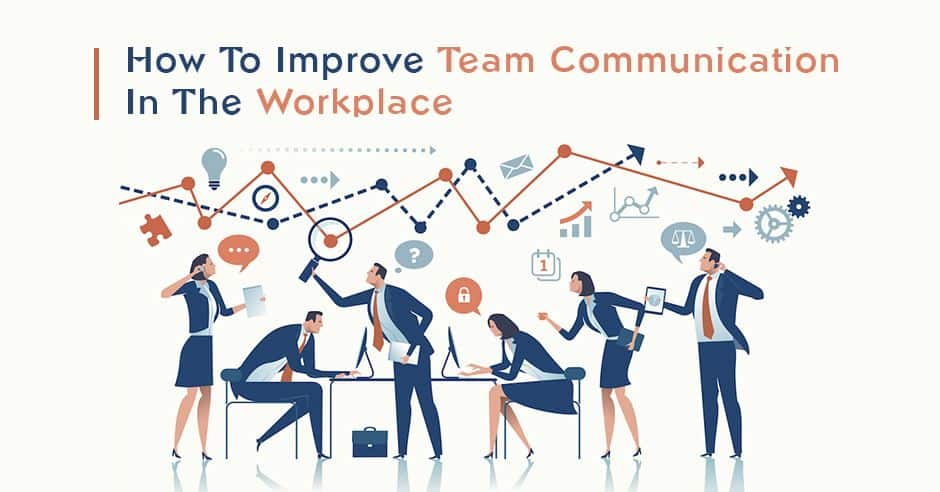 Source: Troops Messenger
Here are a few tips for communicating effectively:
Cut Down Distractions
Distractions will not allow you to listen properly. Avoid distractions by allotting a dedicated time to communicate. Listen and communicate with full attention in this scheduled time slot. That way, the conversations will also be short.
Look Beyond the Words
Pay attention to your team/ stakeholder's body language, facial expressions instead of surface-level communication. The cues might tell you more than you hear. It will help you identify issues or prospects beforehand. Taking up Project management courses online will help you relate to such aspects easily.
Do Not Interrupt
Whether you are chatting in a messenger or talking face-to-face, wait for the person to complete their thought process before you reply. Interrupting a conversation leads to miscommunication and crumbled thoughts. Interrupting a conversation will give an impression that you speak based on assumptions and not based on facts.
Keep Your Questions Short and Crisp
Don't prolong the conversation by beating around the bush. Asking the right questions at the right time from the right people will give you the right solutions.
Make Use of Apt Technology
Neither do you address every issue formally over email, nor do you call for a meeting to discuss a team member's issues. Be available through instant messenger, WhatsApp, or even a call when in need to ensure that you are really there when the team needs you. Like the situation in the picture below, lack of communication and wrong use of technology will take a toll on the deliverables.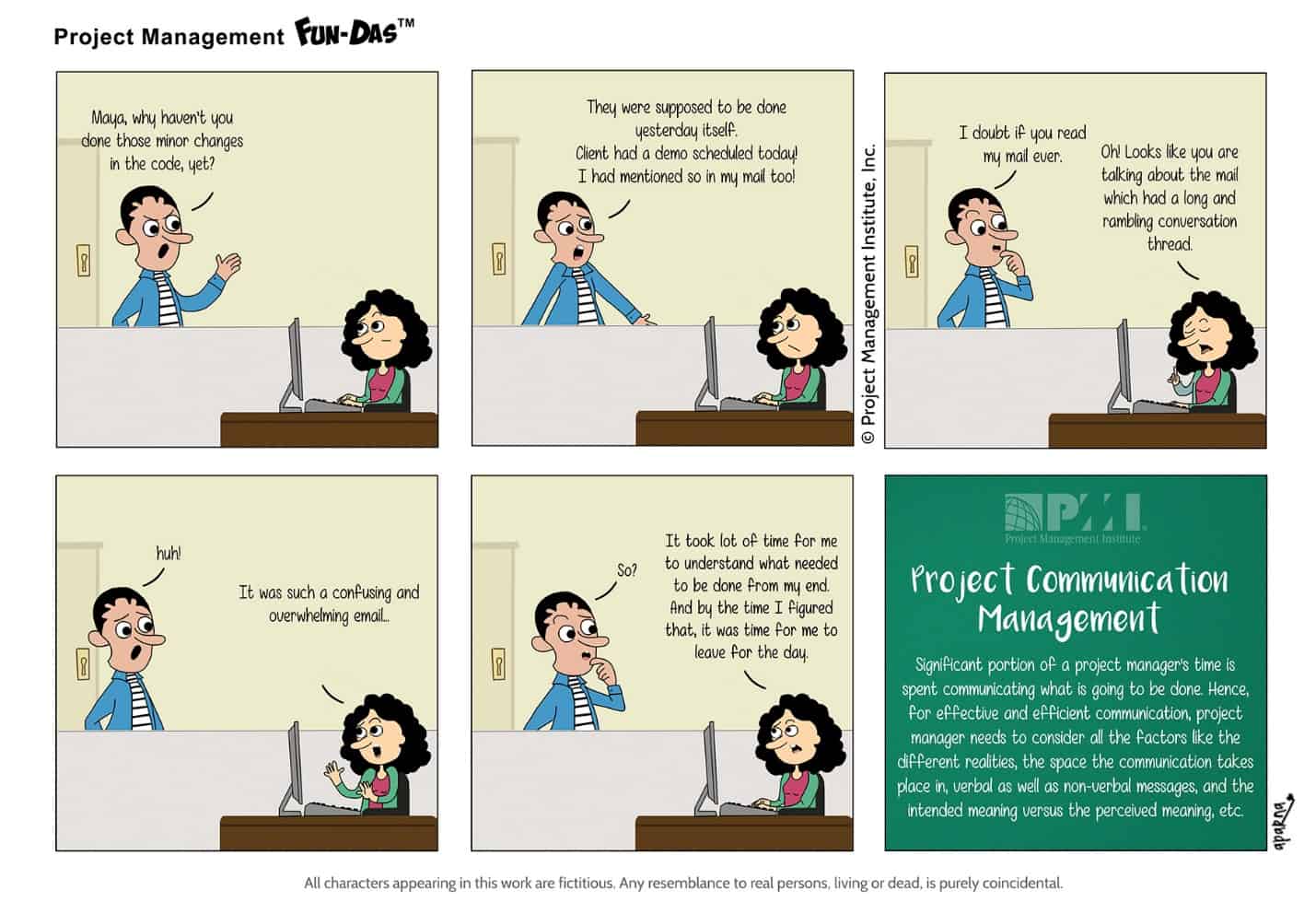 Source: PMI Image Description: Effective communication in the team
Recognize and Understand the Differences
Understand whom you are talking to. Each person comes from a different background. Their life experiences and ideals impact their views, opinions, perspectives, and biases. So, it's essential to keep an open mind in conversations. In case of difference in perspective, it is always good to agree to disagree. Recognizing differences doesn't mean that you agree to their ideals, but instead, you respect them for who they are, individually.
A report by PMI's Pulse of the Professionâ"¢ In-Depth Report: The Essential Role of Communications, states that project managers with 71% highly effective communicators delivered their project within time and budget compared to their minimally communicative peers. A good communicator keeps stakeholders engaged, and his team motivated and focused towards their goal. Effective communication is inevitable through every walk of your management journey.
If you are looking for professional training to hone your communication and managerial skills, Project management courses online can help you achieve them.
An online PMP certification can help you understand how to communicate at various project management levels effectively.
Project Management Training Institute (PMTI) provides Project management professional certification, including project management communication, for a successful career. The institute provides you with valuable resources to ace your PMP examination in flying colors. Start your online PMP certification today under an Authorized Training Partner (ATP) to experience the changes it brings to your career and your team.