PMTI is now a PMI Authorized Training Partner - PMI ATP
The Project Management Training Institute (PMTI) is an Authorized Training Partner (ATP) of the Project Management Institute (PMI). As a PMI Registered Education Provider (REP) since 2003, we have continued promising excellence and building confident, highly-trained project managers. With our PMP certification boot camp and extensive courses, we ensure content consistency and quality by adhering to PMI's standards.
What an ATP Accreditation Means
When PMI replaced its REP program with the ATP program, it expanded its reach globally. It also standardized the Project Management Professional (PMP) and other PMI certification testing globally. When we say that our instructors adhere to PMI's ATP standards, we promise a high level of quality that is uniform across our PMI exam testing prep centers.
Our extensive understanding of project management and willingness to impart this knowledge to up-and-coming PMs has earned us this ATP accreditation. It also means that we adhere to 10 criteria laid out by PMI for a training center to become an ATP: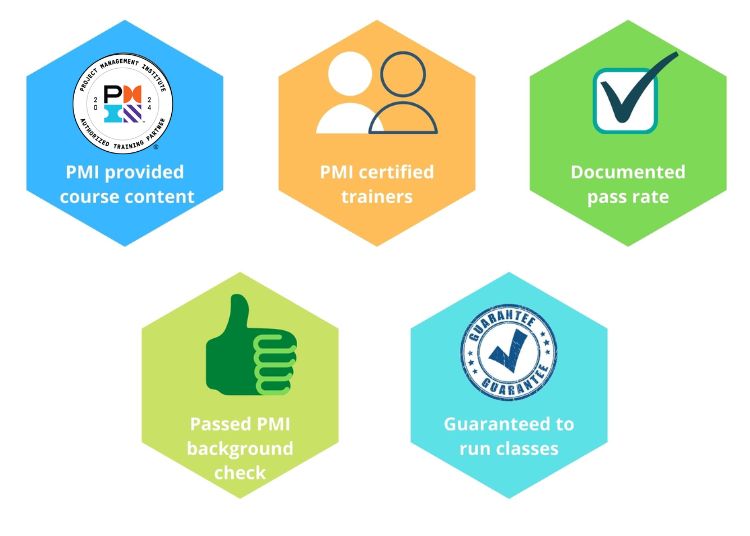 We exclusively use PMI-developed course content
Our instructors have completed the Authorized Training Partner Train the Trainer session
Our instructors are certified in PMP®, CAPM®, and PMI ACP®, allowing them to fulfill certification requirements and being in good standing with PMI
We provide both in-person and virtual courses and boot camps for our prospective students
We strictly adhere to the PMI brand guidelines and policies, upholding their values and integrity at every turn.
We have a well-documented, transparent customer resolution issue process using PMI's existing guidelines.
PMTI has been a legal business entity for over 17 years.
We passed PMI's background check and financial review.
Our instructors have a stronghold over Agile project management through professional experience to expertly teach the PMP exam prep courses.
We upload all "guaranteed to run" public courses – no exception
Our long-standing relationship with PMI since the REP program's days has kept us in good faith and established us as a reliable educational institute for project management training. Our high pass rates and full refund policy only showcase our confidence in our instructors' abilities to deliver high-quality knowledge and share their expertise with prospective PMs.
Why an ATP Accreditation Matters – The Benefits for Future Project Managers
There are specific requirements and criteria you need to fulfill when applying for your PMP certification. Meeting the criteria is essential to prevent any likelihood of being banned from getting PMP-certified. The criteria you need to meet include:
Secondary degree (high school diploma, associate's degree, or the global equivalent)
5 years (60 months) of project management experience
35 hours of project management education
OR
Four-year degree
3 years (36 months) of project management experience
35 hours of project management education
Once you meet these criteria, then what? There are many technical terms and processes you need to understand before sitting for any PMI exam. Here is where an ATP accredited institute like PMTI helps you. By having PMI's trust, we can give you resources to help your PMP training and ensure you ace your exam. As an ATP, we provide:
Access to exclusive PMI-developed and PMI approved PMP exam preparation and training content
Instructors vetted and authorized by PMI, ensuring your PMP exam prep is verified and trusted by PMI
Better, efficient trainer searchers so you can get access based on your specialization, location, budget, etc. You can visit 4PMTI.com or pmi.org for the same.
High-quality practice exams with 1000+ questions based on 200 cloned PMP exam questions from PMI
Expert training in multiple other PMI-accredited specializations such as CAPM, PMI ACP, and PDUs
Why the Project Management Training Institute
PMTI was founded with the sole objective of helping people like Yad Senapathy fulfill their dreams of becoming professional, certified project managers. Gaining this certification opens professional doors and enables our trainees to climb career ladders with guaranteed qualifications and better professional success.
We provide both PMI certification training as well as PDUs. These courses do not require PMI-provided content, completion of ATP Train the Trainer – PMP® Exam Prep, or any agile experience. However, we ensure our trainers have all the necessary certifications and accomplishments no matter which specialization they choose.
PMTI promises high-quality, trustworthy PMP education that prepares you for the exam today or in the future. We place the utmost importance on real-life agile solutions that cater to today's modern world. Equipped with such strict, unwavering standards, we maintain our 99% success rate with our trained project managers ready to take on the world.
"In May 2020, PMI launched approved exam content for students to learn. This content is available only from PMI's Authorized Training Partners (known as PMI-ATP, which has been registered). So, when you register for a course, be sure to check if the provider is a PMI-ATP. These institutions can offer in-depth programs to help educate and guide testers on what they'll need to know and study to succeed on the exam." - Yad Senapathy, PMP Jedi Master and Founder of the Project Management Training Institute.