PMP Online Course Schedule
12/4/2023 - 12/7/2023
8:30 AM - 5:30 PM CST
Regular Price
Reduced price
$3,000
$2090
12/9/2023 - 12/17/2023
8:30 AM - 5:30 PM CST
Weekend Course
$3,000
$2090
12/11/2023 - 12/14/2023
8:30 AM - 5:30 PM CST
Regular Price
Reduced price
$3,000
$2090
12/18/2023 - 12/21/2023
8:30 AM - 5:30 PM PST
Regular Price
Reduced price
$3,000
$1,990
1/2/2024 - 1/5/2024
8:30 AM - 5:30 PM CST
Regular Price
Reduced price
$3,000
$1,990
1/8/2024 - 1/11/2024
8:30 AM - 5:30 PM PST
Regular Price
Reduced price
$3,000
$1,990
1/13/2024 - 1/21/2024
8:30 AM - 5:30 PM CST
Weekend Course
$3,000
$1,990
1/16/2024 - 1/19/2024
8:30 AM - 5:30 PM CST
Regular Price
Reduced price
$3,000
$1,990
1/22/2024 - 1/25/2024
8:30 AM - 5:30 PM CST
Regular Price
Reduced price
$3,000
$1,990
1/29/2024 - 2/1/2024
8:30 AM - 5:30 PM CST
Regular Price
Reduced price
$3,000
$1,990
2/5/2024 - 2/8/2024
8:30 AM - 5:30 PM CST
Regular Price
Reduced price
$3,000
$1,990
2/10/2024 - 2/18/2024
8:30 AM - 5:30 PM CST
Weekend Course
$3,000
$1,990
2/12/2024 - 2/15/2024
8:30 AM - 5:30 PM PST
Regular Price
Reduced price
$3,000
$1,990
2/19/2024 - 2/22/2024
8:30 AM - 5:30 PM CST
Regular Price
Reduced price
$3,000
$1,990
2/26/2024 - 2/29/2024
8:30 AM - 5:30 PM CST
Regular Price
Reduced price
$3,000
$1,990
3/4/2024 - 3/7/2024
8:30 AM - 5:30 PM CST
Regular Price
Reduced price
$3,000
$1,990
3/9/2024 - 3/17/2024
8:30 AM - 5:30 PM CST
Weekend Course
$3,000
$1,990
3/11/2024 - 3/14/2024
8:30 AM - 5:30 PM CST
Regular Price
Reduced price
$3,000
$1,990
3/18/2024 - 3/21/2024
8:30 AM - 5:30 PM PST
Regular Price
Reduced price
$3,000
$1,990
3/25/2024 - 3/28/2024
8:30 AM - 5:30 PM CST
Regular Price
Reduced price
$3,000
$1,990
How to get your PMP certification?
Make sure you meet the PMP requirements
To commence your PMP certification training journey, you need to first gather information about PMP requirements and make sure that you fulfill them. Whether you are enrolling in an in-person or online PMP training, there are certain requirements that need to be met, such as:
1. Academic Education
Indicate whether you have a secondary diploma or a four-year degree. You will need to provide the name of the institution, the graduation year, and your major.
2. Project Management Experience
You need to show a minimum of 36 months or 60 months (depending on whether you have a 4-year bachelor's degree or not) of unique non-overlapping professional project management experience The experience must be related to leading or directing projects that are non-overlapping and cumulative across all project management process groups.
3. Project Management Education
You will need to show 35 contact hours of formal project management education, preferably covering the complete project delivery spectrum which spans the waterfall, hybrid, and agile methodologies*. Traditional methodologies include initiating, planning, executing, monitoring and controlling, and closing.
*The PMTI course satisfies all the requirements of PM Education.
If you are unsure whether the PMP certification is suitable for you, don't worry! You may check your PMP eligibility using our FREE PMP Eligibility Assessment Tool.
If you are unsure whether the PMP certification is suitable for you, don't worry! You may check your PMP eligibility using our FREE PMP Eligibility Assessment Tool.
Complete the PMP application process
Once you have prepared all the information and documents based on the requirements, you need to open an account through PMI's official website and start the application. Your application will be reviewed and if you're qualified you'll be approved and requested to pay the exam fee. For more details, you can read our article on the PMP application process.
To further assist your PMP exam application, PMTI offers a free service to help you get a more accurate assessment. You can send your resume to [email protected] for an initial consultation.
Start preparing for the PMP exam
The sooner you begin preparing for the PMP exam, the better. The exam is fairly demanding; it is recommended that you take courses, either in person or online. We do offer both in-class and online PMP certification training courses, and we have helped more than 80,000 candidates to pass the exam. In addition to the PMP course, you will have access to a variety of useful materials that will help you prepare for the final test.
What to bring with you to the examination center
You're going to need:
2 types of official identification that include a photograph
Water and some snacks
A jacket in case it gets cold
Foam earplugs because it can get noisy.
After passing the PMP exam
Congrats! You've passed the exam and got certified, but you still need to strive to maintain your certification. Now, you are required to earn 60 PDUs (Professional Development Unit) in a 3-year cycle and report them to maintain your certification. To learn more about earning or reporting PDUs refer to PMI's Continuing Certification Requirements Program documentation from PMI.
Why Choose our PMP Certification Training Course
When joining our PMP certification course, there are no required materials or prerequisite readings prior to your in-person or online PMP certification training experience. PMTI provides all the material and information during the training. All you should bring is your focus, energy, and the right mindset - The rest is on us!
Course materials provided
There are a lot of ways you can prepare for the PMP certification exam, but studying on your own can be exhausting and unresourceful as you might find it hard to get the right material needed to properly study. A better solution would be to follow one of our PMP certification training courses, either in person or online.
Hands-on training by expert PMP instructors
Our PMP certification training course has a very detailed and interactive plan. With hands-on training, our certified instructors make sure you gain all the skills and knowledge necessary to become a PMP professional.
The instructor creates an open culture where everyone can share their experiences and ask questions. Our PMP trainers strive to adapt and relate the training to experiences that you and your fellow classmates have and share. If you want to gain confidence, discover a means to take control of what's going on in your profession, and change the course for good, now is the time to seize this opportunity!
Guaranteed PMP certification success
Our online PMP training's core objective is to adequately prepare students for the PMP exam. By taking our training, taught by our own PMP certified trainers, you can rest assured that this experience will help you pass the PMP examination and receive your PMP certification. We guarantee it with our money-back guarantee!
The Project Management Professional (PMP) exam is an internationally recognized certification that proves and validates skills in project management. If passable scores can help build self-esteem while also providing opportunities within industry lines (like consulting or training courses), imagine what they might do on your job application where all positions require these qualifications!
This includes an extensive review of each of the five process groups while straightforwardly weaving each of the ten knowledge areas over the four-day course, the full course itinerary is below.
What Does The PMP Certification Training Course Include?
Hard & Digital Copies of All Four Proprietary PMTI PMP Classroom Training Books
PMP Exam Prep Blue Book
PMP Exam Prep Question Bank
PMI Authorized PMP Exam Prep
PMP Exam Prep Orange Book
Complete Recorded Video Set with Complete Course Material
Supplemental Key Topic Videos
A PMP Certification Exam Diagnostic Test
Our Proprietary PMP Application Preparation Tool
A PMP Success Roadmap
Course Completion Certificate for 35 PDUs or contact hours
Free 53 PDUs to Extend Your PMP Certification to 6 Years
PMTI Swag Bag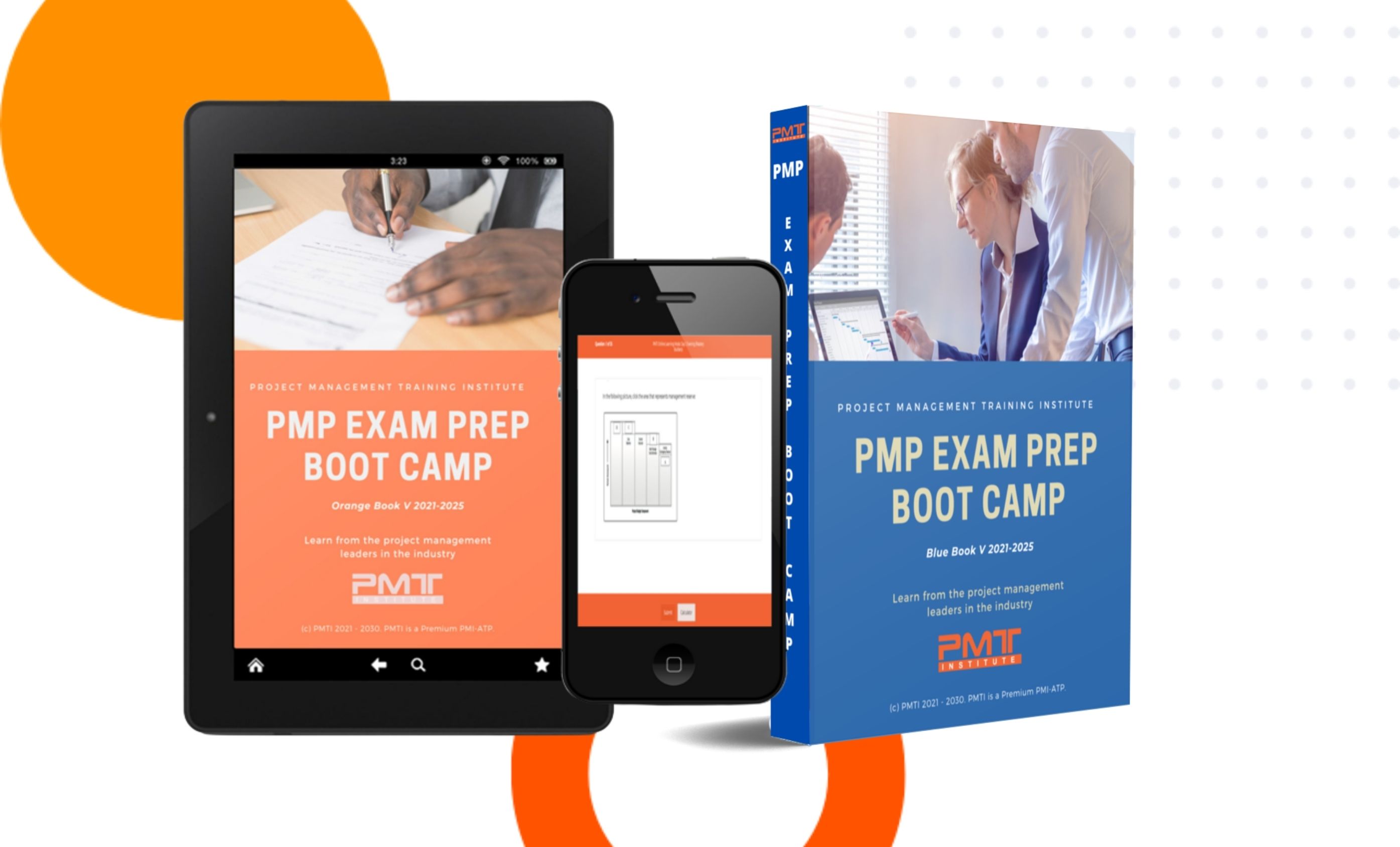 PMP Boot Camp Course Curriculum
Day One Outline
Kick-Off

Description of the exam and its environment
PMTI PMP exam strategies & tips, and tricks

Module 1 - Creating a High-Performing Team

Creating a High-Performing Team
Define Team Ground Rules
Build Shared Understanding
Negotiate Project Agreements
Empower Team Members and Stakeholders

Lunch Break
Day One Midday Exam

Review of Questions & Answers

Module 1 - Creating a High-Performing Team

Ensure Team Members and Stakeholders Are Trained
Engage and Support Virtual Teams

Module 2 - Starting The Project

Determine Appropriate Project Methodology/Methods and Practices
Plan and Manage Scope

Day One Evening Exam

Review of the PMP Exam Questions & Answers

Day One Sign-Off
Day Two Outline
Day One Concepts Review
Module 2 - Starting The Project

Plan and Manage Budget, and Resources
Plan and Manage Schedule
Plan and Manage Quality of Products/Deliverables

Lunch Break
Day Two Midday Exam

Review of Questions & Answers

Module 2 - Starting The Project

Integrate Project Planning Activities
Plan and Manage Procurement
Establish Project Governance Structure
Plan and Manage Project/Phase Closure

Day Two Evening Exam

Review of the PMP Exam Questions & Answers

Day Two Sign-Off
Day Three Outline
Day Two Concepts Review
Module 3 - Doing The Work

Assess and Manage Risks
Execute Project to Deliver Business Value
Manage Communications
Engage Stakeholders
Create Project Artifacts

Lunch Break
Day Three Midday Exam

Review of Questions & Answers

Module 3 - Doing The Work

Manage Project Changes
Manage Project Issues
Ensure Knowledge Transfer to Project Continuity

Module 4 - Keeping the Team on Track

Lead a Team
Support Team Performance

Day Three Evening Exam

Review of the PMP Exam Questions & Answers

Day Three Sign-Off
Day Four Outline
Day Three Concepts Review
Module 4 - Keeping The Team On Track

Address and Remove Impediments, Obstacles, and Blockers
Manage Conflict
Collaborate with Stakeholders
Mentor Relevant Stakeholders
Apply Emotional Intelligence to Promote Team Performance

Lunch Break
Day Four Midday Exam

Review of Questions & Answers

Module 5 - Keeping the Business In Mind

Manage Compliance Requirements
Evaluate and Deliver Project Benefits and Value
Evaluate and Address Internal and External Business Environment Change
Support Organizational Change
Employ Continuous Process Improvement

Day Four Evening Exam

Review of the PMP Exam Questions & Answers

Day Four Sign-Off
Why should you get the PMP certification?

A:PMP certification benefits include salary increase, peer respect, and better job performance.

This is because the PMP credential recognizes demonstrated knowledge and skill in leading and directing project teams and in delivering project results within the constraints of schedule, budget, and resources. It is also accredited by the Project Management Institute (PMI) which is the leading global association for the project management profession.

What are the advantages of getting PMP certified?

A:There are lots of advantages, including professional advancement, skill leveling, expanding your network, creating new job opportunities, and improving your leadership qualities to mention a few. So, register for our in-person or online PMP certification courses now.

How do I get my PMP certification?

A:You start by checking whether you meet all the necessary requirements. If everything is set and you're the appropriate candidate then you can start our online PMP certification training course to prepare yourself for the exam. After you pass the exam you will get your PMP certification which then you will have to maintain through the upcoming years.

How do I maintain my PMP certification?

A:Your PMP certificate is valid for three years then you can renew it in these simple steps:

1. During this three-year period you need to earn the 60 Professional Development Units (PDUs). You get these with Project Management training from various sources. You can also look at your CCRS dashboard in the PMI portal. There are many sources for Project Management training for you to earn your PDUs.

2. When you keep earning these PDUs, you can report them in the PMI's CCRS portal.

3. Once you complete the 60 PDUs reporting and as you approach the end of the three-year certification cycle, you can renew your PMP certificate in the PMI portal.

How do I make a living with a PMP certification?

A:The certificate shows that you have acquired higher-level skills in your chosen field and as such will give you the opportunity to get a promotion in your current job or open new doors for you to grow your career and even get a new rewarding position.

How does PMTI's exclusive money-back guarantee work?

A:As previously stated, after finishing the online PMP certification course, you may take the certification exam up to three times within a year of applying for it. If you fail, we will assist you by assessing your results and delivering a personalized study plan via online group tutoring, phone support, and emails.

If you fail again on your third attempt, you have two options:

- You may attend our PMP course at no charge for one calendar year from the date of your third test.
- You may receive a refund of your enrollment fees, minus any PMI license fees, refunds, or discounts.

How long does it take to complete the online PMP certification training?

A: The full PMP certification course lasts 4 days. Classes are available to attend during the week or on 2 consecutive weekends.

What equipment do I need for the online PMP course?

A:To attend this online PMP certification course, you need a computer with a high-speed internet connection (1 Mbps or better), speakers or headphones, and a quiet working environment.

Why should I choose PMTI?

A:PMTI has a track record of excellence in PMP certification training. As an ATP with access to premier PMI licensed content, and more than a decade of experience in the industry with a total pass rate of 80,000+ PMP holders, you can be certain that by attending our training you are making use of the highest quality services in this market.

When can I start using my PMP credential?

A:You may use the PMP credential immediately for the next 3 years!

What are the contact hours needed to apply for the PMP exam?

A:In the PMP context, the contact hour is an hour of formal project management education/training. Our PMI-approved online PMP training course satisfies the 35 project management educational contact hour requirements set by PMI to sit for the PMP exam. This enables you to schedule your PMP exam directly following your PMP Certification Training.

What is the difference between contact hours and professional development units?

A:A contact hour is accrued learning hours before you are certified as a PMP. PDUs are learning hours accrued after you have obtained your PMP certification. The significant difference between Contact Hours and PDUs is that a PMP test candidate must complete 35 hours in order to apply for the exam, and a certified PMP must complete 60 PDUs every three years in order to keep the certification active.

You don't need PDUs until you're a PMP; you need contact hours.