PMP Certification Requirements
Ensuring you meet the Project Management Professional certification requirements is the first step to becoming PMP certified. Project manager certification eligibility is based on combined requirements of academic education, project management experience, and project management professional training. Once you have satisfied the eligibility criteria, you can submit your application for pmp certification online via PMI's online portal. A small percentage of applications will be put through a random auditing process, more information about this below. After approval, you can take your PMP exam from the comfort of your home as an online proctored test (OPT) or at your nearest PearsonVUE testing center as an in-person proctored exam. Whether you take project management certification online exam at home or in a test center, the computer based exam allows you to receive your score immediately. Upon passing, you are approved to use the PMP credential for 3 years. During this time must earn 60 professional development units (PDUs) to maintain your PMP status for an additional 3 years.
1. PMP Certification Eligibility Criteria
2. PMP Certification Benefits
3. PMP Certification Process

A. PMP Exam Application
B. PMP Application Details
C. PMP Certification Cost
D. PMP Application Audit Process
E. Approval & Eligibility Period

4. PMP Exam Procedure
5. PMP Certification Renewal
For complete eligibility documentation, please review the PMP certification requirements within the Project Management Professional (PMP) Handbook.
---
PMP Certification Eligibility Criteria
| Eligibility Requirement | Four-Year Degree | Secondary Degree* |
| --- | --- | --- |
| Years of Project Management Experience | 3 Years (36 Months) | 5 Years (60 Months) |
| Hours Leading & Directing Projects | 4,500 Hours (No longer required) | 7,500 Hours (No longer required) |
| Hours of Project Management Education | 35 Hours or CAPM Certification | 35 Hours or CAPM Certification |
* A secondary degree is defined as a high school diploma, associate's degree, or global equivalent.
Project Manager Certification Requirement Details
Academic Education
Indicate whether you have secondary diploma or a four-year degree. You will need the name of the institution, the year you graduated, and your major.
Project Management Experience
The experience must be leading or directing projects that are non-overlapping, cumulative across all process groups or using agile or hybrid principles and within the last 8 years to be counted on the PMI PMP application. Refer to the above table for full experience requirements.
Project Management Education
You will need to show 35 contact hours of project management education, preferably covering the complete project delivery spectrum which spans the waterfall, hybrid, and agile methodologies. Traditional methodologies involve initiating, planning, executing, monitoring and controlling, and closing. As a PMI Premier Authorized Training Partner PMI ATP, PMTI plans ahead for our students and provides an inclusive online course so you qualify for this requirement even prior to attending the live class.
Tip: It is incredibly important that you do not falsify any of the information in your application. PMI has a random audit process which requires anyone being audited to present evidence to validate all information submitted with their pmp certification online application. Falsifying application documentation will result banishment from all future attempts to obtain any PMI certification. Since the pandemic has started, PMI has suspended most of the audits.
To simplify the entire process of PMP application, you can optionally use the PMTI PMP Application Exam Prep Tool after you register for one of PMTI's PMP Exam Prep classes to help facilitate your project management certification online application. You may also optionally try out our PMP Eligibility Assessment calculator.
---
PMP Certification Benefits
Why should you get the PMP certification? Pmp certification benefits include salary increase, peer respect, and better job performance. However, companies add great value when their employees get pmp certified.
There are over 1 million (1,000,000) Project Management Professional certification holders in the world. That is about 1% of an estimated 96 million project managers community.
According to PMI (2017) Project Management Job Growth and Talent Gap 2017-2027, there will be 22 million new project management jobs available by 2027.
Companies in the United States and around the world value PMP certification tremendously. As a job seeker with project management professional certification, you will be attractive to the thousands of companies that require or desire these skills. PMP benefits include higher salary. Here are some statistics about job compensation and companies that are hiring actively.
According to glassdoor.com, project manager positions command an average salary of $86,901 per year. The maximum compensation could go up to $134,000 per year in the United States.
"project manager" Salary Results in United States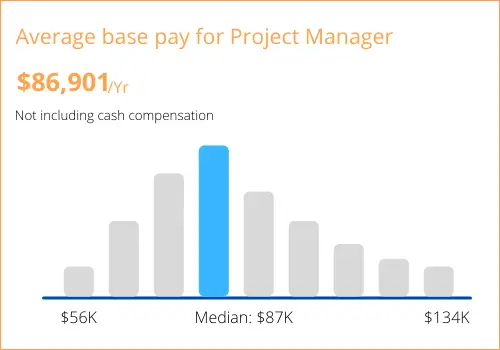 SOURCE: glassdoor.com
Indeed.com, the popular job site also provides similar statistics with the project manager's combined annual salary adding up to $91,824.
How much does a Project manager make in the United States?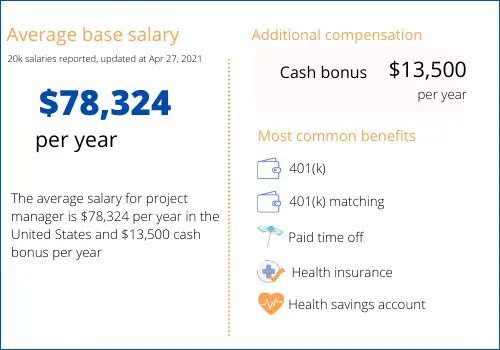 SOURCE: indeed.com
One of the PMP certificate benefits is being hired by the world's best companies. Companies that are actively hiring for this position are:
Cisco Systems, Deloitte, IBM, Cognizant Technology Solutions, AT&T, SAP, Google, Microsoft, and others.






As project managers gain experience, they move into project director and higher positions. According to glassdoor.com, project director positions are offered at an average salary of $86,901 per year. Their compensation can go up to $134,000 per year in the United States.
Even entry-level positions such as project analyst pay very well. The average salary of project analyst is $65,654 per year. Their peak take-home compensation is $93,000!
In 2017, Project Management Institute (PMI) published "Earning Power: Project Management Salary Survey, 10th Edition (2017)". According to this survey, PMP certification holders earned $115,000 on average. Those without PMP certification earned $92,000. As you can see, PMP credential holders had a 25% upgrade in compensation. Additionally, maintaining the PMP certification shows increasingly sustained benefits. Those with PMP certification 5-10 years earned $120,000 and those over 10 years earned $130,000.
The CIO magazine ranks PMP certification among the top 15 paying certifications.
The PMP certification is a highly desirable job requirement for experienced project managers. This is true whether you work in defense, information technology, health, transportation, or other industries. The PMP certification is best suited for

project managers,
directors,
vice presidents,
executives,
customers,
IT professionals,
defense professionals,
planners,
coordinators,
project leaders,
functional managers,
IT managers,
anyone who is experienced or interested in a project manager role etc.
It is a common misconception that you should carry a job title of "Project Manager" to satisfy project management certification requirements. Project Management Institute (PMI) does not require it. You can have any job title and meet PMP certification eligibility if you led or directed projects. In an agile or hybrid project you must have served as a servant leader. This means you must have managed one or more of initiating, planning, executing, monitoring and controlling, and closing of the project.
When you sign up for the project management certification online training, you will receive a PMP application preparation toolkit. The toolkit will help you develop an accurate experience timeline and document your project management experience in clear terms.
---
PMP Certification Process
PMP Exam Application
Go to https://certification.PMI.org to start filling out your application. you will need information on the degree you have received, the training that you received for the PMP certification, and your project management experience.
PMP Application Details
You can submit your PMP application on PMI's certification website, certification.pmi.org. You will need to submit the following information to meet the project management certification requirements (terminology is directly from the PMP application):
Education

Academic Education - Your degree or diploma
Professional Education - Your 35 contact hours training

Project Management Experience (Per Project)

Project Title
Organization
Functional Area
Job Title
Project Team Size
Project Budget
Approach / Methodology (Traditional, Hybrid, Agile)
Project Dates (Start, End)
End Date
Project Description (200 words)

Exam Details

Home/Work Address
Name on the Certificate
Email Address
Phone Number
Exam Location (Country)
Exam Accommodations? (Make requests for special needs)
PMP Certification Cost
| Cost Category | PMI® Member | Non-Member |
| --- | --- | --- |
| PMI® Membership Fee | $149 + tax | N/A |
| PMP Exam Fee | $405 | $575 |
| PMP Re-Take Fee | $275 | $375 |
For more information on the complete value of being a PMI member, see our PMP Certification Guide.
PMP Application Audit Process
Is PMI conducting audits during the Pandemic?
No. Although there is no official statement from PMI, our experience since May 2020 shows no one was asked to send hard-copy version of evidence of work or project. However, PMI is conducting "soft audits" which involves PMI reviewing the project descriptions more thoroughly and seeking clarificatin if the descriptions are confusing.
Why Does PMI Audit PMP Applications?
In order to maintain the integrity of the PMP certification and enhance the credibility of PMP Certification holders, PMI routinely conducts random audits of a certain percentage the PMP exam applications. Although PMI does not publish what percentage of project manager certification applications gets audited, our 18 years of experience shows about one in four or five of the applications get audited.
Approval & Eligibility Period
It generally takes PMI® 5 business days to review your application and respond. Once your application is approved you will receive an invitation to pay for and schedule the exam. You will schedule your exam with PearsonVUE at PearsonVUE.com. You will have one year to take the exam after your application has been approved and may take the exam up to three (3) times during the eligibility period.
PMP Exam Procedure
Scheduling the Exam
Once you have been approved to take the PMP certification exam, you will need to schedule, take, and pass the test at your home as a Online Proctored Exam or in a PearsonVUE test center near you. You can find a complete list of testing locations on the PearsonVUE website. You will need the testing code PMI has provided you to successfully schedule your exam.
Take the PMP Exam
The PMP Exam is taken at your home or at your nearest PearsonVUE test center and is a 180 question test with a 230 minute time limit. The questions are broken down into 3 process domains; People (42%), Process (50%), and Business Management (8%). The test includes two optional breaks of 10 minutes each at the end of 60 questions and 120 questions mark. These 10 minute breaks are not counted into the exam time.

Because of the computer based exam, you will receive your score immediately.
Did I Pass the PMP Exam?
PMP exam provides instant results at the end of the test. Be patient and wait for the test to score after you submit it. If your test results show that you received a target or above target score in the entire exam, congratulations! You are now a PMP! Remember, you may score below target in one or more domains and still pass the exam.
When can I start using my PMP credential?
You may use the PMP credential immediately for the next 3 years!
How do I maintain my PMP certification?
During the three years after you obtained your PMP credential, you must earn 60 additional Professional Development Units (PDUs) to maintain your certification. To learn more about earning or reporting PDUs refer to PMI's Continuing Certification Requirements Program documentation.
I Failed my PMP, Now What?
The PMP certification exam is a very difficult exam and non-passing scores are no need for alarm. If you have failed an attempt it is extremely important not to get discouraged. You have 3 attempts per year to pass the PMP certification exam. Here are some simple next steps you can take to get ready for your next attempt.
If you have taken PMTI PMP certification course, simply let PMTI know and we will assist you with preparations to retake the test. With the PMTI guarantee backed by our dedicated instructors, our retake study plan aligned with PMI Authorized Training Provider content, and our online learning tools, you can feel confident you will be ready before your next test. After following your customized study plan, you simply need to schedule your 2nd PMP exam attempt through PearsonVUE. The PMTI money-back guarantee also provides you 90 days of support following your course to pass one of your three attempts or receive credit. Refer to the money-back guarantee for more info.
If you have NOT taken PMP certification training with PMTI, you should take your PMI exam report and note the areas where you scored "Below Target" or "Need Improvement". Re-read the PMBOK® Guide, Agile Practice guide, and other relevant resources, paying particular attention to the domain areas you noted. When you feel you are ready, you can re-schedule your exam with PearsonVUE.
The fee to retake the test is $275 for PMI members and $375 for non-members. Please visit the PMTI guarantee for details.
PMP Certification Renewal
PMP certification is valid for three years. In order to renew your certification, you need to acquire 60 Professional Development Units or PDUs. It is easy to acquire these through learning, volunteering, contributing to project management in your company or other forums, writing books, making presentations etc. The 60 PDUs must be gathered into two categories - Minimum of 35 PDUs in education and a maximum of 25 PDUs in giving back. The Education PDUs must include a minimum of 8 PDUs in Technical, 8 PDUs in Leadership, and 8 PDUs in Strategic & Business Management. The Giving Back PDUs must include a maximum of 8 PDUs working as a professional. The Giving Back PDUs are optional. So, in theory, you can get all the 60 PDUs as Education PDUs. With PMTI PMP training course, students get FREE course worth 60 PDUs to qualify for PMP certification renewal.