Are you looking for a way to set yourself apart from the competition and take your career to the next level? Want to enter into a vast, new world of otherwise unavailable opportunities? If you answered yes to both, you should consider taking the CAPM certification exam.
There's no denying that the job market is competitive. In order to land the position you want, you need to do everything you can to set yourself apart from the competition. Market demand for certified project managers continues to grow as businesses invest in initiatives that require skilled professionals to lead them to success. Providing evidence of your project management skills and knowledge, the CAPM certification is required by many organizations before they will consider you for employment.
And if your ultimate goal is to become a Project Management Professional (PMP), getting a CAPM certification can set you on that path.
Let's look at CAPM vs PMP from a 30,000 foot view.
What Is the CAPM Exam?
The CAPM exam is a globally recognized professional certification offered by the Project Management Institute (PMI). The exam is designed to measure an individual's understanding of the fundamental concepts of project management, and their ability to apply those concepts to real-world situations. It covers the key concepts of project management, including project initiation, planning, execution, monitoring and control, and closure.
Every project begins with a defined beginning, a set of objectives or goals, and a budget. The project manager is the person who is responsible for ensuring that all three of these elements are in place before work on the project can begin.
With the world increasingly relying on complex project management to get things done, the demand for skilled project managers is only going to continue to grow. In fact, over the next decade the labor force in seven project-oriented sectors is expected to grow by 33 percent. This increase in investment is translating into increased demand for qualified project managers - representing an increase of nearly 22 million jobs - and employers will need nearly 88 million individuals in project management-oriented roles by 2027. Clearly, those with the necessary skills and experience will be in high demand. To meet this growing demand, organizations must invest in training and development programs that equip employees with the project management skills they need to be successful. With the right training and development in place, organizations can position themselves to take advantage of the growing opportunities in this rapidly changing landscape.
Who Administers the CAPM?
The CAPM is administered by the Project Management Institute (PMI) - the world's largest project management membership association. This professional body offers the Certified Associate in Project Management (CAPM) credential to individuals who meet specific educational and professional experience requirements. The credential demonstrates an individual's commitment to professional development and reinforces that they are up-to-date on the latest best practices in project management.
How to Prepare for the CAPM Exam?
Now that we have answered the question "what is a CAPM certification?" and discussed the benefits of CAPM certification, let's move on to preparing for the CAPM exam.
The first step is to understand the CAPM Exam Format. The CAPM exam is a 3-hour, computer-based exam that tests your understanding of the Project Management Body of Knowledge (PMBOK® Guide). It consists of 150 multiple-choice questions, and you must score at least 61% to pass. The PMBOK® Guide - Seventh Edition is a compendium of best practices in project management, and it is essential reading for anyone who wants to sit for the CAPM exam. In addition to thoroughly reading the guide, there are a number of other steps you can take to prepare for the exam.
Here are some tips on how to prepare for the CAPM exam:
Review the table of contents of the PMBOK Guide. This will give you an overview of the topics covered in the exam.
Study each chapter of the PMBOK Guide carefully. Pay special attention to the sections on project integration, scope, time, cost, quality, human resources, communications, risk, and procurement management.
Familiarize yourself with project management tools and techniques. The CAPM exam covers a wide range of topics, from project initiation and planning to execution and control.
Take practice exams. There are many online resources that offer CAPM practice exams. Taking practice exams will help you get a feel for the format of the exam and the types of questions you can expect.
By following these tips, you will be well on your way to passing the CAPM exam and becoming a certified project manager.
CAPM Eligibility Criteria
The CAPM credential is an asset that will distinguish you in the job market and enhance your career prospects. In order to sit for the CAPM exam, candidates must meet the following eligibility requirements:
A secondary degree (high school diploma, associate's degree, or global equivalent)
and
23 contact hours of formal project management education
In order to become eligible for the Certified Association of Project Management (CAPM) exam, individuals must satisfy the education requirements.
These requirements can be satisfied by demonstrating the successful completion of courses, workshops, and training sessions offered by one or more of the following types of education providers:
PMI Authorized Training Partners (ATPs)
PMI chapters
employer/company-sponsored programs
training companies or consultants
distance-learning companies
university/college academic
continuing education programs.
All courses, workshops, and training sessions must culminate in an end-of-course assessment in order to be credited towards the CAPM exam eligibility. Note that the CAPM exam is slated to change in late 2022, so be sure to stay up-to-date on any changes that may occur.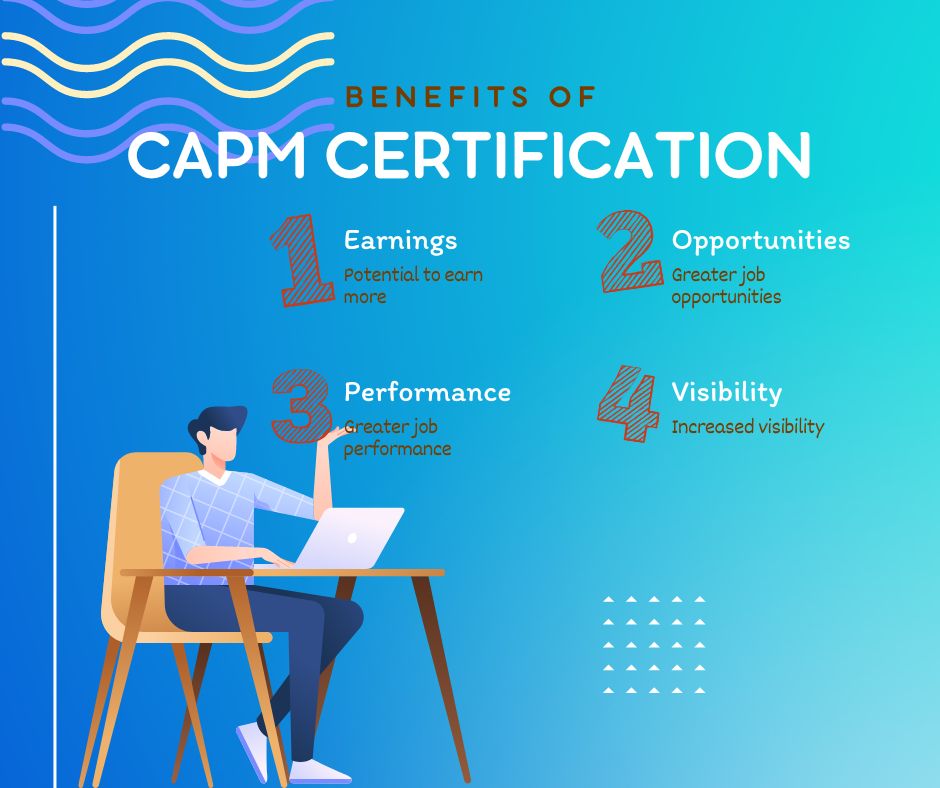 What Are the Benefits of CAPM Certification?
The dilemma that many project management professionals face is whether to pursue the Project Management Professional (PMP) credential or the Certified Associate in Project Management (CAPM) credential. Both are globally recognized and highly sought-after credentials, but they have different eligibility requirements and benefits. Let's have a look at the benefits of CAPM certification:
Enhanced Earning Potential:
An important benefit of holding a CAPM credential is the potential for increased earnings. For instance, certified project managers are often first in line for promotions and receive higher salaries than their non-certified counterparts. CAPM certification also demonstrates your commitment to the profession and can give you a leg up when competing for jobs. Moreover, a CAPM credential on your resume can make you more attractive to potential employers.
Greater Job Opportunities:
With a CAPM certification, you can open doors to new job opportunities in various industries that were not available to you before. The CAPM credential validates your project management skills and experience and makes you eligible for positions that require PMI certification. Additionally, holding a CAPM credential also widens your geographical options as many organizations have a global presence.
Improved Job Performance:
The CAPM certification exam tests your knowledge of the PMBOK Guide and the project management process. By passing the exam, you not only validate your skills but also show that you are capable of applying them in a real-world setting. This can lead to improved job performance and increased opportunities for career advancement.
Increased Visibility:
CAPM certification can increase your visibility within your organization and help you build a network of contacts. As a certified project manager, you can become a valuable asset to your organization and be recognized for your expertise. Additionally, you can also use your CAPM credential to volunteer for projects or committees within your company or industry.
Fulfilling the Prerequisite for Other PMI Certifications:
The CAPM certification is a prerequisite for other PMI certifications such as the PMP or the PgMP. By obtaining your CAPM certification, you can take your career to the next level and pursue higher-level PMI certifications.
CAPM Application and Payment
Application processing timelines are important to note when submitting your CAPM application. Applications will be processed in 24 hours or less; however, this does not apply if your application has been selected for PMI's audit process. The audit process can take up to four weeks.
The fees for the CAPM certification are determined by your PMI membership status. If you are a member of PMI in good standing at the time you submit payment for the certification, you will be eligible for the PMI membership rate. If you apply for membership right before applying for the certification, make sure you receive confirmation of your membership before you pay for the certificate. In addition, if you are not a member of PMI, you will be required to pay an additional fee for the application process. The total fees for the CAPM certification are as follows: PMI members: USD 225, non-members: USD 300.
CAPM Application and Payment
The CAPM Exam consists of 150 multiple-choice questions based on the PMBOK® Guide - Sixth Edition and Agile Practice Guide. There are four main content areas on the exam, outlined below.
Domain I: Project Management Fundamentals and Core Concepts - 36%
This domain covers the basic concepts and terminology of project management and the different types of life cycles and processes. Within this domain, candidates will be expected to demonstrate a fundamental understanding of project management planning, roles, responsibilities, standard problem-solving tools, techniques, and how to follow and execute planned strategies or frameworks. This task breakdown is designed to gauge a candidate's general aptitude for project management and their ability to apply core concepts in order to successfully complete a project.
Domain II: Project Planning - 23%
This domain covers planning content for both predictive/plan-based and agile/adaptive approaches. It includes creating the project charter and developing the project scope statement, developing the project schedule, setting the project budget, determining risks and identifying risk responses, and creating the project quality plan. You will need to demonstrate your knowledge of each of these topics in order to successfully pass this section of the exam.
Domain III: Adaptive Frameworks/Methodologies - 20%
This domain covers the topics of when to use an adaptive approach, how to plan project iterations, how to document project controls for an adaptive project, the components of an adaptive plan, and how to prepare and execute task management steps. To adequately prepare for this section of the examination, be sure to review these topics in detail and become familiar with the terminology and methods associated with each.
Domain IV: Business Analysis Frameworks - 27%
It consists of six tasks that examine an individual's knowledge of business analysis roles and responsibilities, how to conduct stakeholder communication, how to gather requirements, how to create product roadmaps, how project methodologies influence business analysis processes, and how to validate requirements through product delivery. Candidates must demonstrate a strong understanding of each task in order to successfully pass this section.
CAPM Recertification
To maintain the CAPM credential, certification holders must earn 60 professional development units (PDUs) every three years and submit a recertification application to PMI. Alternatively, they can retake the CAPM exam. The recertification process is designed to ensure that certified project managers stay current with the latest developments in the field.
PDUs can be earned through a variety of activities such as attending workshops, taking courses, reading books, or writing articles. To find out more about the recertification process, visit the PMI website.
FAQs
Is a CAPM certification worth it?
The CAPM certification is well worth the time and effort required to obtain it. Whether you're just starting in your project management career or looking to take the next step, the CAPM certification can help you achieve your goals. In fact, project managers are one of the best-paying jobs in the industry. CAPM certification holders are in high demand by employers and can command salaries upwards of $100,000.00 per year. Industry analysts also predict that the demand for project managers will continue to grow in the coming years.
Is CAPM easier than PMP?
The Project Management Professional (PMP) credential is widely considered to be the gold standard in project management. It is also notoriously difficult to obtain, taking a deeper dive into the principles and practices of project management. The Certified Associate in Project Management (CAPM) credential, on the other hand, is geared towards entry-level project managers and does not have such stringent requirements. In terms of difficulty, the CAPM may be easier to obtain than the PMP, but that does not mean it is not a valuable certification.
Even the prerequisites for the two exams reflect this difference. To sit for the CAPM exam, candidates must have completed 23 contact hours of project management education. For the PMP exam, candidates must have at least 35 contact hours of project management education as well as four years of professional experience leading and directing projects.
That said, the CAPM exam is still challenging and requires a good amount of preparation. So if you're new to project management, be sure to allocate enough time to study for the test. And if you're considering taking either exam, we highly recommend signing up for one of our prep courses.
What if I fail the CAPM exam?
If you fail the CAPM exam, you have up to three opportunities to retake the exam within your 1-year eligibility period. If you do not pass the exam within your eligibility period, you must wait one year from your initial eligibility date to retake the exam.
Does CAPM increase salary?
Yes! A study by PMI found that CAPM certification holders earn a median salary of 26% higher than those who are not PMP certified. And with the release of the newest version of the CAPM exam, now is the perfect time to get certified and start enjoying these benefits for yourself!
Get Your CAPM Certification And Be On The Top Of The List
Along with a clear path to career growth, CAPM certification also offers a number of other benefits that no other certification can provide. There has never been a better time to get your CAPM certification than today. The demands for certified project managers are high and only getting higher. With the CAPM certification, you can be on the top of the list when employers are looking to fill these positions.
Still have questions about CAPM certification? Contact Project Management Training Institute today and one of our knowledgeable course advisors will be happy to help you. You may also view some of our insightful articles about PMP Certification, PDU Courses, and free PMP resources.