Free Project Management Templates
When entering into a new project, one of the most useful resources for a project manager is a visual aid that can be accessed and updated by members of the team. Goals, timelines, projections, assignments, and more are compiled in the form of something as simple as a spreadsheet, which organizes the project for all involved.
Rather than start from scratch when organizing your project, you can choose from a wide variety of project management templates that are available online. Thankfully, many of these useful templates are free of charge.
Wondering which template is right for you and your project? Here are some tips for choosing and using these templates that will help you narrow down your search and get moving on your project.
Where to Begin
Most templates that you can find are fairly simple to use and self-explanatory. You can also access the necessary training for using project management templates and software with many online courses. The trick is finding the template that will work best for you, your team, and your project.
When trying to decide what to use, and where to find it, the best place to begin is probably searching within Excel.
Excel contains a feature in which you can search within Excel and online for the right template for your project. In order to do this, you simply open Microsoft Excel, and select "New" from the File menu. From here, you can scroll through the available Excel templates, as well as search office.com in the search window.
Excel
For example, if you were to type in "budget," you would see multiple options for types of budgeting templates, such as "Expense Budget," "Event Budget," and "Family Budget."
While this is a great place to begin, there are specific types of templates that will work best for larger purpose of project management, and you can find many of these for free online.
Here are some of the most useful types of templates, and the reasons you may want to consider using them as you embark on your next project.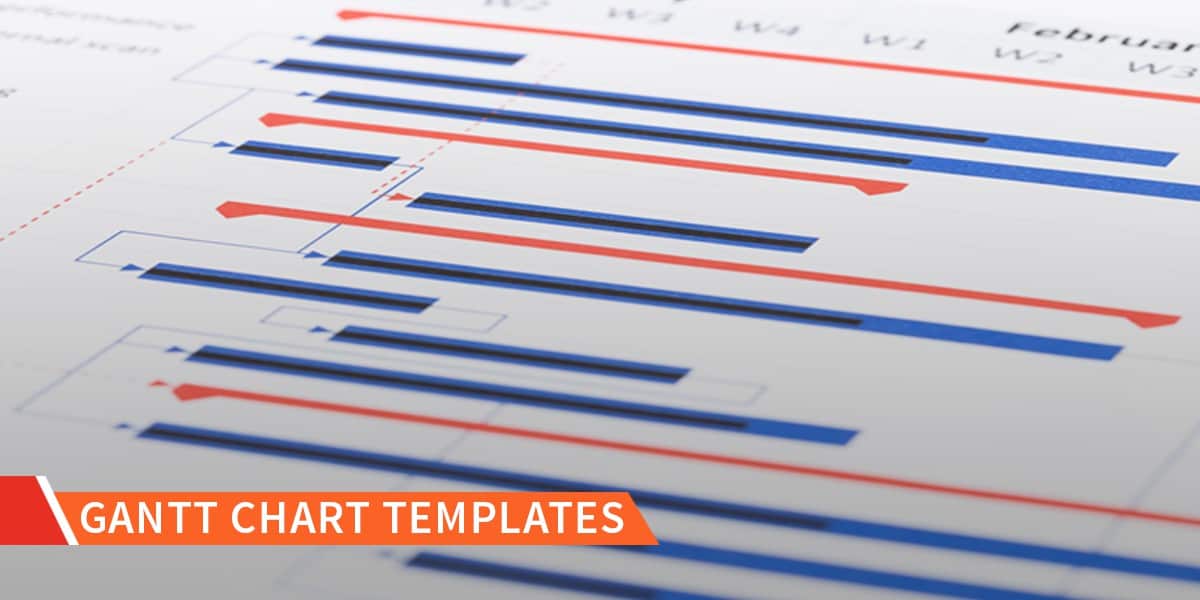 1. Gantt Chart Templates
Probably the most popular type of project management chart, this is a horizontal bar chart that organizes tasks by start and end time. It also shows the dependencies between tasks, as well as progress of tasks.
You can also assign tasks to various team members and use different colors to designate which task belongs to whom. Add to that the ability to view planned and actual progress, and baselines and critical paths, and this is a really useful tool.
When To Use:
Gannt Charts are popular with good reason. They can be useful for almost any type of project, but are an especially good choice for time sensitive projects with a lot of moving pieces. The ability to visualize all of your tasks, their dependencies, team members, delays, and projections in one place makes this ideal if there is a lot of complexity to your project or team.
Templates Use:
Gantt Template #1 - "This template contains the core functionality needed to create a simple Gantt chart easily. Each row of the worksheet represents a separate task. All you need to do is define the start date and duration of each task."
Gantt Template #2 - This is a free trial that requires no installation or credit card, but just be aware that it is a 30 day trial, meaning it's not free forever.
Gantt Template #3 - This site offers several variations of a Gantt chart template, as well as a PowerPoint version for presentations.
2. Project Budget Templates
A project budget template is a useful tool when you need to organize the costs of labor, materials, and other expenditures. It will allow you to stay on top of payments, schedules, and employees, as well as anticipate delays in a project due to extra expenses. At the heart of almost every project is a well-planned budget.
When to use:
Not all projects have sensitive or highly complex budgets, but if they do, you'll definitely want to use a project budget template to organize your information. It can be used in conjunction with a Gantt template, so that all of your information is available in one place. If your project requires a lot of attention to budget details to bring it to completion, this is going to an important template for you to use.
Templates Use:
Project Budget Template #1 - "This spreadsheet is designed to make it easy to define and categorize all the costs associated with a detailed project. The categories are laid out in the traditional WBS (work breakdown structure) format, making this template a useful addition to our popular Gantt chart template, which can be used to define a detailed project schedule."
Project Budget Template #2 - "Plan your project budget and track actual expenditures over time with this spreadsheet template. Estimate costs for project design, development, delivery, and management and compare with actual costs incurred."
Project Budget Template #3 - "Monitor project expenses with this Excel budget template. Includes color-coding to let you know when you're in the red!"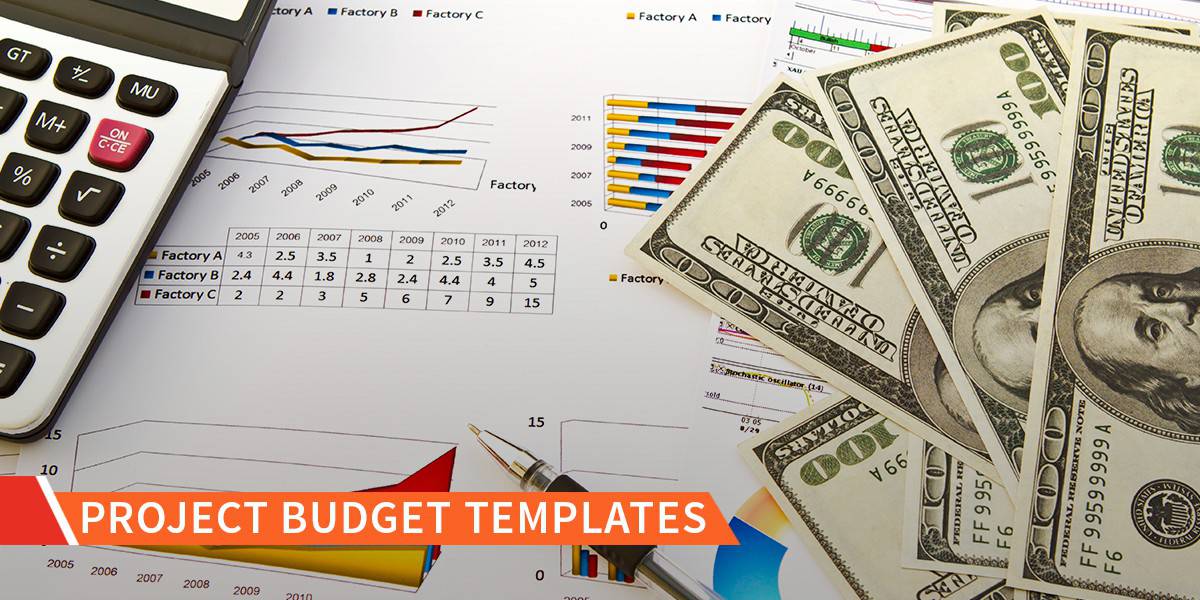 3. To Do List Templates
While the Gantt template enables you to view all of your project's tasks in one place, it can be helpful to have another spreadsheet that details the more specific aspects of each task within the project.
A to-do list template can aid in this, as it will allow you to keep track of the various steps within each task. You can create a single to-do list that includes all task lists, or even create a list for each team member, which they can then update as they go.
This template will usually include a way to record tasks, due dates (by days, or even hours), priorities, goals, and actual progress.
When to Use:
This is an especially good choice of template if your project includes a lot of team members or tasks. It can help avoid any confusion over assigned tasks, or avoid missing steps along the way that would slow a project down and require backtracking.
Templates Use:
To Do Template #1 - "This printable To-Do List helps you get organized. It is highly customizable and requires only basic spreadsheet knowledge to edit or customize. It can be adapted for your personal use or used collaboratively in a team environment."
To Do Template #2 - Smartsheets offers a variety of to-do list templates, making it easy to customize to your specific project needs.
To Do Template #3 - These free templates from Microsoft Office are available for Excel, Word, and PowerPoint.
4. Timesheet Templates
More than just a way to log hours, a timesheet can be a helpful resource for everyone within a project.
If timesheets are located within one place, members of a team can view how many hours are being allocated to each task, as well as who is bearing the brunt of the work, and who could use more tasks. This can help to make sure that work and time is being distributed fairly, as well as guard against misuse of time or resources.
When to Use:
A timesheet template is a particularly helpful tool for larger projects with multiple team members and complex allocation of resources. If you need to build clients for services, this is also an important record to keep for billing purposes.
Templates Use:
Timesheet Template #1 - Vertex42 offers 7 timesheet templates, and 10 payroll and HR templates.
Timesheet Template #2 - "Keep track of hours worked, as well as regular and overtime hours for yourself or your employees, with this accessible timesheet template."
Timesheet Template #3 - This site offers a variety of weekly, biweekly, and monthly timesheets to meet specific needs, including timesheets with lunch breaks, vacation hours, and night shifts.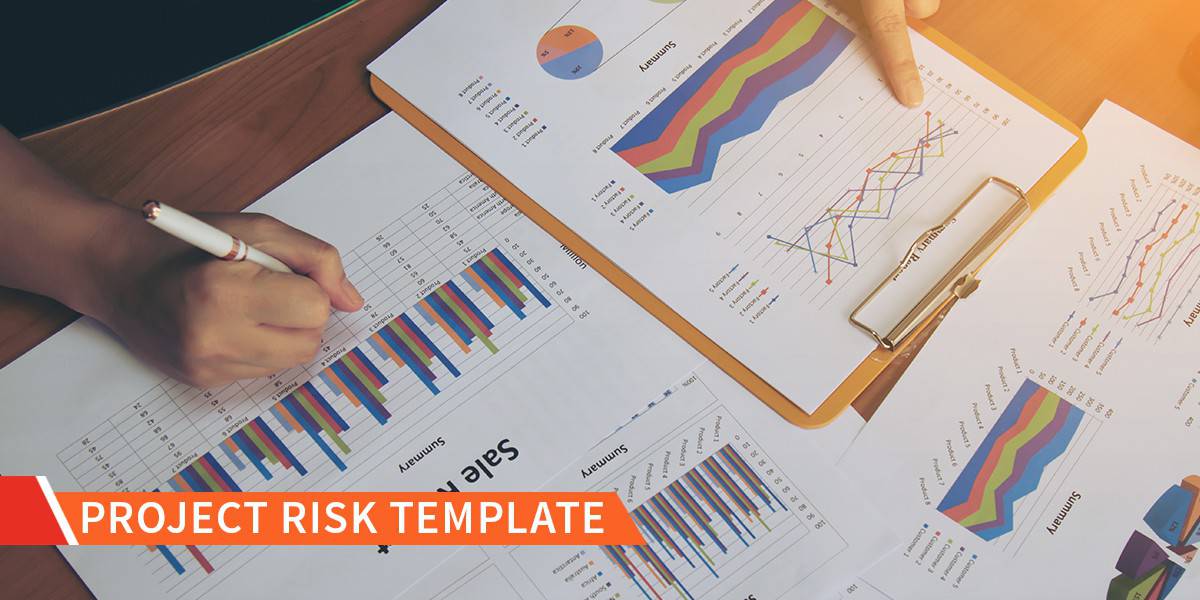 5. Project Risk Template
Every project comes with risks, but the best thing a project manager can do is prepare for those risks and have a plan in place for meeting them head-on. This is where a project risk template comes into play.
By recording any anticipated risks in an organized fashion, you can be aware of them before they impact budget or work flow. You can also assign risk level to each task, giving higher priority to those tasks that create higher risk.
When to Use:
Unless your project is fairly small, you'll want to have a plan for project risks, so projects with various tasks, team members, and deadlines, this template is a helpful tool to use.
Templates Use:
Project Risk Template #1 - This risk assessment scorecard measures operational and competitive risk for your project.
Project Risk Template #2 - This spreadsheet is pretty comprehensive, including columns for category, impact, contingency/mitigation, and progress.
Project Risk Template #3 - "The Risk Register was created and used to record and update the results of risk analysis and risk response planning. The Risk Register includes a dashboard that provides overview over the current situation."
6. Project Tracking Template
As any project manager with the required training can tell you, it's helpful to have an ongoing, detailed account of all of a project's tasks for all team members and clients involved. A project tracking template will enable you to list all tasks and keep track of their progress as the project moves forward. This is like a Gantt chart, but with more emphasis on the detailed, day-to-day progress of the many pieces of a project. This chart will include priority, description, deliverable, percentage done, projected hours, actual hours, and cost.
When to Use:
If your project's progress depends on tasks being completed on a deadline or in a particular order, or if your project is just large with a lot of moving pieces, this is a great tool to utilize in an effort to keep everything organized and moving forward.
Templates Use:
Project Tracking Template #1 - This spreadsheet has the ability to "communicate vital information, estimate expenses, and stay up-to-date on the status of each task," making it a valuable resource for managers, as well as collaborators and contractors.
Project Tracking Template #2 - "A small business manager can use this accessible template to track projects by category and the employee assigned to them. Flagging over/under is easy with a built in calculator based on conditional formatting and user input."
Project Tracking Template #3 - "With the project tracking template, you can add tasks, status, priority, deliverables, deadlines, cost, hours, and more for your whole project."
7. Issue Tracker Template
In an imperfect world, issues are bound to arise within any project. Rather than just deal with it and move on, hoping it won't happen again, it is actually really important to record and track issues, so as to better avoid or prepare for issues in the future.
With this template you can assign an owner to a problem when an issue arises, give it a priority, check its status, and mark it resolved once completed.
This also gives team members a place to report problems as they appear, rather than letting them slip through the cracks in the midst of a busy project.
When to Use:
If your project involves a lot of change, or variables (several team members, a lot of tasks), this will be an important resource for ensuring that issues are tackled with efficiency and ease.
Templates Use:
Issue Tracker Template #1 - Tidyform offers 3 different issue tracking templates for your project.
Issue Tracker Template #2 - "Track issues and bugs with Smartsheet's Simple Bug and Issue Tracker template. Create a customizable web form for service staff, testers, or customers to log issues and manage all entries in one central location. Then, prioritize and coordinate responses until each issue ticket is closed."
Issue Tracker Template #3 - "Track project issues as they arise with this Excel template. Define priority of each issue, assign to key people on the team and check off when complete."
8. Project Management Dashboard
Need a place to view all of the above with ease? A project management dashboard is a great way to stay on top of all of the moving pieces of a project with as little or as much detail as necessary.
For the project manager, this dashboard can give you at-a-glance reports of tasks, issues, projections, actuals, risks, costs, budgets, and much much more. With it you can view graphs, timelines, and lists to make sure you always know what's going on in various areas of your project.
It also enables your employees and team members to report to their manager quickly and efficiently, especially for those who may work remotely.
When to Use:
This really is a helpful tool for any project manager, but especially for those of larger, more complex projects. It's also a good thing to have on hand when reporting status of a project to investors or clients, with easy to understand graphs and charts.
Templates Use:
Dashboard Template #1 - "Monitor project's progress with our Excel dashboard template. Track task status, budget and even see a Gantt chart of your project progress."
Dashboard Template #2 - "You can create a project management dashboard in Smartsheet using Smartsheet Sights. Sights gives teams unprecedented visibility into work being done by surfacing data from underlying project sheets." Dashboard Template #3 - This is great software for creating a customized dashboard. It is not ultimately free, but does include a free trial, so you can find out if it's worth the cost for your project.
Conclusion
Whether you are new to project management, or have years of experience and training under your belt, there are plenty of free and easy to use resources available in the form of project management templates that can lend a helping hand to your next project. With these tools, you can give your team the organization they need to succeed, as you track progress and meet deadlines without letting anything fall through the cracks.