Many organizations find it challenging to execute strategies in the right way to obtain the best possible outcome. This is why the role of gap analysis in project management is crucial. To make a project efficient and successful, one should know if the project is on track by meeting the desired performance criteria. This knowledge is mandatory to ward off the risks in the future.
A survey by Brightline Special Report states that 59 percent of organizations struggle to bridge the strategy gap between development and day-to-day implementation. The challenges in executing challenges successfully are why gap analysis comes into the picture.
What Is Gap Analysis in Project Management?
Gap analysis in project management

Source: Business Jargons
Gap analysis in project management is the method devised to understand the gaps in a project. It analyzes and compares the current and desired outcome and recommends steps that you can take to close the gap. If you want to bridge the strategy gap, you will need to analyze various perspectives, starting from business goals to the business process. To compare actual performance to the potential performance, we need to analyze the factors that impact the performance, starting from resource planning, investment, the technology used, and various other relevant factors. You can clear the path to bridging the gap by documenting and analyzing these factors.
Many Project Management courses online take utmost priority to teach you the nuances of gap assessment according to the PMBOK® guide.
Why You Need Gap Analysis in Project Management
Gap analysis project management improves the organization's effective utilization of resources like time, money, and workforce spent on the project and optimizes them. It enables more efficiency in the project, making it easier to meet the goals of the project. It identifies specific problem areas and guides with the actionable steps to improve your process, products, and services under the radar. It might sound the same as risk assessment. Still, the difference is that risk assessment focuses on future risk prediction, whereas gap analysis in project management analysis the current risks in that project to align them back to business goals. Closure of gaps in a project is significant in a project for client satisfaction and effective resource utilization. It is why the most coveted PMP Certification online has included gap analysis in project management in their curriculum.
Addressing the Strategy Delivery Gap as a Project Manager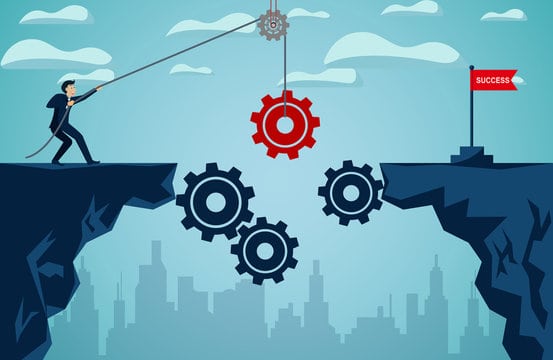 Source: adobe
With gap analysis in project management, you know when the project is off track, making it crucial for you as the project manager to address the strategy delivery gap. This is why gap analysis is an integral part of project management in Project Management Certification courses.
Why identifying strategy gaps is crucial for a project manager:
Identify any weaknesses or shortcomings and overcome them. Identifying gaps from time to time makes it easier to quantify them in the long run.
Improving the efficiency of the team and project by doing a gap analysis.
Identifying the differences between perception and reality.
It points to anything unusual going on so that you can focus on it and make the necessary changes.
Using analysis tools can help you automate the process to get a detailed overview of the underlying process. It helps you understand if you have enough resources to meet your goals.
In project management, the gap analysis process helps you improve yourself and give you an insight into what needs to be corrected before it is too late.
Making improved and informed decisions.
Taking a PMP Certification online gives you remarkable knowledge in closing the strategic vision or implementation gap in project management.
How to Perform a Gap Analysis in Project Management
1. Identify Current State
When performing a gap analysis in project management, narrow down on the type of gap assessment you will be using and decide on the analysis criteria. Keep all the metrics ready to assess the current situation. Identify where you are now and analyze the current situation. Bring in factors that are currently impacting the business's success and failure and quantify them.
2. Identify Your Future Goals
Establish your future aims and figure out if you are getting there. Consider the business goals and objectives you've already set, growth targets, specific profit or revenue figures, expanding into new locations, or personal goals matched with particular business performance. The gap analysis in project management helps you speculate about why things aren't happening and what needs to be addressed to get there.
3. Identify the Gaps between the Current and Future Goals
Now that you have the current and desired goals, create a comparison chart of the two to identify the lags that pulled you away from reaching the target. Dig deeper to identify the cause of the gap and address it, so it doesn't happen in the future.
In this step of your gap analysis in project management, try to answer questions like:
What decision led to this gap?
What was the mistake?
What could have been done to achieve the goal?
What resources should we consider to bridge the gap?
What is the new set of objectives required to get the expected outcome?
Once you find the answers to the above questions of the gaps identified, it's time to bridge the strategy gap.
4. Identify How You Will Bridge the Gap
You are accountable for delivering the strategy that you came up with. Hence the first step is to accept the consequence and be honest with the answers you deduced already. Thorough gap analysis in project management will show you why there is a gap, so now it's now time to act and close it. To do so, create a detailed plan for the actionable steps to be taken. Take the information gathered in the previous information and use brainstorming sessions to develop the optimum solution to bridge the gap.
Accordingly, once you have arrived at a solution, you should see that you implement it. Many great ideas have failed due to overlooking implementation. Let us explore a few principles to narrow such gaps in the future.
Principles to Narrow the Strategy Gap as a Project Manager
1. Deliver the Strategy You Planned
When you define a task to your team, define a strategy and communicate it. You cannot communicate a strategy; it requires active and visible leadership for skills. Active leadership promotes team engagement and better results. When you have invested a lot of time designing and developing the right strategy, you invest the same priority and focus on delivering it optimally. An online PMP Certification training can support you in understanding the best practices in planning and executing a complex project.
2. Accept Your Accountability in Delivering the Right Strategy
Once you have communicated the strategy to the team, it is time to oversee implementation progress. Accepting accountability helps deliver excellent results. You should orchestrate the strategy and manage the situation by proactively addressing the gaps and challenges that impact the delivery.
3. Assign the Right Resources
Assign the right person to get the job done, and not all resources are alike. Each person has a distinct skill set. Select the right resource for each task. Recognize that team leadership skills are the need of the hour and assign the best resources with sufficient skillset to tackle the issues head-on for successful strategy implementation.
4. Leverage Insight into Customers and Competitors
The business environment is ever-evolving. Hence you need to monitor the key market trends and keep gathering insight from your competitors and customers. Success in the market favors those who outshine at obtaining new insights from an evolving business ecosystem and promptly reacting with suitable resolutions and adjustments to both strategy design and delivery. It will help you understand the unknown risks and dependencies that you face during the project cycle.
5. Keep Your Strategy Robust Yet Simple
In project management, you will face a lot of complex challenges in delivering the project. Keep your strategy simple as possible and stay focused on the outcome. Keep the strategies moving forward by taking action from time to time. Simple strategies enable prioritizing work and delivering value by minimizing risks.
6. Improve Team Engagement and Communication
Effective communication is essential for a project manager. Place clear communication skills as paramount. Promote team engagement and practical cross-business cooperation.
7. Make Swift Decisions and Own It
Do not leave your decision midway. Ensure that it leads to completion. Commit to making impromptu strategic decisions and correct any diverted course and remove roadblocks swiftly. You don't have to have all the answers; seek aid when you need to. Ask reliable people for input and ideas.
8. Do Not Fear Failure
Though you plan and prepare with great care, there are times when things don't go well. Experiment and learn without fear of failure. Accept failures and learn from mistakes.
9. Recognize Your Team's Work
A project manager should always recognize exceptional work. Publicly acknowledge your team for their excellent work. Motivate generously and inspire them to deliver a focused result. Recognition of work gives a positive impact on the team member and drives accountability. Celebrate your wins together.
Reducing Project Risks with a Gap Analysis in Project Management
Gap analysis in project management provides clarity and propels efficient utilization of resources. This technique can be used anywhere. Gap analysis in project management, when used effectively, can eliminate risks and losses. It boosts the work experience and morale of the team. To effectively learn gap analysis in project management, Project Management Training Institute (PMTI) suggests taking up Project Management Certification courses and getting a PMP Certification online.
PMTI is a Premier PMI Authorized Training Provider (ATP) and has played a significant role in training several project managers to successfully deal with real-time challenges and don their roles and responsibilities. If you are preparing for the online PMP certification, enroll for Project Management Certification courses from a PMI's ATP like PMTI to become an industry expert and a thought leader under expert guidance.