In today's business world, successful organizations are always looking for ways to gain a competitive edge. One way to do this is by adopting a hybrid approach to project management. Hybrid project management blends the best elements of traditional and agile project management approaches in order to deliver superior results. By carefully tailoring the project management approach to the specific needs of the organization and the project at hand, hybrid project management can help organizations achieve their goals more efficiently and effectively.
According to the Project Management Institute (PMI), nearly 2.2 million project-oriented roles will emerge annually until 2027. This prediction places the Project Management Professional (PMP) exam in the spotlight. The online PMP Certification training has also undergone a marked shift. Prospective managers vying for a Project Management Institute Certification in 2021 will study a different syllabus.
Until 2021, project management courses online focused on 5 critical areas as per the PMI regulations:
Initiating
Planning
Executing
Monitoring and controlling
Closing
In 2021, these areas will reduce to three: people, processes, and business environment. This transformation results from the PMI further embracing Agile project management principles as the leading project management methodology. Companies all over the world have also adopted the Agile method. Of these, Microsoft assuming the Agile model remains a poignant example. However, while companies make this shift, even more companies are taking the hybrid route.
What Is Hybrid Project Management According to Project Management Courses ?
Hybrid project management refers to a combination of Agile (modern) and waterfall (traditional) methodologies. The former is a more flexible methodology with greater emphasis on team cohesion, stakeholder engagement, and communication abilities. Meanwhile, the waterfall methodology lays out a strict path for project development to follow.
A significant difference between the two main processes also lies in work ethic. As your online PMP certification classes tell you, Agile methodology works in sprints. It completes individual tasks through sprints, measuring progress, and delivering value consistently with this technique. Therefore, Agile development is gaining popularity, as evidenced by PMI's shift towards it.
Hybrid project management: Agile vs Waterfall model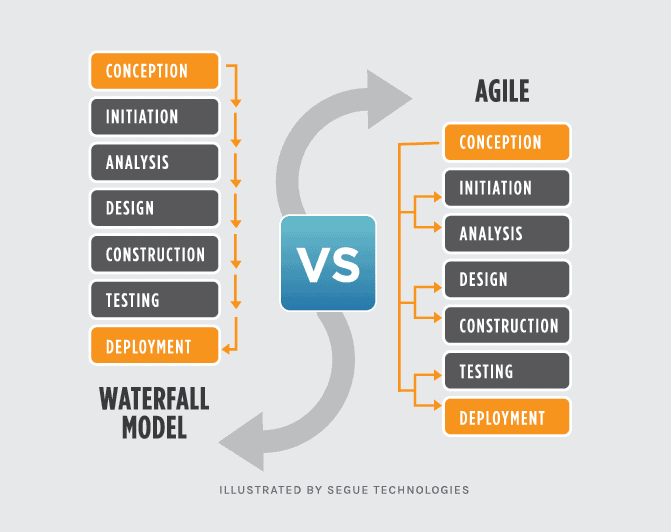 (Source: Segue Technologies)
That said, every project cannot use the Agile methodology. Some project managers prefer a more rigid approach, especially when managing more extensive projects. However, they may still find the waterfall methodology too strict.
Here, a hybrid process becomes the ideal middle ground.
The hybrid methodology combines the best parts of the Agile and waterfall methods. It has flexible project planning with stricter organizational structures. Hybrid project management essentially turns the project into a jigsaw puzzle. It looks at the complete picture, then breaks it up into individual parts or pieces, and puts it back together.
Why Project Managers Switch to Hybrid Project Management
Today, you can get a Project Management Institute Certification with a specialization in Agile planning and deployment (PMI-ACP). However, as the shifting exam syllabus proves, today's projects' demands are much more complicated. The non-linear nature of the Agile process allows prospective PMs to tackle and overcome these complexities. The flexibility of the Agile method also creates room for effective risk mitigation. Even when unforeseeable, unpredictable risks emerge, the Agile approach creates space to combat them.
With such a wide range of benefits, it is hard to imagine someone would opt for the traditional method at all. But the waterfall method has its advantages, too. It has clear stages, and well-defined milestones and the progress is easily measurable. The room for flexibility Agile offers also creates space for miscommunication sometimes.
Hybrid project management is born out of the shortcomings of both methods. Meanwhile, it plays to the strengths of the processes. When project manager runs a hybrid model efficiently, they optimize their time and budget usage.
According to project management courses online, the Agile timeline and budget are fixed. The scope of the project is then determined based on these factors. However, the waterfall method determines the timeline and budget based on a fixed scope.
In the hybrid method, there are equal parts flexibility and rigidity. It creates a balance at every point, which then maximizes team efficiency. Therefore, this approach gains popularity, leading to wide usage.
Using Your PMP Certification to Implement the Hybrid Method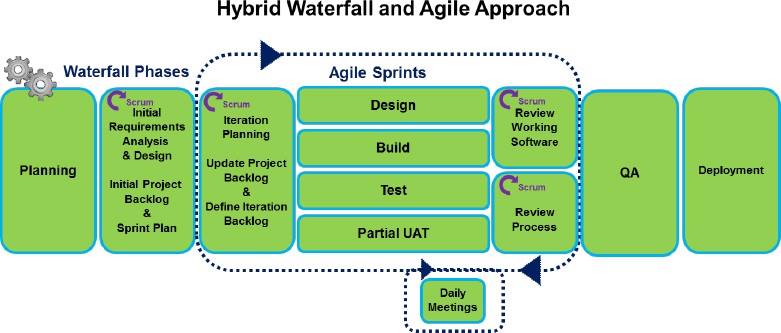 (Source: PMI)
During your PMP training, you learn about the various phases of project management. I also outlined these above in the introduction. These phases continue into the hybrid method. Therefore, we begin with planning.
Planning
Initial planning happens through the waterfall method. You can re-examine these requirements during the Agile sprints later. While the initial planning may be more rigid, you still take stakeholder input during the planning. Your team and stakeholders should ideally finalize 80% of the requirements and design decisions during this phase. The remaining 20% is flexible, based on sprint results and progress.
Iterative Sprints
You then schedule sprints over the given timeline. The progress you make during these sprints is planned based on your defined scope and priorities. The sprints in the hybrid method differ from the Agile approach – they are scope-bound.
Agile sprints are time-bound. After completing an Agile sprint, you measure project progress. In the hybrid model, the iteration is complete only after the team meets the planned scope. Measuring this through sprint burn-down charts and other methods you learn about during your online PMP Certification remains possible. Then, at the end of each iteration, the project team releases a finished project element prototype. This element goes to the stakeholders and clients for their input and feedback.
Quality Assurance and Deployment
Once a cycle of iterative sprints ends, test cycles begin. Here, you and your team identify more risks and blind spots that the project could have. Testing includes analyzing the functional and non-functional, more aesthetic aspects of the project. This communication assures quality and prepares your project for deployment.
Clear Team Structure
The project team structure in the hybrid model remains similar to the Agile and waterfall team structures. Account managers, project managers, deputy managers, etc., remain the default. This categorization also clarifies everyone's role in the project's success. Defining roles and responsibilities remains very important. Such definitions are essential in the hybrid method, which has more rigid leanings.
Stakeholder Engagement and Management
Constant communication is vital for effective project management. As the new Project Management Institute Certification exam guidelines layout, people, processes, and business environment are the future. These will be the focal points for prospective project managers. Simultaneously, they point to the importance of team cohesion and collaboration. However, as Agile's 12 principles established, stakeholders and clients are just as crucial to the project.
The waterfall methodology only showed the stakeholders the finished product. The development processes remain hidden from view. Agile methodology changed that, giving them insights at regular intervals. The hybrid method meets both halfway, proposing the end of iterative sprints as points for stakeholder engagement. These meetings ensure continuous feedback on quality, functionality, and release readiness.
With these advantages, companies use the hybrid methodology extensively today. Its ability to blend traditional and modern methods makes it an essential answer to project complexities. In a 2019 PMI study, they found that 60% of the companies surveyed used hybrid methodologies. Therefore, understanding hybrid project management is key to getting your Project Management Institute Certification!