Working conditions are unprecedented in 2020. With the COVID-19 pandemic forcing everyone indoors and making companies work remotely, project managers are forced to adjust accordingly. Even the best companies including PM certification training firms could not predict such a large scale change. Luckily, with Agile methodology's growth, more project managers have found Agile software tools that help manage teams remotely.
That said, project managers are aware that remote test taking impacts Project Management Professional Certification. While there are ways project managers can overcome these challenges, let me discuss the hindrances first.
The Impact of Remote Work Culture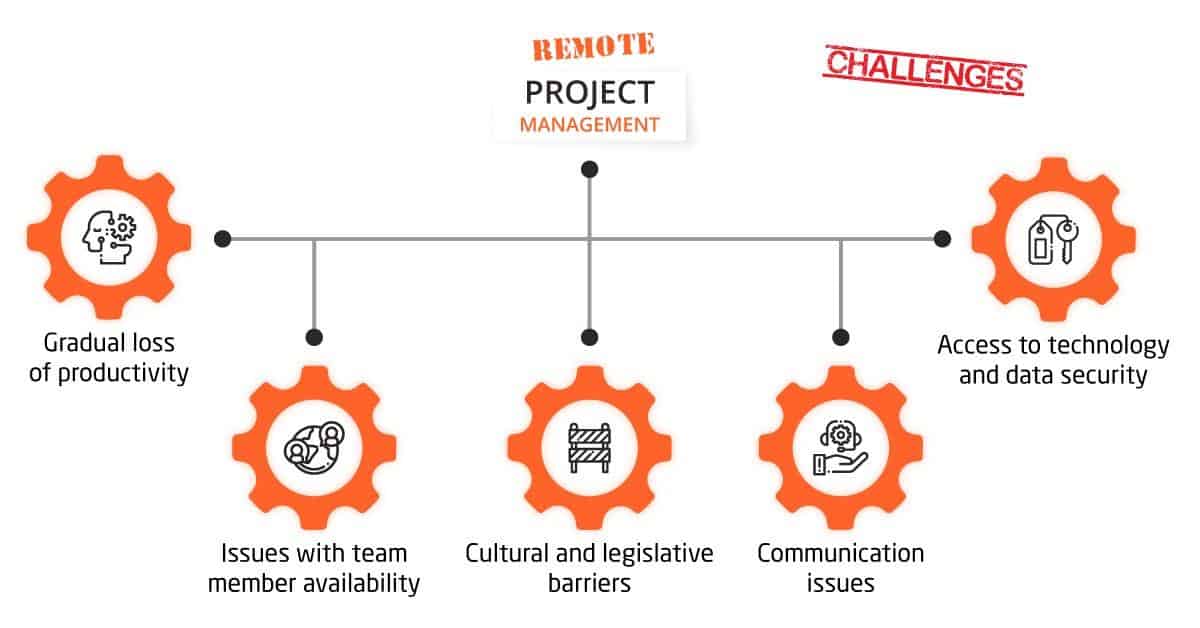 (Source: Hacker Noon)
Project managers are leaders defined by their abilities to communicate. They ensure that the team works in complete cohesion. It is much more challenging when you need to work remotely. Motivating the team is very difficult as remote project management. With this, we come to the first challenge.
Lack of Employee Motivation
A lot of teams feel more motivated when they are in a space conducive to their professional growth. Daily meetings with project managers can be very motivational. With remote work, this is no longer possible.
Everything is virtual, then, has two main problems that cost motivation:
Commitment Problems:
When meetings, workshops, etc., are virtual, disengaging is much more comfortable. Especially if a team member's home environment is not conducive to productivity, this disengagement happens. They feel mentally exhausted from everything around them. Knowing they can turn off their camera and microphone serves as a relief. But it also reduces commitment.
Screen Fatigue:
Meeting people physically is no longer an option. It translates into screen fatigue since both professional and personal interactions need to happen online. Therefore, team members spend a lot of time looking at laptop and computer screens. The constant glare affects not only eyesight but also mental health. The ability to switch between multiple screens with no down-time lowers attention spans. Therefore, they are less focused and complete tasks poorly. They fail to deliver value at the end of every sprint.
New Distractions
The best online Project Management Certificate Programs teach you about focus. As a project leader, you need to learn how to delegate to your teams effectively. After delegating, you can focus on your tasks. During your PMI certification, you may even learn how to combat distractions. Unfortunately, all team members do not necessarily have the same training.
Working from home or remotely often comes with new distractions. After getting accustomed to workplace distractions, team members often find home distractions much harder to ignore. In 2017, an interviewee's children interrupted their father's virtual BBC interview. While that clip went viral, every such distraction is not as cute. Nor can every employee bounce back to work as quickly. Such distractions prevent employees from maximizing or optimizing their productivity.
Technical Problems
Losing focus and motivation can also occur as a result of connectivity issues. When team members can't attend meetings due to WiFi problems, they miss out on valuable information. They also feel more disconnected from the rest of the team since they don't see them.
These technical issues are even more dangerous when reliance on WiFi increases. If the team uses a specific software or technological tool for better cohesion, lack of connectivity prevents them from accessing important information. Poor connectivity can also affect data transfers, which could cause security problems for the company. Therefore, with your Professional Project Management Certification, you need to be prepared for such hindrances.
Inadequate Work-Life Balance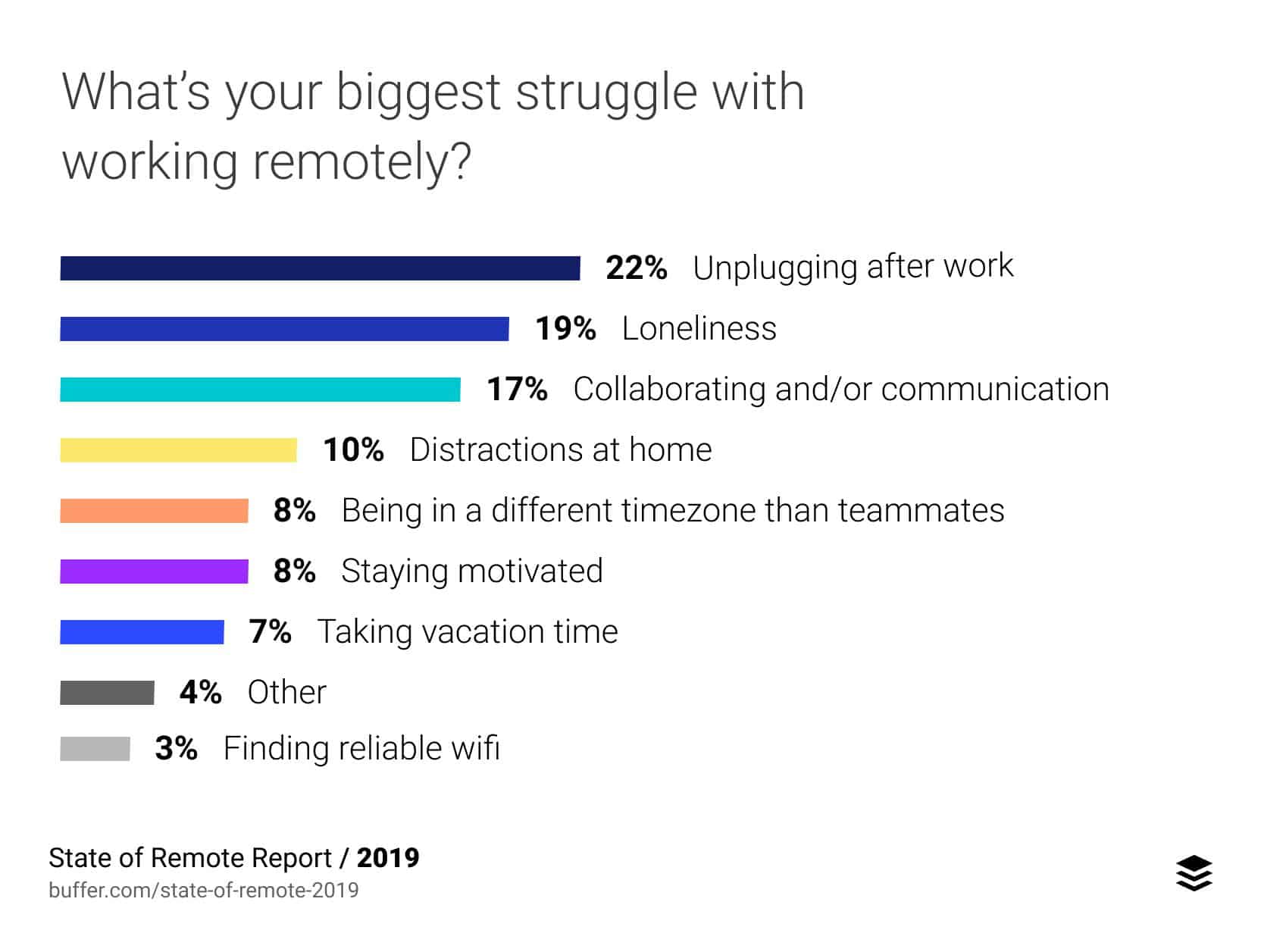 (Source: Buffer)
Working from home without a designated office space affects work-life balance. According to a Buffer study, 22% of remote workers face problems unplugging after work. This difficulty can also be due to different time-zones. If meetings happen late at night and employees spend the day working, they essentially spend the entire day and night before a screen. They are also often forced to plan their personal lives around their professional lives. It can, then, lead to burnout and debilitating mental health.
Cultural Barriers
Working remotely also translates into hiring more remote employees, which not only propels a lack of familiarity but introduces multiple cultures. These then create barriers which your Project Management Professional Certification training teaches you to overcome. Only through overcoming them can you successfully manage your remote team.
Tips for Managing Remote Teams According to PMTI Online PMP Certification Experts
There are several ways to combat the problems mentioned above. I have identified 5 key ways to help you get started.
Effective Communication
Nothing prevents problems like effective communication. Regular team meetings ensuring that all the members know what they have to do removes any possibility of any confusion. Clear communication also keeps the team invested in the project. Therefore, there is a much higher chance of members delivering value at the end of every sprint.
Communication is an essential part. It plays a role in all the other tips I will discuss. You learn a lot about effective communication during your Project Management Professional Certification training
Establishing Psychological Help and Safety
I discussed the mental and emotional toll remote work takes on employees. Offering sufficient mental health services for the same ensures that they have the professional support they need. It boosts their productivity while keeping them in check about themselves.
Psychological safety is just as important. Harvard Business School professor Amy Edmondson defines it as "a sense of confidence that the team will not embarrass, reject, or punish someone for speaking up."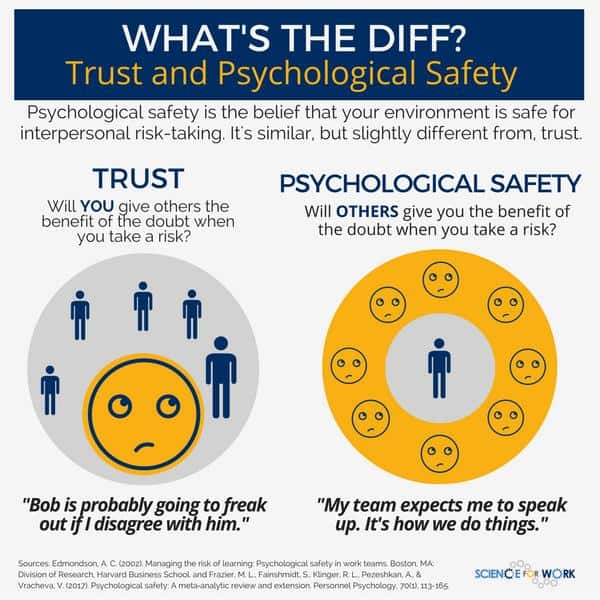 (Source: ScienceForWork)
It means that members feel safe, making mistakes, and adjusting to remote work. The best online project management certificate programs teach you that a leader is fallible. You need to allow yourself to make mistakes. Teams need to see you as human to trust you.
It also involves setting up effective channels for feedback and grievances. Therefore, you can better manage remote work conflicts and symptoms of deteriorating mental health. Making yourself for video conferences with your employees to discuss professional problems builds better company culture.
Organize Trust-Building Sessions Outside Work
In remote work, not seeing team members' faces or only interacting about work can take a toll. What professionals call "water cooler conversation," i.e., the small talk employees have during their breaks, cannot happen. You need to bring this back. Organize workshops or online games that employees can enjoy outside work. These sessions help them learn more about each other, fostering team spirit.
The new 2021 Project Management Professional Certification exam includes "People" and "Business Environment" as the syllabus's new categories. While they encompass more than company culture, they are also very much about the culture. Therefore, having trust-building sessions helps build company culture.
Listen and Act
I've always said that "Good trainers teach. Great trainers learn." This is also true of project managers. Just like your teams learn from you, you can also learn from them. Your online PMP certification learning often includes listening as a crucial skill for project managers. They are right as a project manager, you need to actually listen.
Pretending to care is a bad look on anyone. But it is even more an inferior quality in a project manager. The point of delegating is that you trust someone else with specific tasks. When your team gives you feedback on any aspect of the project, you need to listen to them.
But listening is not enough - you also need to act on the feedback. If you feel you cannot follow through on the feedback, communicate the same to the team or member. Showing your team that you actually listen to them makes them feel more invested in the project.
Use Online Collaboration Tools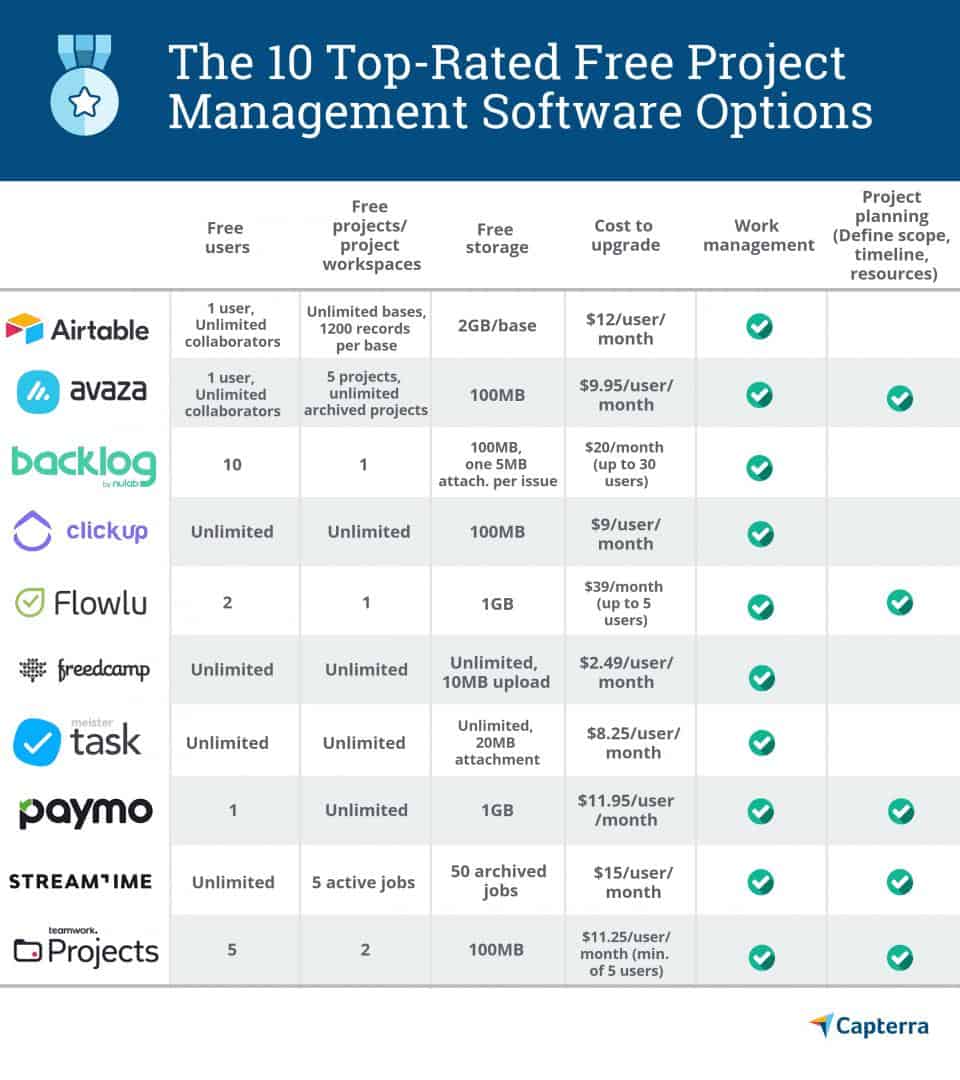 (Source: Capterra Blogs)
There are several software options available today that allow teams to collaborate online effectively. Tools such as monday.com, Zoho, Nectar, Quizbreaker, etc., all work to foster team spirit differently. They also help organize the project so that anyone can access the project layout at any time. They can see precisely what they need to do, what tasks are complete, and what risks the project may face. Based on this information, they can then work to iron out any complications.
With your online PMP Certification, you are perfectly placed to help your remote teams work efficiently. Treat them as human beings, and you get the same treatment. The best online project management certificate programs teach you ways to combat any team friction. Start your training today and see what difference you can make as a project manager!