The PMP exam is tough to pass, and every candidate must understand the pass rate to know how they must prepare themselves. PMP certification is very relevant and prestigious in many professional sectors. But simultaneously, it is one of the most challenging exams to pass. A majority of examinees fail on their first attempt. Read this blog to learn about the PMP Pass rate and other things related to this exam.
What is the PMP exam?
The PMP exam is an extensive and comprehensive assessment of a candidate's knowledge and ability to manage projects. It covers project management foundations, from start to completion, the project life cycle, cost and time estimation techniques, and managing risks and issues. It will test an examinee's ability to apply critical judgment in complex situations. The exam is domain-specific and application-specific depending upon the type of industry, meaning the student will need practical experience with the same types of projects covered in their area of expertise. Afterward, they must pass a 180-question exam. To prepare for the PMP exam, they may take PMP classes to pass PMP on the first attempt.
PMP Certification Eligibility Criteria
Based on the candidate's educational qualification, there are two scenarios where they may be eligible for the exam.
If they have a four-year bachelor's degree or global equivalent, they need to meet the following requirements:
Minimum three years (36 months) of unique, non-overlapping experience on professional projects in the last eight years
35 contact hours of specific project management education/training or CAPM certification
If they have a high school diploma, associate degree, or global equivalent, they need the following:
Minimum three years (36 months) of unique, non-overlapping experience on professional projects in the last eight years
35 contact hours of specific project management education/training or CAPM certification
What is the PMP Exam Passing Score?
People made several speculations and guesses on how much is the passing score for the PMP® exam, but there isn't a definite PMP® passing score. While PMI® published an exam success rate of sixty-one percent in 2005, the exam and its scoring level have since evolved. The PMI® has also cited that they use subject material experts yearly to determine the passing score a student need for the exam. It is also advised to train with a Premier Authorized Training Partner of PMI® and learn from the best. It is essential to note the following points as well:
The PMP exam is psychometric, meaning each candidate gets a different set of questions. So, the passing score will differ from person to person.
The difficulty level varies across exams, depending on how the questions are distributed. So, passing marks are different and depend on the difficulty of the exam.
More straightforward questions have a higher passing score, whereas difficult ones have a lower passing score.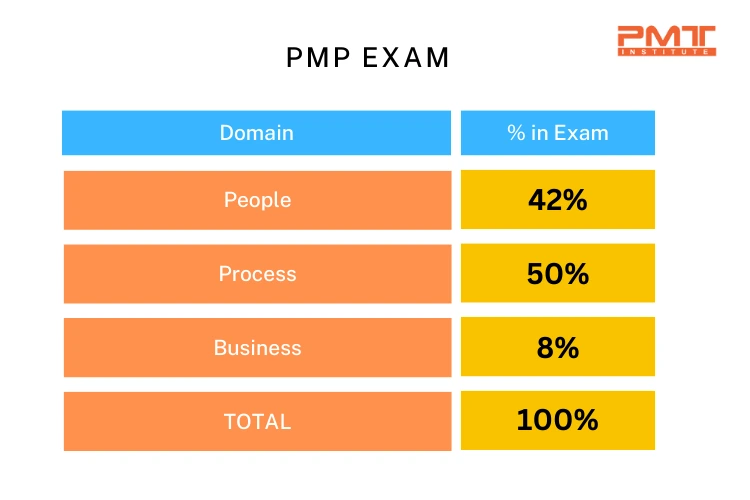 PMP Pass Rate
Each year, over 60,000 candidates enroll in PMP® to extend their project management skills and knowledge. Of this, only 60% or below pass the exam. It can be disappointing for many who have high hopes for them but do not work hard to prepare. As hard as it sounds, it is worth the effort can help a person as follows:
It increases job opportunities in the field of project management.
A certificate holder can take up administration roles such as Project Manager, Program Manager, and Project Risk Manager.
It aids a candidate in choosing the right tools and techniques for project success.
It opens gates for paid training opportunities outside of work.
It proves a candidate's skills, expertise, and value that they can add to their organization or client.
It builds the candidate's confidence in new challenges and helps the candidate develop leadership skills.
It increases a person's salary by an average of 23%. The chances of getting a project or promotion get higher as well.
A person earns respect from his peers; the certification makes him more credible for future opportunities.
Why do Most Candidates Fail PMP® Exam?
The first cause of exam failure in the exam is terrible time division. Many PMP® examinees take the exam and fail to complete 180 questions. Therefore, they have less chance of passing.
The second cause is probably to appear "ahead of time." It is a very demanding test with 180 questions and 230 minutes. That means they have only a little more than 1 minute per minute to read, understand, analyze, and select the correct answer.
Concerning the above two reasons, there is a third reason; lack of strategy. Most candidates need more time to study, either cause of work, family, or other reasons. They prepare by looking at specific topics, consulting a few blogs, and skimming through the PMBOK guide, which is needed.
That means to take the exam with a guarantee of success, a candidate must know the depth of the material. They must be comfortable with it and have practiced repeatedly to obtain at least 80% correct answers. Most people fail to make it this far correctly without a strategy, and that's why the PMP® pass rate is so low.
It is recommended to consider the exam as if it were a project. Define a study plan and a strategy. Set a target date and a series of steps to reach that goal. Identify weaknesses and strengths with defined days and times and focus on them.
Tips for Passing the PMP Exam
Tip 1: Time Management. A student only has 230 minutes for the exam, which is 4 hours and may seem a lot, but time will fly during the actual exam. Finish the questions you feel confident about first. Then go towards those that stir you up.
Tip 2: Get to know the PMBOK® guide. It is necessary for a candidate to know the guide in all aspects and identify each group and domain. A candidate can find the PMBOK® guide on the PMI®'s official website.
Tip 3: Use preparation books. The PMBOK® guide is the basis for the PMP® certification exam, but it is highly recommended to use preparation books that supplement the leading guide with another vocabulary.
Tip 4: Attend a preparation course. It is more of a requirement than a tip, as it is one of the prerequisites of the PMP® eligibility criteria. Many institutions offer this type of course which can be face-to-face or online. The PMI® accepts both. Please, note that the institute providing such a course must be registered with PMI®.
Tip 5: Use the PMP® exam simulator, which is very helpful. Several different simulators are available online and can be chosen by the candidate according to their liking.
Tip 6: Get inside the network of students and teachers. Many study groups are available on Facebook and LinkedIn to help students study.
How to Interpret Proficiency Levels to Understand the PMP Result?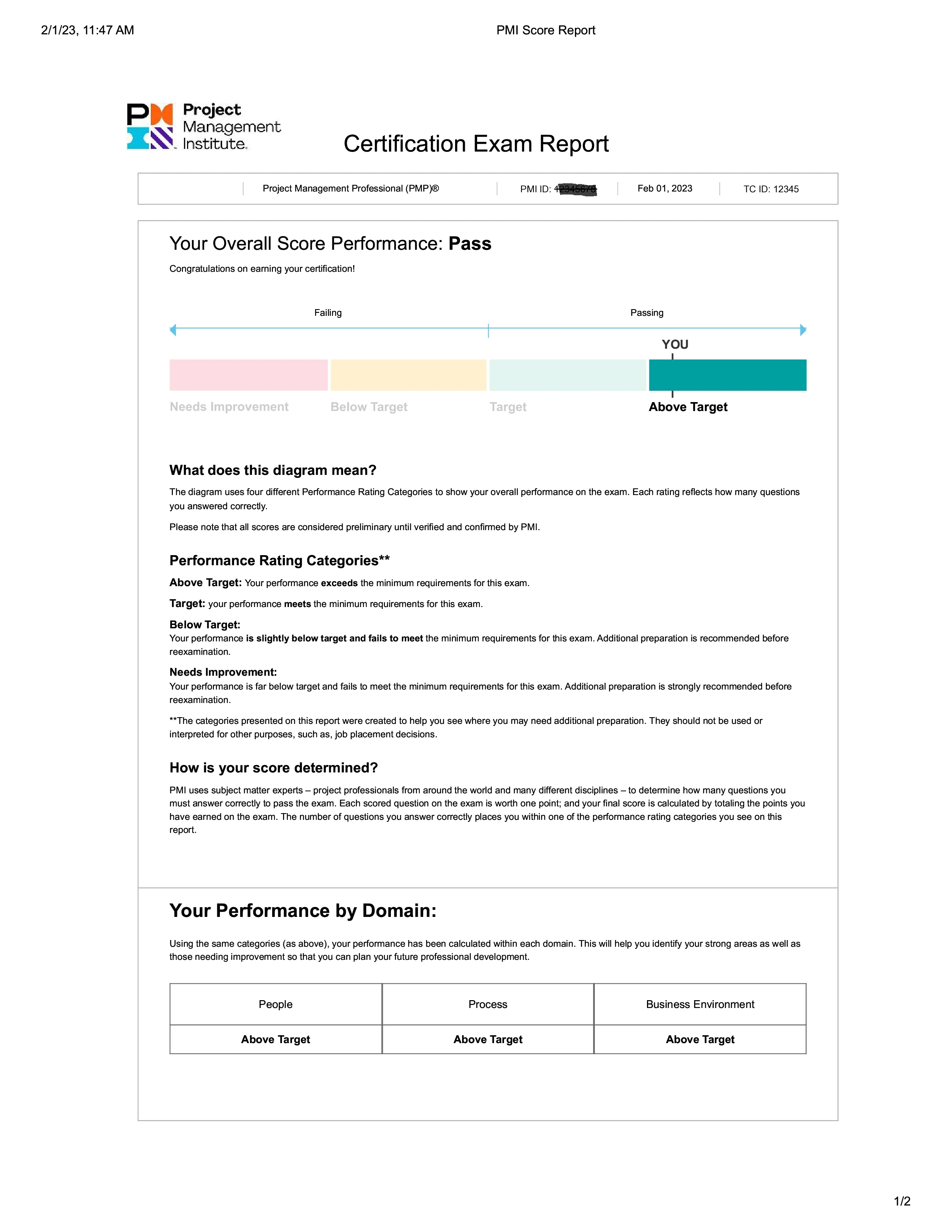 A student can attain four grades once they receive the PMP exam results. These grades, however, will not give a definite PMP exam pass rate or score. The four attainable results are 'Above Target,' 'Target,' 'Below Target,' and 'Needs Improvement.'
'Above Target' grade means a candidate has skills that exceed the standards of the Project Management Institute. A 'Target' result is still good and means a candidate meets the Project Management Institute's requirements. These are the levels a student has been working towards all this time, considered passing grades.
Next, the 'Below Target' this grade means the candidate's skills still need to be there. Their performance is below target and needs to meet the PMI's requirements. They need to get back in the saddle and put in more preparation and hard work.
The final grade is 'Needs Improvement.' This grade means the student is below the standards of a Project Management Professional. He needs help with project management concepts and additional training to improve his skill level. It is deplorable for a student that received this grade in their PMP certification but can use it as motivation to do better in their next attempt.
FAQs
How Hard is the PMP Exam?
The new PMP exam focuses on three domains and features 180 questions. Even if there were lesser questions, they would be a combination of multiple-choice, fill-in-the-blanks, and hotspot questions. It is safe to assume that the exam is hard.
How Many Students Pass the PMP Exam on the First Try?
There is no solid answer to this question since PMI® does not publish these statistics, but based on the last confirmed report of 2005, only 61% of students passed it on the first try, and the exam methods have since changed and become more arduous, hinting it will be harder to pass now.
Conclusion
The result of telling all of this in detail is to help a student understand how challenging the PMP exam is and how much harder they need to prepare and don't slack off. Don't stress about the required passing scores; make a strategy and stay on track, and they will hopefully ace the exam. Do rigorous practice and try to achieve optimal results in training to gain a good result in the actual exam.