Project management is a huge task that requires training, experience, and vision. A lot is required of a project manager, and because of that, one of the best things you can do is remove some of the workload and stress by getting it out of your head, and into an organized system.
Enter project management software, the solution to many of your project management problems.
With it, you can organize tasks, deadlines, risk, teams, budgets, and so much more. You can certainly pay for good project management software, but thankfully there are many products that offer a free version.
Whether you're looking for a better way to budget, a more comprehensive organization system, or an easier method of keeping track of task completion, the following list of available 14 best project management software and tools should provide the answer you're looking for.
14 Best FREE Project Management Software and Tools
1. Google Sheets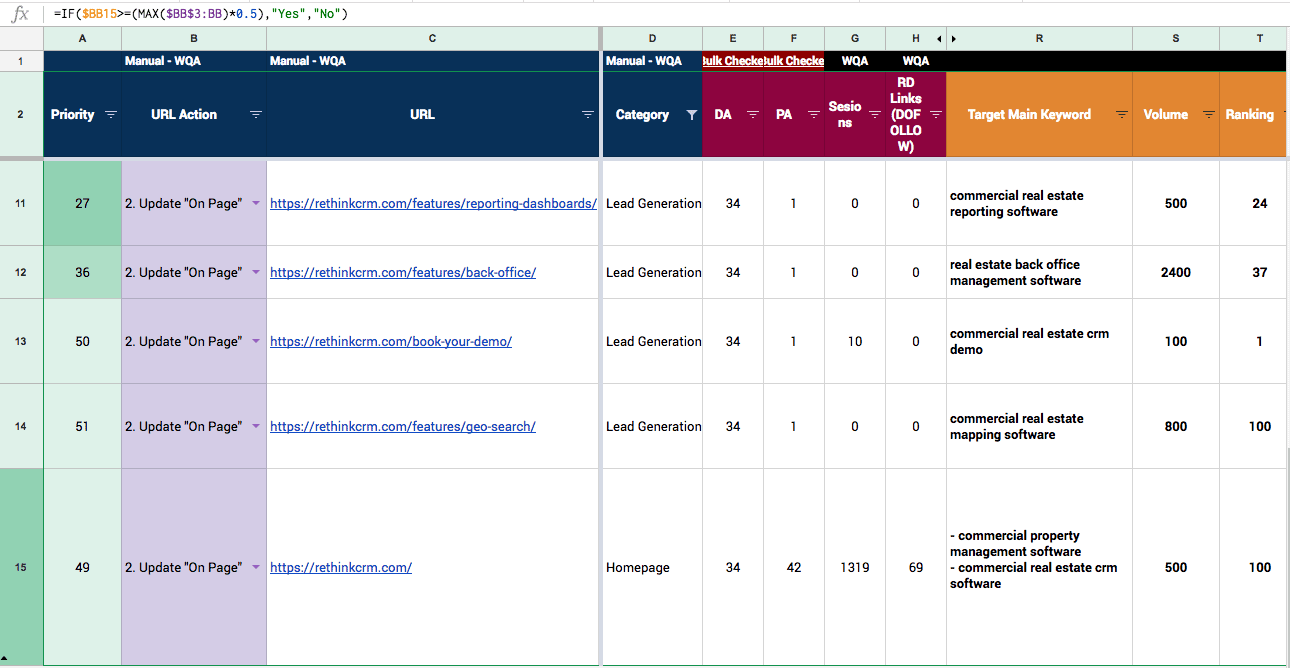 Overview: Google Sheets is a free online spreadsheet that can be formatted into a formidable project management tool.
Features: The best part about working in Google Sheets is the ability to customize. You can combine the power of Excel formulas with "Add Ons" that customize your Sheet. For example, easily generate Gantt Charts with the click of a button.
Check out how this agency uses Google Sheets formulas to automate their project management.
Price: Always free.
2. Trello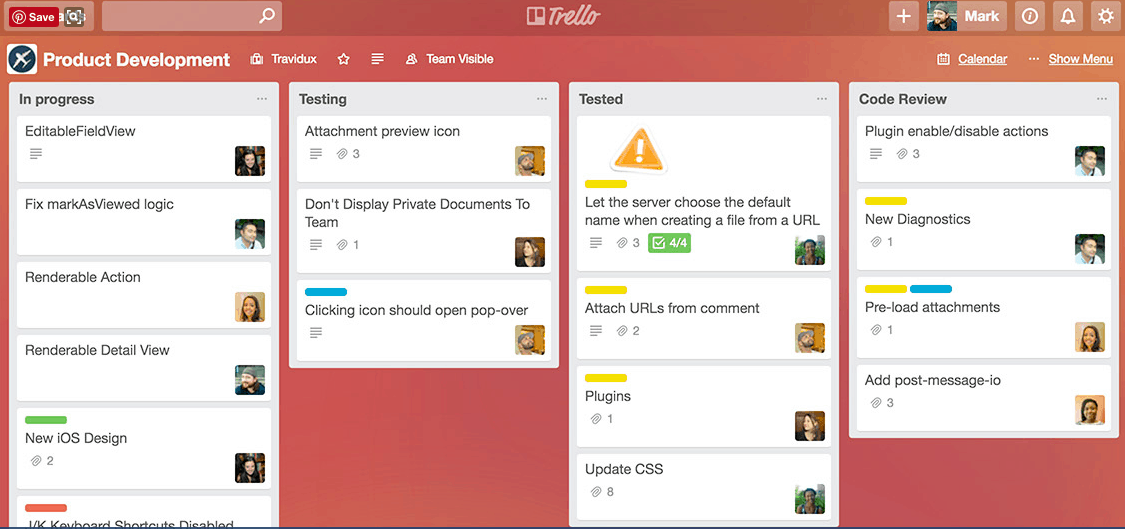 Overview: Trello is a Kanban type system that enables you to organize everything from personal, daily tasks to vacation plans to large projects. It allows teams to collaborate easily and keep track of progress with attractive visuals and easy to use boards. Kanban systems also let you easily see what particular stage a task is in.
Features: With Trello, you begin by organizing and customizing lists for all of your tasks, including the needed steps in order to accomplish it, the separate parts of an individual task, and which team member has been assigned to each task. Once you've done this, you can add your tasks to the designated lists. From here you'll use the notifications menu to monitor all activity for each task, including comments, due dates, and checklists. An added bonus of Trello is their power-up options which include a calendar view of tasks, voting options on tasks, and automatic deletion of old tasks from viewing.
Price: The free version includes unlimited boards, lists, cards, members, checklists, and attachments, 10MB of attached files space, and one power-up per board. The Business Class version is $9.99/user/month, which gets you 250MB of attached files space, unlimited power-ups, email support, and much more.
3. Asana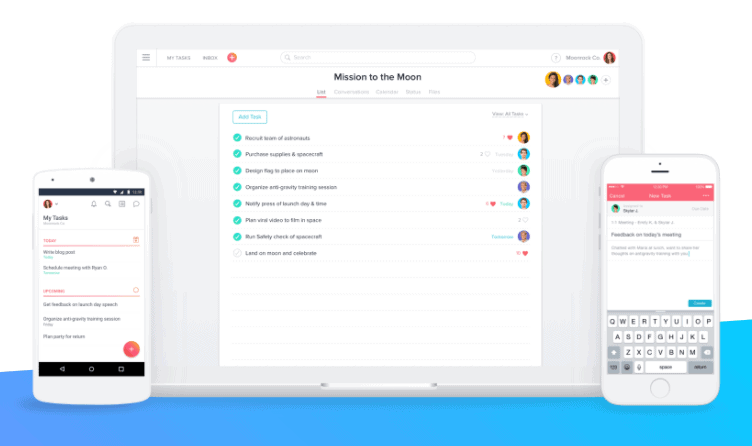 Overview: If you love to-do lists, Asana might be a great choice for you. Asana was created by Facebook co-founder Dustin Moskovitz, who placed an emphasis on easy to use, intuitive design, and an ability to communicate with other team members and collaborators in real time.
Features: This popular project management software allows you to separate projects by sections and sub-lists. You can view all tasks on dashboards that show project status, and change that status as you would on any to-do list - adding items, checking off completed ones, and rearranging according to priority.
Price: It's free for up to 15 users, which is a pretty great deal for free software. However, this is a limit to the number of dashboards you can use. For $9.99/user/month, Asana offers unlimited users and dashboards, as well as priority support, customization, and SSO.
4. Freedcamp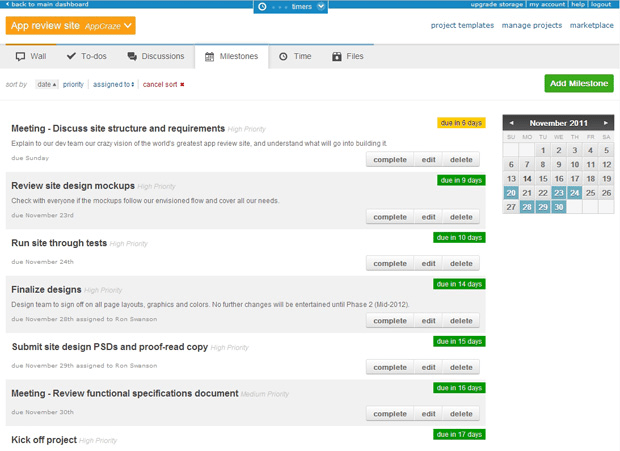 Overview: Freedcamp has a plethora of features, beautiful design, unlimited users, as much storage and as many projects as you like, great communication tools, and that's not even the half of it. In other words, this free project management software is hard to beat.
Features: When you use it, you have to option of to-do list mode or kanban board mode. The software offers task lists, sub task lists, and gantt charts You can use the calendar function for planning, but also view schedules in terms of milestones. You're also able to collaborate easily, and you won't fall behind with the iOS app and notifications features.
Price: Freedcamp is free, but you can get this upgraded version for $3.99/user/month, which isn't a bad deal. With the upgraded business version you gain project templates, CRM, issue tracking, and invoicing tools, plus much more.
5. Wrike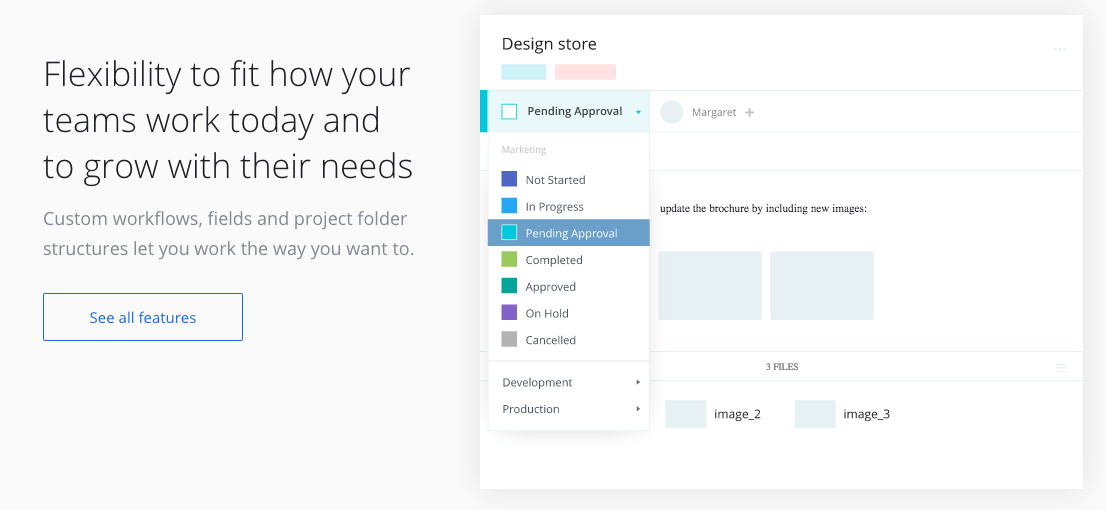 Overview: If you're looking for software that will integrate well with other storage or calendar applications like Dropbox or iCal, Wrike is a great option for you. Along with doing this really well, it offers 2GB of storage.
Features: Wrike's task organization is unique in that it offers more than the simple incomplete/completed status of a to-do list. Instead you can show exactly where each tasks progress is, and how close it is to being completed. You can also add in text notes, meaning you won't forget any details along the way.
Wrike also offers a Gantt chart timeline, and resource management which allows you to ensure that workloads are being well distributed and shared. Time and budget tracking are easy to use, so you won't need a separate program for that. And apps are available so you can use Wrike across several devices.
Price: Wrike free for up to 5 users. The only downside of Wrike is that if you are doing anything beyond small business projects, you will probably want to upgrade, as the free software does not offer all that's necessary for full project planning and collaboration. The professional plan is $9.80/user/month.
6. GanttProject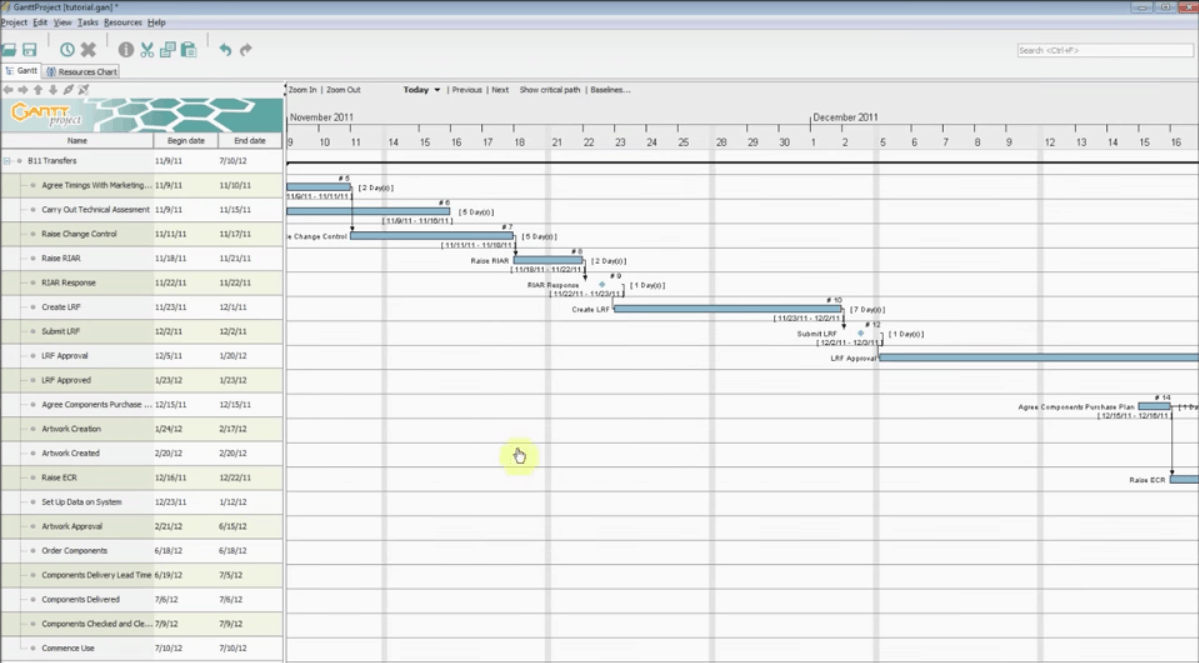 Overview: Compared by some to Microsoft Project, GanttProject has a lot to offer. Included are Gantt charts, resource management, collaboration resources, and free importing and exporting of files.
Features: Starting with a Gantt chart, users can add tasks and include important details such as cost, priority, start date and duration, as well as any custom fields they might want to add. Tasks can be organized in a work breakdown structure, and you can draw dependencies between tasks.
Aside from all of this, GanttProject offers resource charts that enable you to track task assignments, assign resources to tasks, and establish human resources with contact information, pay rate, and project role. It also offers collaboration resources and the ability to import and export.
Price: GanttProject is free, but is probably a better option for those who are already familiar with project management software on some level, as it has some complex features that require some prior knowledge to operate.
7. Producteev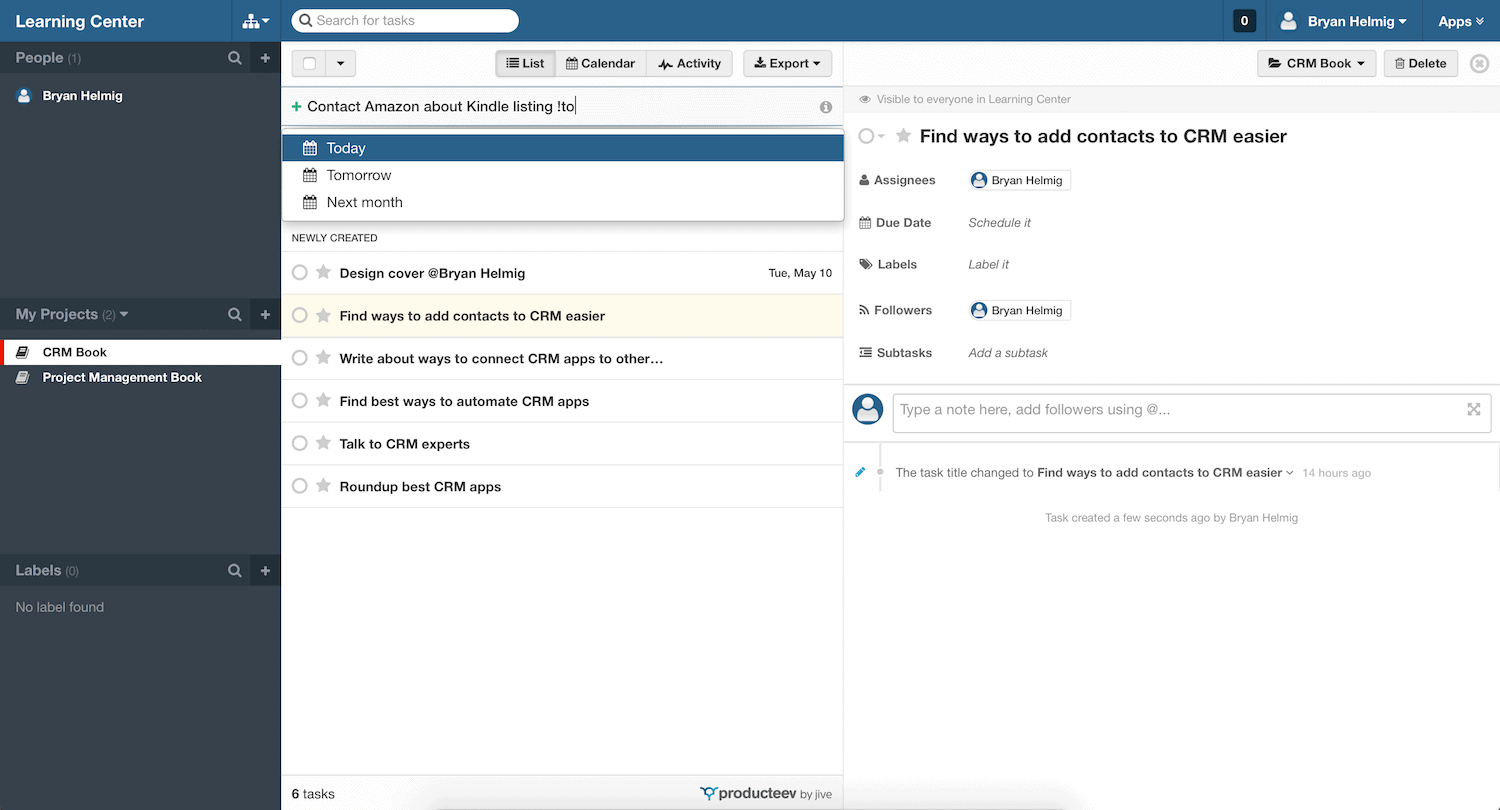 Overview: Many free project management software options are pretty limited in number of users and projects, and you must upgrade in order to gain more. Free for up to 100 users, and unlimited projects, Producteev is unique, and a great option for larger companies that require access for multiple users.
Features: The Networks feature enables users to organize tasks lists by departments, teams, or products. Within each network you can add people, teams, tasks, dates, and then filter according to whichever category you need.
Other features include projects (collaborative to-do lists), tasks (individual to-do items), labels, priorities, subtasks, deadlines, and filters.
Price: The free version of Producteev is pretty comprehensive, but if you are looking for the freedom to customize and personalized support, you can get the pro version for $99/month.
8. MeisterTask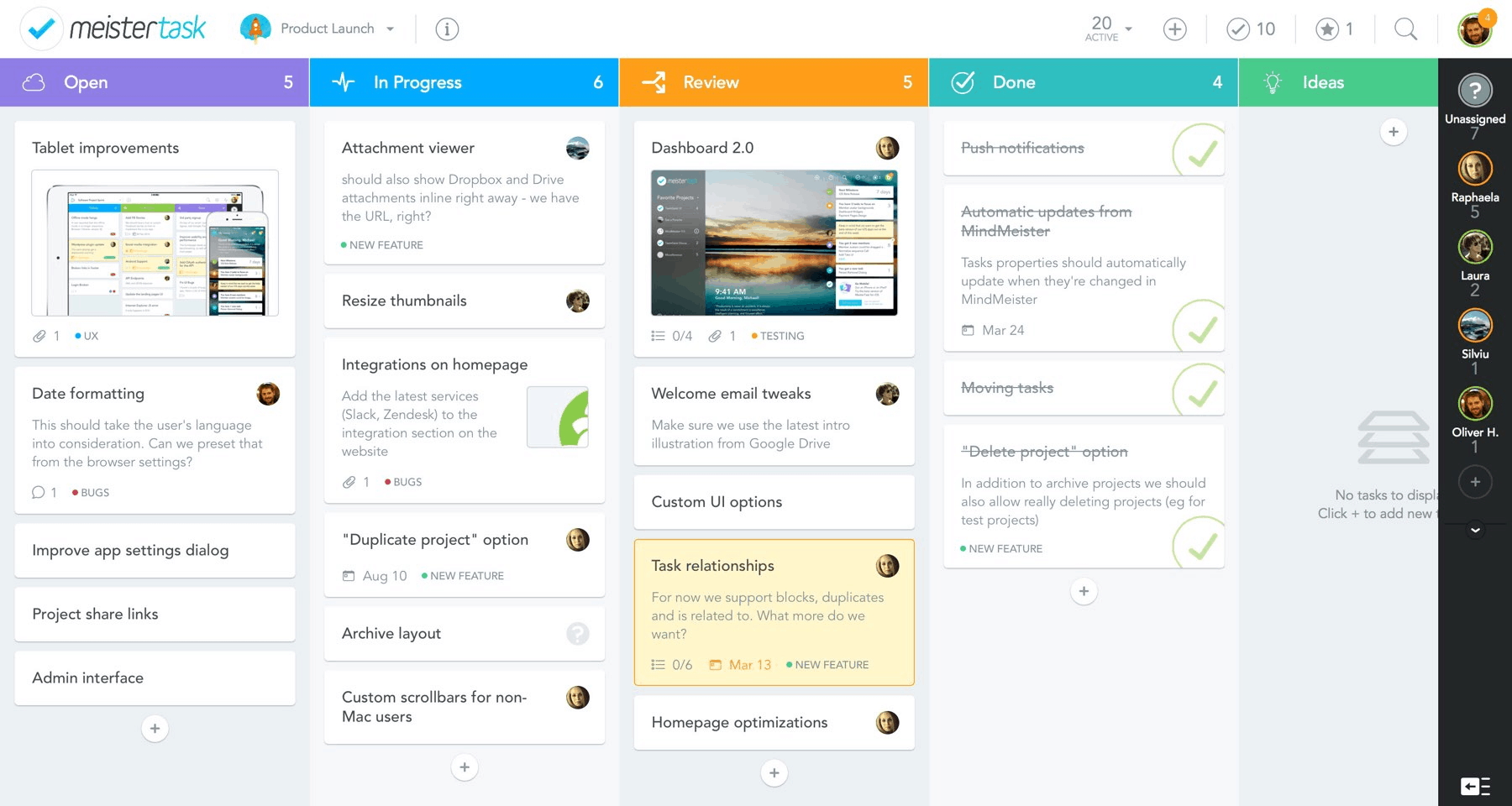 Overview: If mind maps and agile methodologies are your preference, then look no further than MeisterTask. It's an incredibly visual software, and makes it possible to view your tasks and projects using a customizable dashboard and quick overviews.
Features: Communication and collaboration are easy to use, and you can keep up with team members using their automated features. This integration is one of their best features, which makes sending an email or resetting a due date happen the moment you move a task.New tasks are easily created from your mind map, so if you're an ideas person, this is an ideal feature. MeisterTask isn't just about the beautiful dashboard and mind mapping, though. It offers all the basics of open source software, such as time and issue tracking.
Price: The free version of Meistertask includes unlimited projects, tasks, and team members, customizable dashboards, two app integrations, attachments up to 20MB, and mobile apps. For customization, unlimited app integration, 250MB of attachments, and more, the pro version is $8.33/user/month.
9. Bitrix24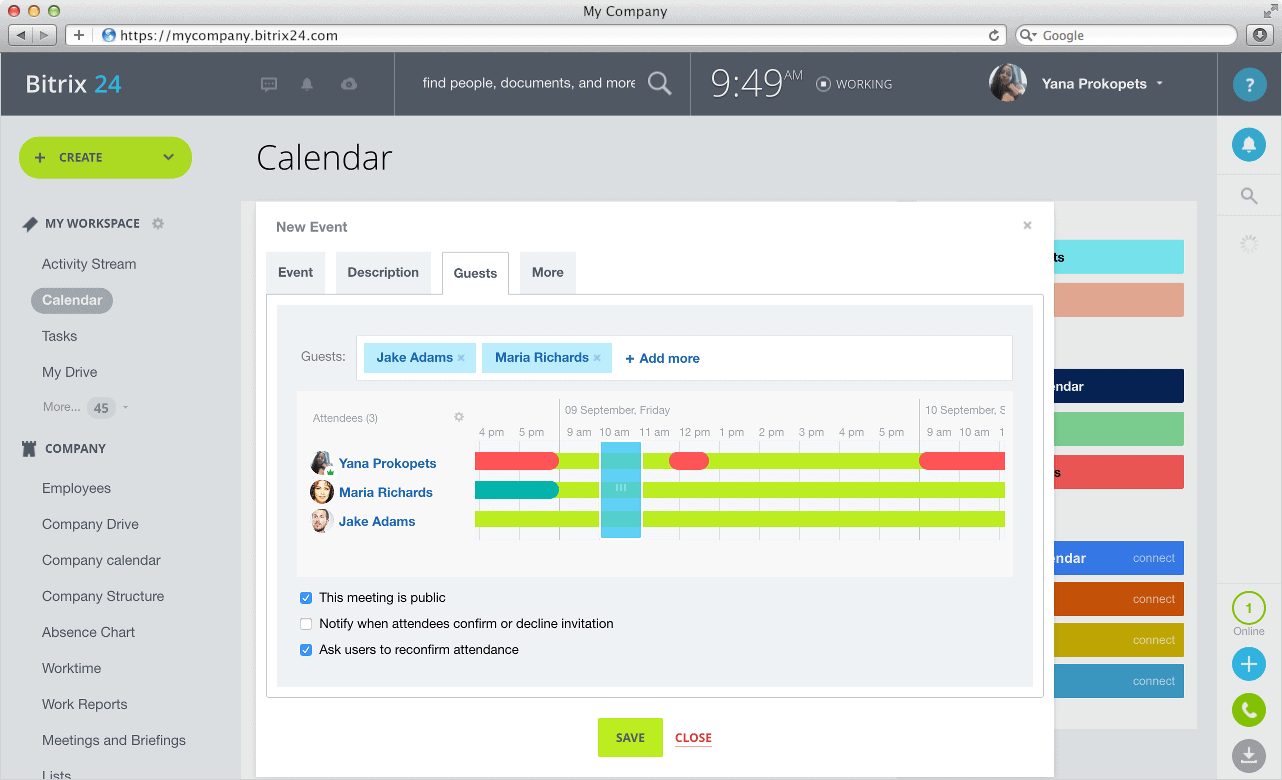 Overview: Bitrix24 is possibly the most comprehensive of all the available free open source software programs listed here. It features easy-to-use social networking, task and project management which includes Gantt charts, time tracking, and workload planning, calendars, documents, chat and video, and much much more.
Features: Its employee workload feature is unique in that it enables you to assign estimated hours to a task and then compare with actuals, making sure team members don't burn out and are getting tasks done in a reasonable amount of time.
This is a great option for larger companies who have complex webs of employees, projects, and tasks to track and monitor.
Price: Its free for up to 12 users on both the cloud and self-hosted versions. They also offer a Plus version for $39/month, which includes 24 users and 24GB. For $99/month, you can get unlimited users and 100G of storage.
10. Taiga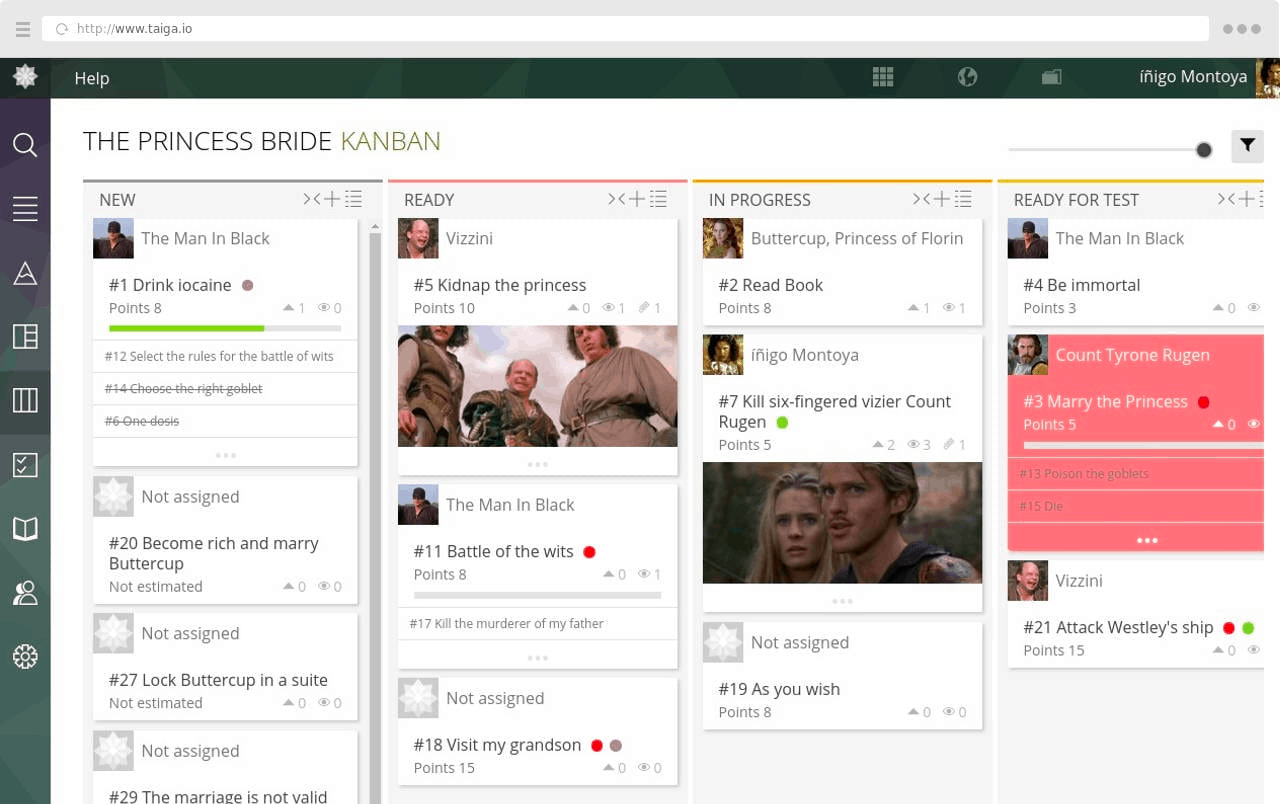 Overview: Named the best agile tool in 2015, Taiga is a powerful open source tool for agile developers and project managers. It's a popular choice among those who prefer agile methodologies, and, like Bitrix24, offers beautiful visuals and intuitive features.
Features: You can use and view your tasks in terms of Kanban workflows, dividing your project into stages. It also features Scrum sprints with the product backlog. Taiga offers time and issue tracking, and social media management including Wiki references.
Price: Taiga is free for one project, and four members, but you can jump up to 5 projects and 25 members/project for only $19/month.
11. Kanbanflow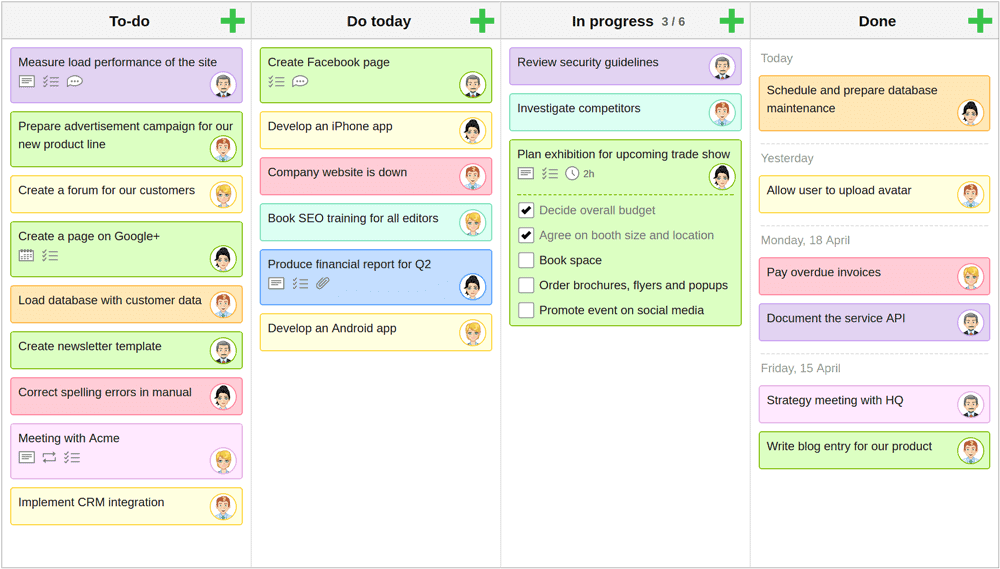 Overview: For project managers looking to get a better handle on the amount of time that is being spent on each task, Kanbanflow is ideal. As the name implies, this is a Kanban type software that offers simple, visual overviews of tasks and progress.
Features: It uses a timer to track how long each task takes, and a pomodoro mode which encourages team members to work in sprints and take breaks when necessary. Communication is easy, with all changes made accessible to team members in real time. It also offers easy collaboration and integration, as well as analytics and reporting.
Price: Kanbanflow is free for unlimited boards and tasks. For access to some of their more in-depth features, the cost is only $5/user/month.
12. Avaza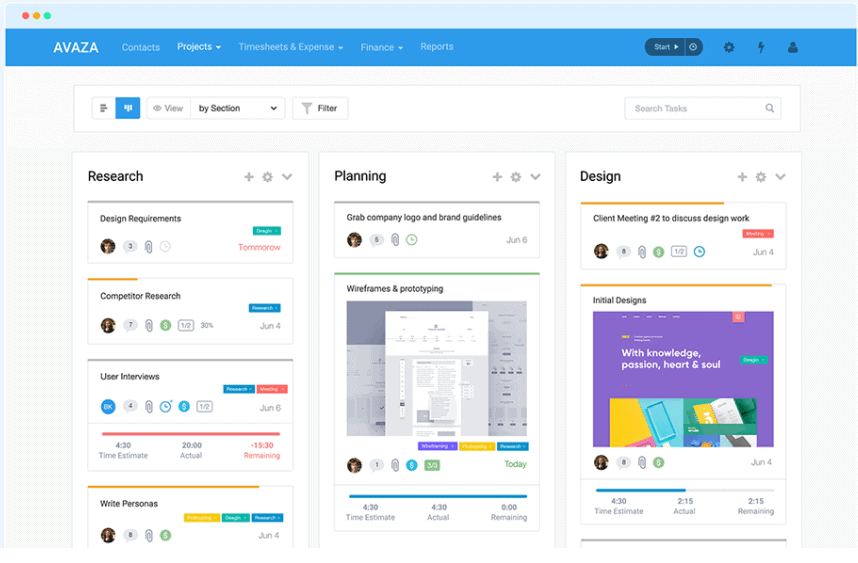 Overview: If you're looking for software that will enable you to better manage client projects, Avaza is a great option. You can use it to send estimates and quotes to potential clients. Once the proposal is accepted, you can convert it directly into a project with one click. Simple!
Features: The use of email enabled discussions, activity feeds and notifications streamlines your communication with clients and collaborators. And task organization is simple and easy to use, with Kanban boards, gantt charts, and list views. You can also easily integrate with other apps and programs, such as Evernote and Dropbox. Add to that easy to use time tracking and expense management and Avaza is a really great package.
Price: Avaza is free for a single user and up to 5 projects. If you need more than this, there are upgrade options starting at $9.95/month.
13. Allthings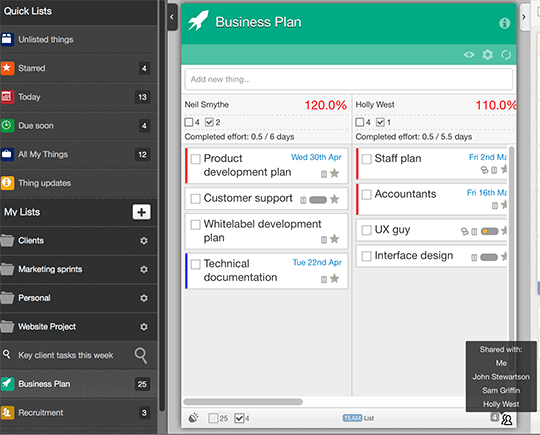 Overview: Allthings is a task list oriented software which uses a Kanban-style board to organize your task lists for you. If you're the type who finds that your lists end up scattered and disjointed, this software will help you to take them all and get them organized in one space.
Features: You can add priorities to tasks, as well as deadlines and task repetition. Team members can track time, keeping managers up to date on how much time should be allotted for each task. Collaborating is easy, and enables you to share documents.
Allthings also integrates well with other platforms, such as Dropbox, Google Docs, and gmail. It's customizable, which means you can really tailor the software to your specific team and task type.
Price: Allthings is free for up to 5 lists, with unlimited things and collaborators. With the Pro version, which is $3.99/user/month, you can add unlimited lists, as well have access to support, folders, sublists, and more.
14. 2-Plan

Overview: 2-Plan Project Management Software offers three versions: 2-Plan Desktop, 2-Plan Team, and Work-2-Gether. It's a feature rich software program, and is great for teams.
Features: Your teams can coordinate no matter where they are. Time tracking is available, building efficiency for your team as you go. The Team version and Desktop version integrate with one another easily.
The Work-2-Gether version is a Kanban system that works a little bit like Trello and others like it. "Work 2-gether is your Scrum task board online tool that gets your team rolling fast like a closely knit buddy system."
Price: 2-Plan is a completely free download, but as with GanttProject, could use a little know-how to get going.
There are always new pieces of software out there, but beware.
New and shiny isn't always better. Give everything a year or two to settle down as the designers work the kinks out and others see if it really works. Then, if it's still around, you can try it.