The role of a project manager can be a difficult one. Ensuring your project is meeting crucial benchmarks, keeping resource expenditures under budget, and juggling personnel difficulties are all part of the job. Risk management in project management, however, is one of the most important tasks of a project manager. In order to be successful in your position, your mastery of the project risk management process is one of the most essential project management skills.
Effectively implementing this process is the first line of defense in identifying and planning for project-crippling threats, capitalizing on success-boosting opportunities, and keeping your specific program afloat in potentially dangerous waters.
While this risk management process can be quite complicated, we've put together a comprehensive guide to getting the most out of your risk management strategy.
What Is Risk Management?
In order to define risk management in project management, it's essential that we first look at what exactly risk itself really is.
According to the Project Management Body of Knowledge (PMBOK®) Guide from the Project Management Institute, "risk" is defined as "an uncertain event or condition that, if it occurs, has a positive or negative effect on a project's objectives."
It's worth noting here that while most people may think of risks solely as being negative in nature, the term "risk" as defined by PMI could also be used to describe a positive effect on a project's final outcome.
These two different types of risks, positive risks, and negative risks, are often referred to as "opportunities" and "threats," respectively.
When opportunities are identified early in the lifecycle of a project and capitalized on effectively, they can significantly improve the end results.
When identified too late in the process, however, the beneficial impacts are usually outweighed by the costs required to alter the scope and trajectory of the project.
Planning, then, is essential in order to capitalize on opportunities.
Similarly, threats must also be identified early on in order to ensure a successful project. When spotted too late, a threat can end up derailing a project entirely, possibly resulting in a significant change to scope, heavy loss of resources, or even the abandonment of a project entirely. If recognized early on, however, threats can be avoided as long as they are properly tracked.
Having a process in place that identifies and monitors these risks, then, can be essential to both preventing the failure of a project as well as further improving the project's final outcome as well.
This process is known as risk management.
In addition to selecting the perfect project management methodology, practicing comprehensive and detail-oriented risk management is one of the best indicators of a project's overall success.
Project Risk Management Process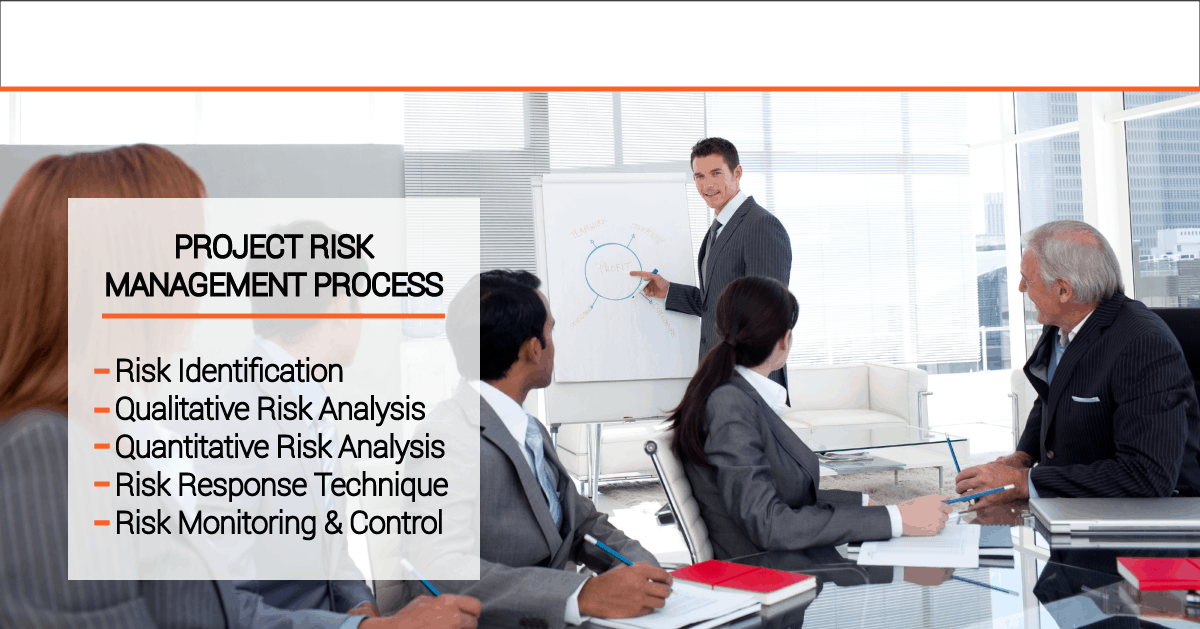 The process of risk management in project management consists of five distinct phases:
Risk identification
Qualitative risk analysis
Quantitative risk analysis
Risk response techniques, and
Risk management and control.
In addition to the numerous general tools at your disposal as a Project Manager, there are also a wide variety of risk-specific tools and strategies that you can take advantage of to make the project risk management process far more successful.
We've included a number of these tools and strategies along with each phase of the risk management process to help you become even more effective at managing risk.
1. Risk Identification
Step one of the project risk management process is to identify risks early on in the life of a project. While it is impossible to predict every single risk to a project in most cases, running through the individual threats and opportunities for each phase of a project can help you spot risks early on.
Tools & Techniques
Fishbone

The fishbone technique identifies a possible significant project impact and works backward to identify potential causes which branch off to the sides. The resulting diagram resembles a fishbone.

Survey
A comprehensive stakeholder survey on potential risks is one of the best ways to identify details you may have overlooked.
Diagramming

Flow charts, cause and effect diagrams, and more can help you visualize the impacts a risk can have on a project.
2. Qualitative Risk Analysis
The primary goal of qualitative risk analysis is to determine which risks are a high priority and which are not. Determining the significance of each individual risk allows you to allocate a proportional number of resources toward its management. What's more, taking into account the urgency of each will also help you plan your project risk management process more effectively.
Tools & Techniques
Red/Amber/Green (RAG)

The traditional model for risk prioritization, the RAG diagram is a simple way to categorize each threat to the success of a project in easy-to-understand terms.

Risk Urgency

Taking into account the time factor in how you prioritize your risks can help you allocate resources to only the most immediate threats, and plan for those ahead.

Risk Type

Categorizing risks by their type can help you coordinate damage mitigation strategies that more effectively neutralize multiple risks.
3. Quantitative Risk Analysis
While qualitative risk analysis gives a general indication of the urgency of individual risks, a quantitative analysis is numerically-driven and is usually much more complex.
As such, they'll often take longer to complete and may even require correspondence with additional stakeholders as well.
Tools & Techniques
Decision Tree

A decision tree is a great visualization of the possible impacts of project risk as well as a numerical representation of how each decision will affect the success of a project.

Failure Mode Effects Analysis (FMEA)

Identifying complete failure points is the aim of this technique. It can help you focus your resources on the most crucial problems at hand.

Sensitivity Analysis

This technique requires you to create two models: one of the projects without the risk occurring and one of the projects with the risk. It can help show the severity of the situation should a threat or opportunity arise.
4. Risk Response Technique
Depending on the risk in question, threats and opportunities may require a specific response should they arise during the course of a project.
Determining which response or which sequence of responses should be applied beforehand is essential to mitigating the damage of a threat or capitalizing on the rewards of an opportunity.
Tools & Techniques
Threat Responses

Avoid - changing the project plan to avoid the risk entirely.
Reduce - changing the project plan to reduce the damage caused.
Transfer - changing the project plan so that another party is responsible for the impacts.
Accept - no change to the project plan because the negative impacts are not significant or are improbable.

Opportunity Responses

Exploit - changing the project plan to capitalize on the beneficial risk.
Enhance - changing the project plan to improve the outcome of a specific objective.
Share - changing the project plan to include another party so as to enhance an objective.
Accept - no change to the project plan because the positive impacts are not significant or are improbable.
5. Risk Monitoring & Control
Once the planning stage is complete and the project is actually set in motion, a project manager will often spend most of their time closely monitoring the project risks involved. Risk triggers must be perpetually kept in mind during this phase while adjustments to the risk register should be made after each alteration of the project scope or trajectory.
Tools & Techniques
Status Reports

Frequent status reports are necessary to safeguard against the project unknowingly slipping into a risk trigger so that proper steps can be taken to handle a risk appropriately.

Risk Auditing

Keeping track of the effectiveness of risk responses can help improve your risk strategies over time while also making note of risks encountered for similar projects in the future.
Project Risk Management Templates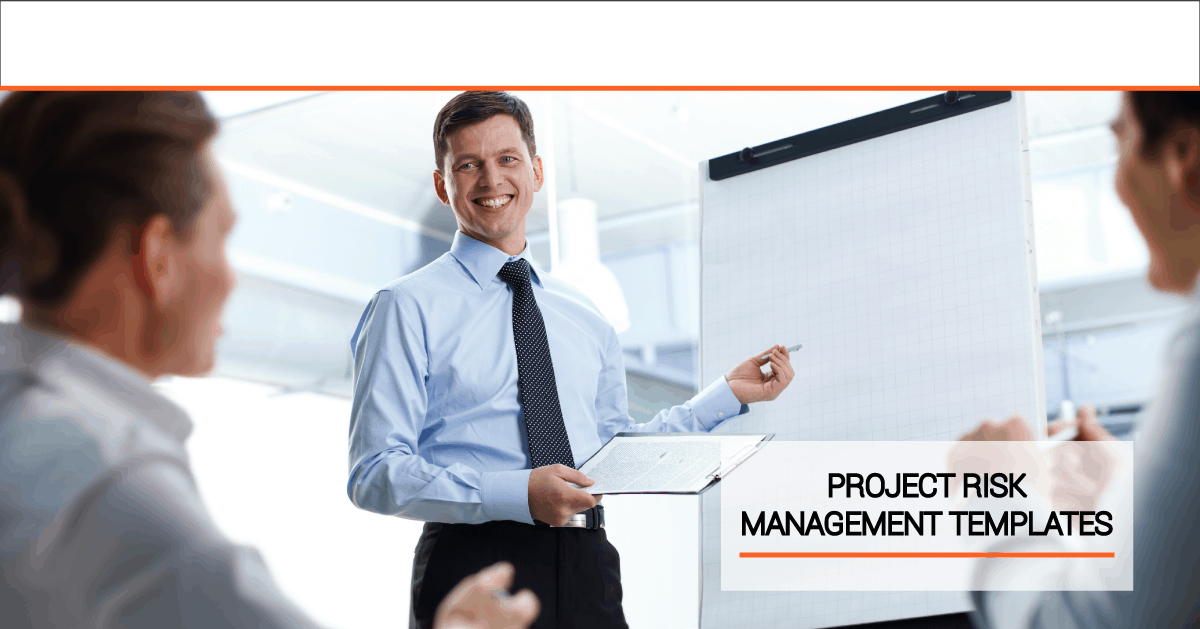 Below are some of the best project risk management templates we've found to date. They can help you organize your risk management approach to make sure that your strategy is organized, comprehensive, and easy to navigate.
1. Project Risk Management Templates from Freelance Project Management Services
These two templates tackle two different but equally important parts of the risk management process. The Project Risk Management Plan Template provides the description of the risk management activities (including their structure and how they will be performed throughout the project lifecycle). This template comes in a word processing format (.dotx or .docx) as well as PDF. The Risk Register Template handles the issue of recording the status and finite details of risks (e.g. monetary impact, probability of occurrence, specific triggers). It provides an overarching dashboard of the risks that may impact the success of the project at large. It is available via .xltx, .xlsx, or .pdf format.
2. The Operational Risk Scorecard from My Excel Templates
This simple yet massively effective approach to risk management provides a number of categories you can use to evaluate the true potential impact of a number of risks, all in a clear and easy-to-use template. It provides sheets for both competitive and operational risks as well as areas for incident costs, probabilities, mitigation strategies, and more. This useful template is available in Excel format.
3. The Project Risk Management Plan & Risk Management Log Templates by the CDC
These risk management templates get right to the point. They are highly structured, comprehensive, and easy to navigate and use. The Centers for Disease Control and Prevention CDC offers two templates that might be of use: a formal Risk Management Plan template as well as a Risk Management Log template. These can be used respectively for documenting specific measures to take in the event an issue actually occurs and to record the specific details surrounding a particular risk.
4. The Risk Register Template from ProjectManager.com
A clean and crisp template, the Risk Register Template from ProjectManager.com helps you define risk priorities and note the potential impact of each risk as well. It also contains areas devoted to the particular response that an individual risk calls for as well as the risk owner so you can quickly locate the party responsible for handling it. A simple design to be sure, but it works well for smaller projects where less detail is required.
Whether you are new to the world of project management or are a seasoned veteran, these project risk management templates will prove instrumental in mitigating risks in your projects and ensuring their success.
In addition to risk management, there are a wide variety of additional project management templates that can help you manage timesheets, stay on top of your budget, and track issues as well.
We encourage anyone looking to streamline their project management process to utilize these templates to their full capacity as well.
Project Risk Management: An Integral Part of Project Management
Effective project risk management is a necessary and crucial factor in whether or not a project is deemed a resounding success or a disastrous failure. And as with most other aspects of project management, planning is absolutely critical when it comes to either mitigating threats or capitalizing on opportunities.
The tools and techniques outlined above will undoubtedly help you plan a risk management strategy that ensures the full success of each of your projects.
In addition to the other numerous benefits of doing so, consider earning your PMP Certification to improve your mastery over risk management even further.