9 Best Short-Term Courses in New York to Boost Your Career in New York
Today's workplace is competitive. There is an ever-increasing number of applicants for most jobs - and the amount of those jobs has not necessarily kept pace.
The labor force participation rate in America has been declining for the greater part of a decade. Some seem to have given up looking for new or better jobs altogether. How do you make sure that you don't join the ranks of those who have settled for a sub-par job?
One thing many people overlook when it comes to staying competitive is the need to update their skills on a regular basis. The world is always growing, learning, and changing, and so should you. And with each month or year you let pass by without gaining new skills, experience, or education, the more likely it becomes that other candidates will outpace you in terms of career growth.
Many people have adverse reactions to the idea of continuing education. Maybe you have already completed four years of college, earned a post-graduate degree, obtained a specialized technical certification, or otherwise achieved what you once thought your ultimate education goals would be.
Don't worry - you don't necessarily need another degree.
If you're struggling to boost your career, it may be time to consider short-term courses in New York.
Shorter courses are a great option for those looking to jump-start their careers. For a relatively small investment of time and money, a targeted course can add value to your resume, enrich your expert knowledge, and even lead to making new professional connections.
Let's look at some viable options for short-term courses in New York.
Valuable Short-Term Courses in New York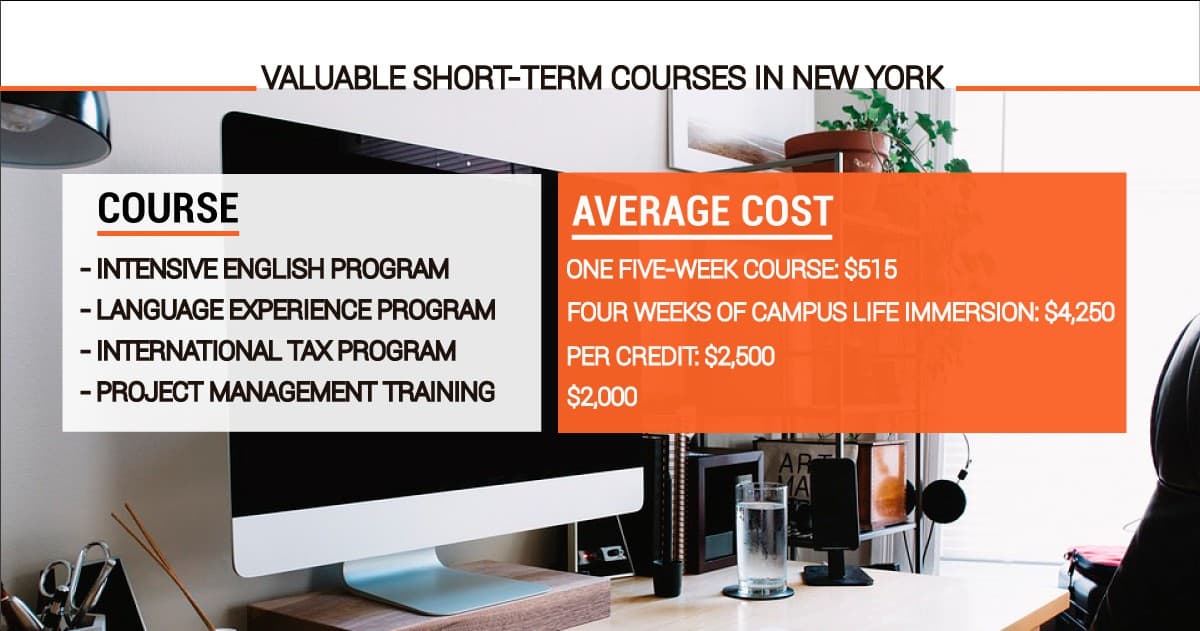 There are a number of short-term courses in New York that are well-suited to someone aiming to advance their career. Whether you need to brush up on your English skills, become a certified project manager, or learn computer programming, there is a course out there just for you.
Courses vary in duration and price. That being said, a common format is an intense program lasting anywhere from four days to four weeks. Prices often range from several hundred to several thousand dollars, with some even surpassing the five-figure mark.
Intensive English Program
If you speak English as a second language, you will benefit from an Intensive English Program.
Instructed by native speakers who specialize in English, in this program you will receive quality instruction in writing, reading, listening, and speaking English. Cultural and academic issues relating to the English language will also be covered.
These short-term courses in New York are available to both part-time and full-time students. There are sections available for all levels of English instruction. After taking a test to assess your current English skills, you will be placed in an appropriate class.
One five-week course: $515
Language Experience Program
If you're looking to improve your English skills outside of a classroom, a New York English Language Experience Program might be for you. In addition to rigorous, traditional coursework, you will be offered the opportunity to experience the culture, cuisine, and people of the wonderful city of New York.
Two weeks basic tuition: $1,425
Four weeks of campus life immersion: $4,250
International Tax Program
For professionals in the legal field, an International Tax Program provides in-depth education on the little-known subject of international tax law.
Due to the globalization of trade and investment flows, tax laws have become more complex than ever before. While most related programs focus on tax legislation of a single nation, the modern world requires broader focus.
In this program, you will learn the most advanced tax research methodologies and be exposed to other professionals in the international tax field. There are few short-term courses in New York more appropriate to the financial center of the world.
Average cost per credit: $2,500
Project Management Training
Calling all project managers - this one is for you.
In just five days, you can be prepared to pass the PMP examination with a boot camp from PMTI Institute. Taught by PMP certified trainers, this classroom-style PMP boot camp has been tried, tested, and perfected over the course of fourteen years.
The course comes with all the resources required, including digital and hard copies of four PMP exam books and almost a dozen other supplementary materials.
An astounding 99% of students pass their PMP certification exam after participating in this four-day boot camp. If for some reason you find yourself in the 1% who do not pass, you will receive a full refund of all course costs.
Average cost: $2,000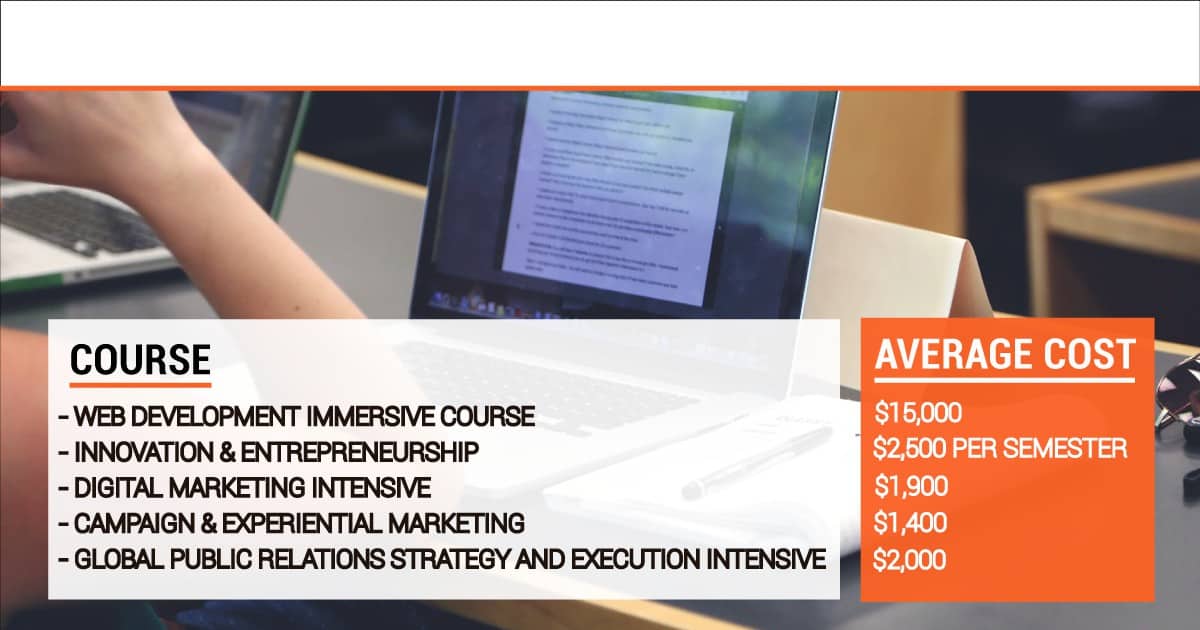 Web Development Immersive Course
Do you have an interest in learning programming for web development? If you answered yes, a web development immersive course could be in your future.
In just twelve weeks, you can learn some of the most sought-after skills in the programming world. Under the guidance of experienced instructors, you will be more than prepared to begin or accelerate your career as a coder.
Extensive career placement resources are also provided upon course completion. Career counselors, networking opportunities, job preparation, are all included.
Average cost: $15,000
Innovation & Entrepreneurship
Small businesses are the backbone of the American economy. They can create vibrant communities and many jobs for local citizens.
Aspiring entrepreneurs should consider pursuing a certificate in small business and entrepreneurship from Hunter College.
If your goal is to begin your own business or simply acquire the basic concepts of entrepreneurship, the education this certificate provides will go a long way toward giving you the skills and knowledge you need.
Average cost: $2,500 per semester
Digital Marketing Intensive
This four-day-long, "boot camp" style course from New York University's School of Professional Studies provides foundational knowledge about digital marketing. This intense program approaches digital marketing from an all-encompassing, holistic perspective.
Learn how to raise brand awareness and drive leads to a business by understanding its customers. Planning and executing effective digital marketing strategies via various platforms including social media and mobile is just one part of this course. Evaluating the impact of digital marketing campaigns on business objectives is another import aspect of marketing that will be covered.
Digital marketing is capturing a growing share of revenue and marketing budgets. Discover the ability to analyze important market and consumer research in this crucial field of business.
Average cost: $1,900
Campaign & Experiential Marketing
Also from the School of Professional Studies, a campaign and experiential marketing course covers well-known and established methods of marketing from agency and brand perspectives. Learn to develop, initiate, and manage campaigns from initial conception through results analysis.
Study ways of implementing creative strategy across multiple aspects of marketing including advertising, promotion, digital and traditional media, and experiential events. Learn to integrate all of these aspects for consistent strategy and brand awareness.
Take part in the creative process through creating comprehensive marketing campaigns. Speakers within experiential events, advertising, and media make appearances during this course.
Average cost: $1,400
Global Public Relations Strategy and Execution Intensive
New York University's Global Public Relations Strategy and Execution Intensive course delves into the growing conversation about global public relations.
You'll go through five rigorous days of riveting curriculum lead by proven professors at the top of their field. Leading experts in some of the largest agencies and corporations also take part. Experienced professionals from firms like IBM, General Electric, Pfizer, Morgan Stanley and others will provide real-world insight on the multinational public relations landscape.
This course enables students to identify stakeholders, understand complex reporting, and advocacy, test activities, measure and evaluate results, and more. The course material has been gleaned from the NYU Master of Science Program in Public Relations and Corporate Communication program - one of the most highly-esteemed and desirable degrees in the world.
Average cost: $2,000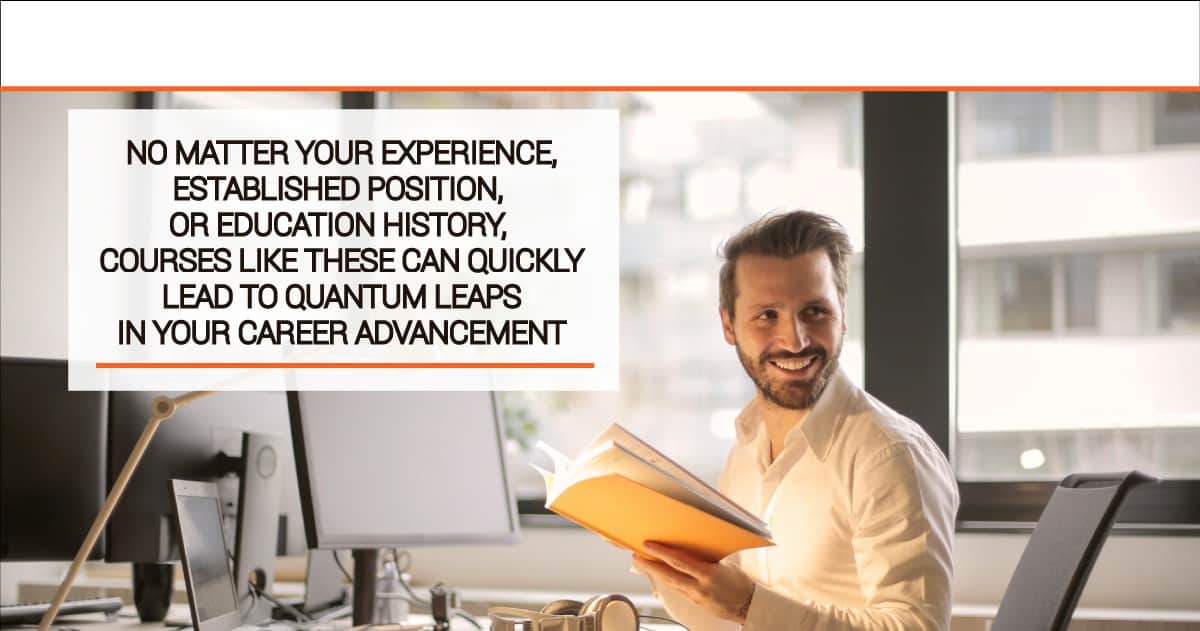 Choose Wisely Between Short-Term Courses in New York
Short-term courses in New York provide a substantial boost to the career of any professional. As you can see, there are courses available for professionals of all kinds.
They're not easy - many of these courses are full-time and cover a vast scope of knowledge in a very short period. And while they may seem expensive for those in the early stages of their career, almost all have considerable financial aid programs to assist with covering tuition costs. After factoring in the increased earning potential they can bring, the price is not always what it seems.
No matter your experience, established position, or education history, courses like these can quickly lead to quantum leaps in your career advancement. For a relatively small investment of time and money, you can gain invaluable knowledge, experience, and certifications that will last a lifetime.
Don't get left behind in a fast-paced, rapidly evolving society. The needs of the workforce constantly change. Even those who have earned advanced degrees geared toward in-demand fields from top-tier schools can never stop learning. Those who do risk becoming another statistic.