Project Management
By Yad Senapathy, MS, PMP
CEO of 4PMTI, PMP Jedi Master
Project Management is a discipline that spans across multiple industries. Some consider it the reason for organizations to be productive and profitable. Some say it brings sanity and order to work done by a group of people. Others simply disregard it as an overkill to deal with simplicity.
In this article, I will try to define and describe project management and explain its genesis and expansion. I will throw light on project management systems and project management processes. I will share the roles and duties of a project manager and provide details of project management salaries. I will provide insight on project management software and benefits.
What is project management?
In order to define or understand project management, we need to define "what is a project?" and "what is management?"
Project Management Institute (PMI) defines a "project" as "a temporary endeavor undertaken to create a unique result" in the PMBOK® Guide. A result could be a product, service, document, capability, a deliverable, or an outcome. There are several other definitions, but, this is the most commonly accepted definition.
"Temporary" implies it has a definite start and end. "Unique" implies there are non-repetitive elements that related to the project.
"Unique" implies it may have people who haven't worked together at one time. Sometimes, it may be organizations or countries that were never together earlier. In some other projects, there are characteristics that are specific and new to the product being produced.
Examples of projects could be

a weekend upgrade of a network system, or
a construction of a building or
development of a new pharmaceutical drug
All these efforts have a start and a definite end. They all have unique characteristics such as new components, new location, new stakeholders etc.
It is important to know that a project is distinct and different from operations. Operations are ongoing, repetitive, and do not have a definite start and end.
"Management" is the organization and coordination of the activities to achieve a defined set of objectives.
So, project management is the "application of the knowledge, skills, tools, and techniques applied to project activities to meet project requirements."
Project management aims to achieve project success by meeting the scope, schedule, cost, quality, risk, and other objectives.
In large organizations, projects are coordinated as part of program management.
When projects are large, it benefits to break it down as phases of a project.
On projects that have high uncertainty, risk management as a part of complete project life cycle is often used. Agile project management is one such example.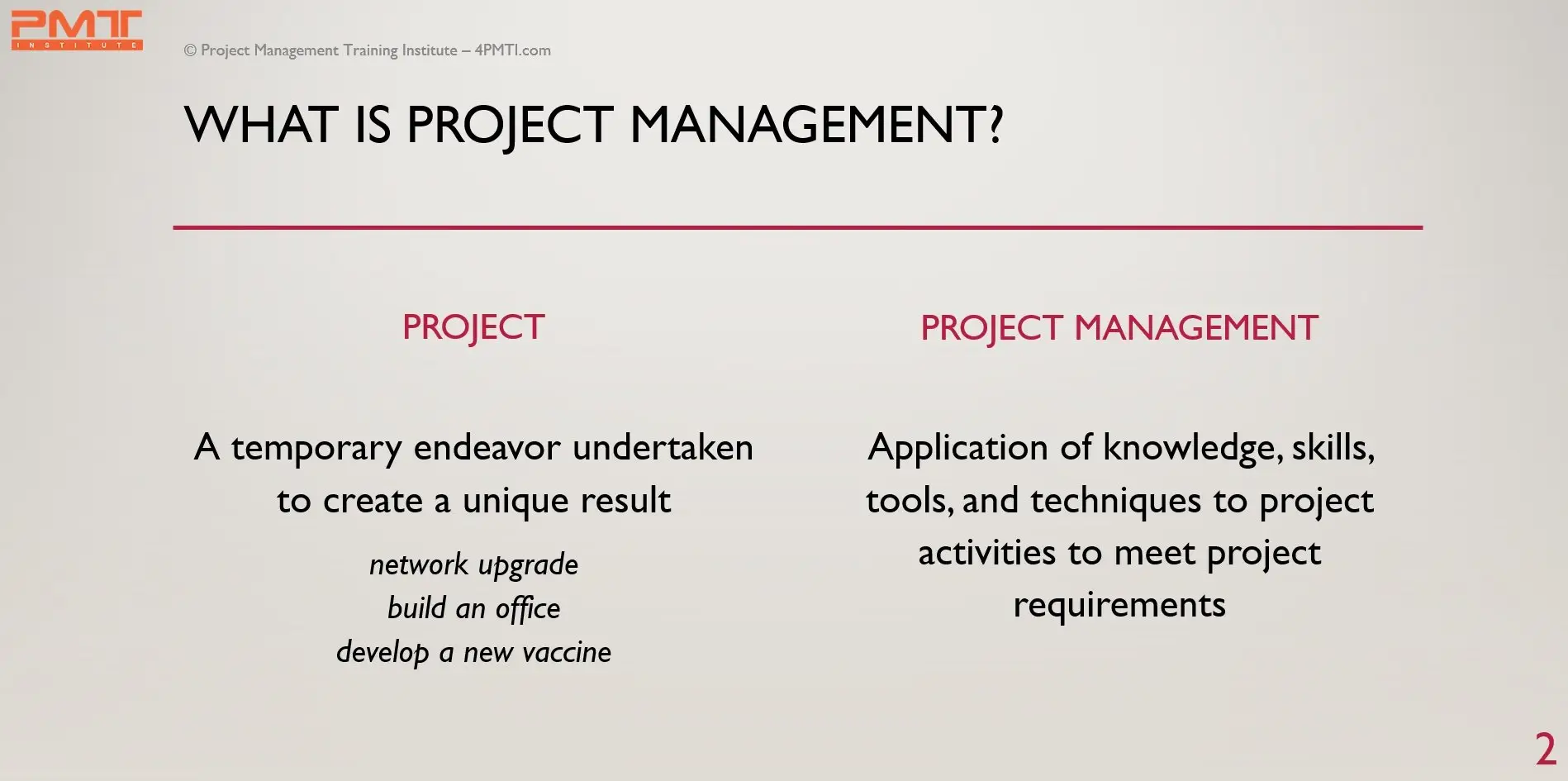 How old is project management?
While it can be claimed that project management existed since organized human existence, it was probably so in an informal setting. Although building pyramids, the Taj Mahal, and other world wonders were incredible projects, the project management processes used are largely unknown.
Formal project management only began appearing in early to mid 1900s. It has seen a surge of philosophies, ideas, project though leadership, project management tools, techniques, methodologies over the next century.
Modern project management developed by PMI and other organizations focuses on aiming sharply at business objectives through targeted project management practices.
Why Project Management?
The benefits of project management include:

Improve project performance
Realize business case goals
Speed up the delivery
Reduce costs
Gain competitive advantage
Meet expectations
Increase credibility
What does project management include?
Project management processes include five process groups (5 phases of a project):

Project Initiating
Develops a project charter based on a business case to ensure success in a project from start.
Project Planning
Develops a comprehensive project management plan to guide implementation.
Project Executing
The most time-consuming and expensive element of a project where management skills are applied to execute the plan.
Project Monitoring & Controlling
Manage, assess and report on project from start to finish.
Project Closing
Bring all project outcomes to formal closure and release team members.
Additionally, the project life cycle draws on the following ten knowledge areas:

Scope Management
Identify, create, and manage the work on the project
Schedule Management
Develop, manage, and control the schedule
Cost Management
Build, manage, and control the budget
Quality Management
Meet the expectations of the stakeholders
Resource Management
Plan, organize, and manage the physical and team resources
Communications Management
Plan, distribute, and manage information
Procurement Management
Plan procurements, select sellers, control and close contracts
Risk Management
Identify, analyze, implement and control opportunities and threats
Stakeholder Management
Identify stakeholders, develop and implement strategies to gain their support
Integration Management
Integrate and unify data from all the above areas to make valid decisions & manage changes.
Who is a Project Manager?
A project manager manages the project through the five process groups of initiating, planning, executing, monitoring and controlling, and closing. Project managers may be brought in anytime in the project and may leave anytime. So, they may or may not participate in all the five process groups. This is the basic role of a project manager.
Project managers will make holistic decisions by consider the impact on the ten knowledge areas. These ten knowledge areas include scope, schedule, cost, and other important aspects of the project.
Project managers have the following qualities and use a diverse set of management skills such as

leadership
knowledge of strategy, vision, and goals
problem-solving
communications
negotiations
influencing
dealing with culture and politics
team building
trust building
servant leadership
PMs are held accountable to deliver the requirements within schedule without exceeding the budget. Most PMs will also be measured in terms of customer satisfaction and team performance.
Project managers need to be flexible and adapt to new situations. Dealing with changing priorities and the inherent uncertainty is a necessary skill. They manage change and organize a mature plan. Diving deep into the details and stepping back to reconcile the big picture happens frequently.
How much do project managers make?
According to the popular employment site, Indeed the average base salary of a project manager is $131,573. It could, however, range from ranges from $117,121 to $147,291.
That is not all. Project manager salaries skyrocket as soon as they get add their PMP designation to their name. According to the salary survey conducted by PMI in 2017, 82% of project managers with a PMP credential earned more. Project managers earn 23% higher on average across 37 countries.
In a survey of 33,000 PM practitioners, the United States reported the 2nd highest median salary of $112,000. Not surprisingly, the salaries grow with the amount of experience.
What are the top 10 project management software tools?
Although not a requirement for good project management, software and other tools enhance and improve a project managers ability to perform.
Here is a list of some popular project management software tools:

Microsoft Project
Trello
Zoho Projects
JIRA
Wrike
Asana
Basecamp
Smartsheet
Primavera
Microsoft Excel
While some of these tools are simple, they can greatly assist small projects. If you have to deal with medium to large amount of information, you should consider Trello, Zoho projects, Basecamp, Asana. Microsoft Project and Primavera are established industry tools to manage large projects.
Project managers can demonstrate their skill and knowledge by receiving a project management certification. The certification is valid for those who are in any industry including construction, manufacturing, and information technology (IT).
There are several books that delve into the role of project manager. The top three include the:

PMBOK® Guide - The Guide to the Project Management Body of Knowledge
Agile Manifesto - Principles of Agile project management including scrum
ISO Project Management standards
What are the various project management methodologies?
Project managers who intend to succeed must select the right fit project management methodology. A methodology is a set of guidelines, practices, and processes to assist in planning and completing the work on a project. They are not tied to any software or tool. Most software tools incorporate a large sub-set of guidelines from a methodology.
There are several factors that guide the selection of a PM methodology. These include complexity, relevance, accessibility, and acceptability.
Here are some popular project management methodologies:

Waterfall
Agile
Hybrid of Waterfall and Agile
There are several other less popular project management methods:

Scrum
PRINCE2
Kanban
Extreme Programming
Critical Path Method
Critical Chain Method
Crystal
1. Waterfall Methodology:
Most projects fall into an area where the project knows what it intends to achieve. These include projects in common disciplines such as food, shelter, clothing, security, business, health, etc.
Humans have followed this process informally. Water falls from higher ground to lower. In the same way, you go from a higher step to a lower step in an orderly fashion.
The steps in a waterfall methodology include:

Gather requirements
Analyze
Design deliverables and product
Implement the design
Test the deliverables and the final product
Deploy the final result
Maintain and operate
Much like in real life, taking the water back to a previous step is going to be costly. So, going back and introducing new requirements or alter the design after implementation is expensive.
The following projects perform best with this methodology:

Similar projects were implemented historically for a long time
Projects with known scope
Projects that are small
The following projects are not good to implement using the waterfall methodology:

Projects in research or new technology
Projects with changing requirements
Projects too big to handle
2. Agile Methodology
Agile originates from lean philosophies that aim to reduce waste and improve productivity and performance.
Agile is a common term applied to a whole set of methodologies including Scrum, Kanban, Crystal etc.
Agile primarily addresses projects with complex requirements or a high degree of uncertainty. Thus, it adopts a "divide and conquer" philosophy. Since it is difficult to chew a large project whole, it incorporates the principles of incremental development and iterative refinement.
Agile rejects the idea of waterfall philosophy to plan everything upfront. As a matter of fact, Agile welcomes change and incorporates principles to deal with it.
Since project requirements could change frequently, the system will not address the entire set of the product backlog. Instead, it prioritizes the requirements by business goals and objectives and tackles a small subset of the backlog in each iteration. Additionally, Agile emphasizes a working product as an output from each iteration.
An easy way to see the distinction between traditional waterfall and Agile methodologies is to consider the following:

Waterfall methodology will build a bridge by planning it ahead of the time, design it subsequently, followed by construction.
Agile takes the most desirable subset of features and develops them into a working product release. It will refine the next set of requirements and develop the next release and so on.
Hybrid Methodology:
This form of project management combines the best of both worlds - traditional and Agile. It allows combining Agile in a waterfall project life cycle and waterfall in an Agile environment. Examples of implementing the hybrid methodology would be:

Agile iterations every so often in a largely traditional project
Traditional structured approach for a large component in a largely evolving Agile environment
Interlacing Agile and traditional as needed
There are several modified, improved, or simply a different way of the above two approaches. Scrum, Crystal, eXtreme Programming and Kanban are examples of Agile or lean approaches. PRINCE2 is an example of a traditional approach in a software environment.
As can be seen from above, there is no perfect methodology for any given project. However, there are several options for a project manager to pick from.
What are the top project management organizations?
There are several organizations trying to improve the efficacy and application of the project management principles. The top five PM organizations are:

PMI has developed the most widely accepted project management standards. Scrum Alliance has popularized the Agile methodology.
Did you find what you were looking for in this article? Let us know either way!!
We plan on updating this article frequently to include the latest in project management.
Please mention this web page address if you use any of the content as a reference.