Project management is a complex yet essential practice in the business world. To ensure you complete your project successfully, there are certain project management principles you should follow.
You need to carefully develop a detailed strategy for the proposed project including its purpose, goals, budget, and timeline, among other factors. Then, you should ensure the project progresses as planned to completion while dealing with unexpected emergencies and evolving business priorities. You need project management, which is the process of overseeing an endeavor that results in a product, service, or change.
Project Management and Its Importance
It doesn't matter if you're a certified project manager or this is the first project that you're running, it's important to understand the basic project management principles to ensure your initiative runs smoothly and successfully.
At its simplest level, the Project Management Institute breaks the entire process down into five broad areas:
Initiating - Outlining your project and obtaining proper approval to begin.
Planning - Developing your project management plan to reach your project goals.
Executing - Completing work as defined in your project management plan.
Monitoring and Controlling - Reviewing and tracking the progress of predetermined work while accounting for unplanned changes.
Closing - Completing the project work and receiving approval from the stakeholder.
While these five phases provide an excellent high-level view of the key concepts of project management for most methodologies, when diving deeper you can get more specific about the principles and practices that are essential for any type of project.
Here are eight fundamental principles of project management that you should consider when developing your next project: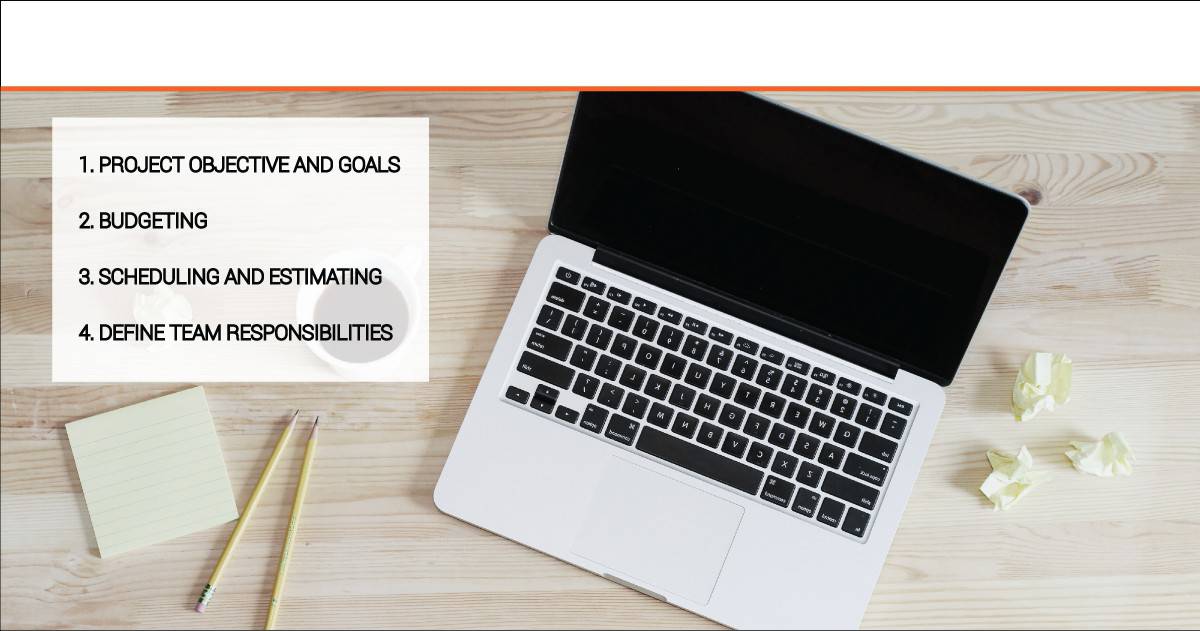 Principle #1: Project Objective and Goals
Among the fundamental project management principles, the first one you need t0o follow is understanding your objective. Simply put, what do you hope to accomplish or what's the purpose of this initiative? Determining what you intend to accomplish will help you develop your overall project structure moving forward.
After determining your objective, you'll need to develop project SMART goals. These goals need to be specific, measurable, achievable, relevant, and timely. If your goal is simply to increase overall sales, that's not a SMART goal. Rather, your goal should be to increase sales of a certain product by 10 percent over the next six months as a result of the new tool being developed by your project.
In addition to outlining what you hope to accomplish in your project, determining your objective will also help you understand what deliverables you'll need to complete to achieve your goals. This key concept of project management helps ensure everyone is on the same page and there's a clear focus and direction for your project before it begins.
Principle #2: Budgeting
Once you determine your project objective and goals, you'll begin planning how to accomplish your mission. At this point, you'll begin to discover constraints that will impact your ability to achieve your project the way you may have planned. One of those big constraints is your budget.
It's no secret that teams are constantly being asked to do more with less. You'll face the same reality with your project management plan. When you have your approved budget, you'll have to carefully consider your project priorities and determine which aspects are essential and which can be reduced or eliminated to still reach your goal.
The budget will play a major role in your overall project scope, so this project management principle should not be ignored or overlooked.
Principle #3: Scheduling and Estimating
Next on the list of project management principles is time. It is very important to develop a comprehensive calendar and work estimate for your project.
According to Project Management Journal, your schedule should focus on when the activities will be done, not when they must be done. Therefore, you are considering factors such as holidays, vacations, bandwidth, and prior project commitments. Developing a detailed schedule can help you realize the actual man-hours you'll have at your disposal, and maybe the difference in scope between a fully designed solution or just a minimum viable product.
This fundamental principle of project management is essential to ensure you're not overcommitting your team to complete tasks in an unrealistic timeframe that are vital to your project.
Principle #4: Define Team Responsibilities
Defining individual responsibilities among your team is yet another one of the fundamental project management principles. Creating a checklist of responsibilities, whether in a project management software, excel file, or Gantt chart, is essential for this practice.
Mapping out tasks provides a comprehensive view of the smaller things that need to be accomplished and in what order for you to complete your project. This is a vital step because by outlining everyone's roles, you'll begin to see which deliverables need to be ready in order for certain members to begin their work, and you'll identify potential blockers and constraints now rather than in the middle of your project.
Proactively solving these potential problems may involve changing your schedule or shifting priorities depending on the bandwidth of your team members.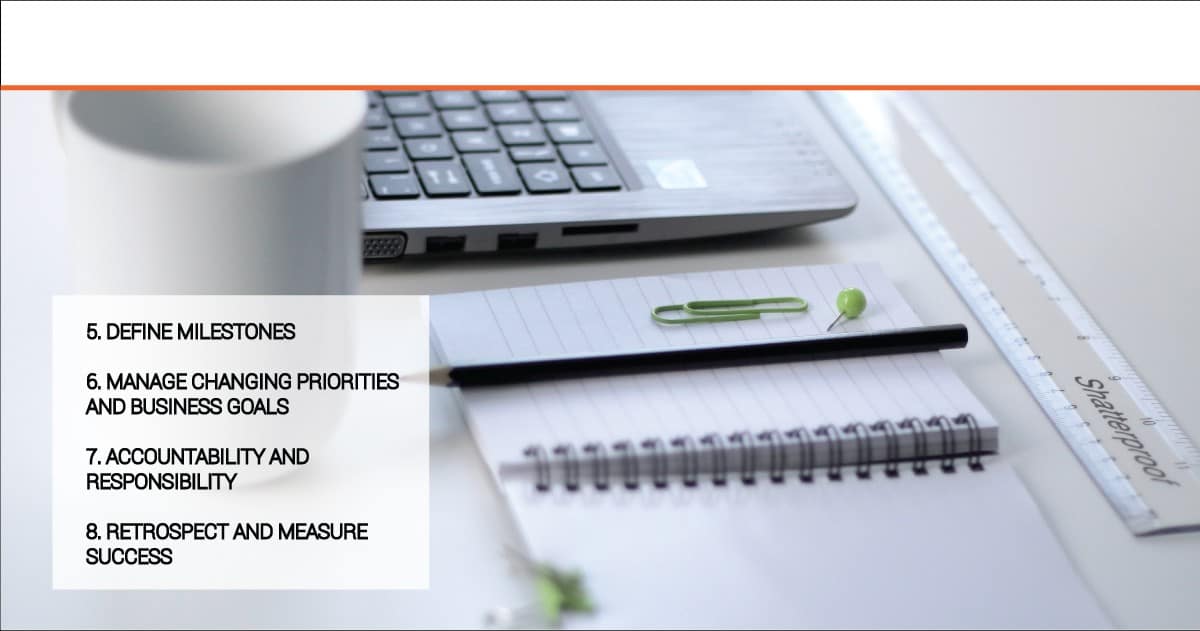 Principle #5: Define Milestones
While not an absolute requirement for your project - especially smaller or shorter projects - defining milestones is an important project management principle you should consider.
Milestones help signify the completion of a specific portion of your project. For instance, in project management methodologies such as Agile, Scrum, or Kanban, a milestone might be when specific cards in a larger project are removed from the board.
In addition to providing a transparent way to track progress, milestones can help increase team morale by calling out team members achievements. This is extremely beneficial during long, complex, or difficult projects.
Principle #6: Manage Changing Priorities and Business Goals
While the project is underway, one of the biggest disruptions you may face is changing priorities or business goals. In fact, 50% of project managers say shifting priorities are the top issue impacting their organization.
The best way to master this project management principle is to remain flexible and ready to change your project management plan when something unexpected happens. This could come from an unexpected budget cut, a new direction from the executive team, or an urgent request that drains some of your team's bandwidth.
To minimize the impact on the work in progress, you and your team will need to be ready to adapt in order to keep your overall project on track.
Principle #7: Accountability and Responsibility
Project management principles are important both for you as the project manager and for each member of the team, especially when it comes to responsibility and accountability. While the pm will have a specific set of project management skills to keep the team on task, all members of the team also need to hold themselves and each other accountable for the work they need to accomplish.
One of the best ways to be successful in this practice is through constant communication. Team members will need to communicate with each other about what they need and when they need it. Project managers will need to communicate with stakeholders to provide necessary updates on the status of projects, and they'll also need to relay any information or feedback back to their teams so there are no surprises.
Principle #8: Retrospect and Measure Success
A project management team is like a machine. If there are kinks or faults in the process, then the machine will not run as effectively. For this reason, retrospectives are an important project management principle that should not be ignored.
In order to determine what went well and what needs improvement, you and your team need to review your project after it's completed and discuss the areas of success and areas that need work. You'll then need to take this information and apply it to your next project to consistently improve your process.
In addition, you should calculate the return on investment (ROI) of the projects you complete. In simple terms, if the cost of investment was higher than the return from the project, it was not successful. By understanding which projects are successful and which are failures, you can make changes to upcoming initiatives to increase future success.
Increase Your Knowledge of Project Management Principles and Practices
If you're still new to project management principles or the plan of project management, there are a variety of resources available to you. Online PMP certification training provides a helpful way to prepare for a project management test - all on your schedule. If you're thinking about taking your project management experience to the next level, this may be your solution.