The PMI-PBA certification is a recognized certification for professionals with experience in business analysis. The PMI-PBA certification demonstrates your expertise in applying business analysis practices to identify business needs and recommend solutions that enable organizations to achieve their goals. It also highlights your ability to communicate effectively with stakeholders, facilitate requirements-gathering sessions, and create business analysis artifacts.
The PMI-PBA certification emphasizes skills in program management, identifying stakeholders' business needs, and leveraging business analysis principles. Those who earn this credential are considered highly qualified by hiring managers in top organizations. If you are currently working in project management or are looking to transition into this field, the PMI-PBA credential is a great way to demonstrate your commitment to the profession and increase your value as a business analyst.
PBA Certification Eligibility Criteria
The PMI-PBA certification is ideal for professionals whose day-to-day responsibilities include all aspects of business analysis. After all, it is the most prestigious business analysis certification and is recognized globally as the gold standard.
The eligibility requirements for the business analyst certification are rigorous, and only the best and most qualified candidates are awarded this distinction. The demand for business analysis expertise is constantly growing. According to the most recent statistics, the U.S. Bureau of Labor Statistics predicts that the number of jobs for business analysts will grow by 19% from 2012 to 2022. Consequently, now is the time to get your PBA certification and take your career to the next level.
Below, you will learn about the business analyst certification requirements and how to earn your credential.
Educational Requirement
To be eligible for PBA certification, candidates must have a bachelor's degree or equivalent. Those who do not have a bachelor's degree must have at least five years of working experience in business analysis.
Business Analysis Experience
Candidates with bachelor's degrees must have at least 3,500 hours of experience working as a practitioner in the business analysis field, while those without a degree must have at least 7,500 hours of working experience. Both cases must be accrued in the last eight years if you are reaching for the business analyst certification.
This requirement ensures that certified individuals have the necessary skills and knowledge to effectively perform their roles as business analysts. Formalized experience is defined as any experience that has been documented and can be verified.
Business Analysis Training
Candidates must also have at least 35 contact hours of formal business analysis education. This requirement can be met through attending workshops, taking courses, or participating in webinars. There are many ways to obtain the necessary training hours, and PMI offers a variety of resources to help candidates meet this requirement.
PBA Certification Benefits
PBA certification is recognized worldwide as a mark of excellence in business analysis. Certified professionals are highly sought after by organizations of all sizes and industries, as they are seen as experts in their fields.
However, even with all the benefits of PBA certification, some professionals may still hesitate to pursue it. Obtaining a professional business analyst certification can be expensive and time-consuming, and some may feel that they already have the necessary skills without formal certification.
For those who are on the fence about pursuing PBA certification, here are some of the PBA certification benefits that may help sway your decision:
A global network of business analysis professionals
As a PBA-certified professional, you will have access to a community of like-minded individuals who can provide support, advice, and networking opportunities. Being certified by the PMI makes you a practitioner with in-depth knowledge of the prevailing business analysis practices.
Increased Earning Potential
In today's competitive job market, having a certification can give you a significant advantage over other candidates who do not have one. Employers see the certification status as valuable and can help you command a higher salary. Studies have shown that certified professionals earn 45% more than their non-certified counterparts.
Improved Job Satisfaction
As a certified business analyst, you can effectively communicate your value to clients and employers. With the PBA credential, you can show that you have the skills and knowledge necessary to help organizations achieve their goals. This certification can lead to greater opportunities, broader networks of contacts, and a global-scale impact.
Greater visibility within your organization
PBA certification provides explicit approval from the Project Management Institute (PMI), a well-known and respected authority in project management. So with a certification, you're guaranteed to obtain greater visibility within your organization and the business analysis community at large. Given the global recognition of the PBA certification, this is a valuable asset whether you're looking for a promotion or seeking new opportunities outside your current organization.
Improved ability to contribute to organizational success
Business analysts play a critical role in the success of organizations. They are responsible for identifying and solving problems that can impact an organization's bottom line. With a PBA certification, you are expected to contribute more to your organization and help the business achieve its goals.
A PBA certification is an investment in your future, as it can open up many doors for you, both professionally and personally. And in line with this, the PMI Continuing Certification Requirements (CCR) program has been implemented to ensure that certified individuals stay current with the latest business analysis practices.
Enhanced credibility with clients and stakeholders
PBA certification is internationally recognized as a mark of excellence in business analysis. This credential can help you build trust and credibility with clients and stakeholders, thus improving your chances of success when bidding for new projects. The bar that the PMI sets is also an assurance to your clients that you are a competent and knowledgeable business analyst.
PBA Certification Process
A competency-based certification, the PBA credential is awarded to candidates who demonstrate sufficient experience, knowledge, and skills in the business analysis field. The certification process for the PBA consists of the following steps:
Eligibility Assessment
The eligibility assessment step ensures that all applicants meet the minimum requirements before proceeding to the certification examination. You may send your resume to [email protected] with subject line "PMI PBA certification evaluation request" for pre-check.
Get your 35 contact hours of business analysis training
You want to get the training from a reputed institution that can give you confidence that you will pass the PMI-PBA exam. PMTI provides online live classes and self-study courses that are qualified to provide the required 35 contact hours. Join one of those boot camps today.
Submit your application on PMI website
If you signup for one of the training courses from PMTI, you can ise the application preparation tool to draft your application. PMTI also reviews your PBA application, and recommends any changes. Once you are satidfied with the draft application, you may want to submit the application on PMI web site - www.pmi.org. If your application is selected for audit, you will have 90 days to provide the required documentation. It takes about 5-7 days to complete the audit process once you send supporting documents to PMI.
Schedule the exam
Once your application has been reviewed and approved, you will receive an email from PMI that includes your eligibility ID, which is valid for one year. You will need this ID to schedule your exam. You need to pay the PBA exam fees to PMI in order to schedule the exam. If the candidate requires special accommodation due to a disability or impairments, you may request it. The exam is administred as a Computer Based Test (CBT), PMI offers center based inperson exams at PearsonVUE centers, and online exams from your own computer.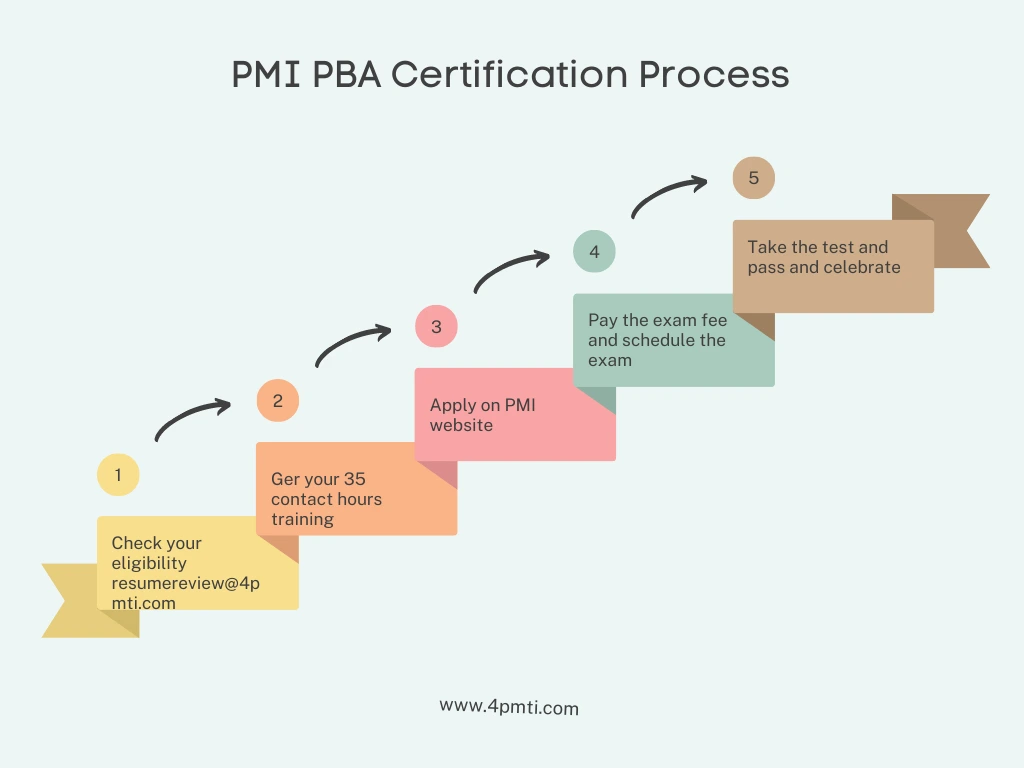 PBA Certification Cost
This certification exam will cost $405 for members and $555 for non-members of the PMI, including taxes. Those who fail the exam will have to retake it and pay the fee of $275 for members and $375 for non-members again. You can retake up to three times within one year, but with associated costs. It costs $149 for PMI membership (taxes may apply).
PBA Exam Content
The PBA exam consists of 150 multiple-choice questions to be completed in four hours. There are five domains covered in the exam, each with a different percentage of questions as follows:
Needs Analysis (18%)
- The ability to understand the needs of the business and determine how those needs can be met using problem and opportunity techniques. You will be asked questions on defining business problems and goals, understanding the business context, identifying stakeholders, developing a solution scope statement, and providing input to create a business case.
Planning (22%)
- The ability to develop a business analysis plan that considers the objectives, stakeholders, and success criteria. You will be asked to create a business analysis plan, identify risks and assumptions, develop a communication plan, and create a stakeholder engagement strategy.
Analysis (35%)
- The ability to analyze information and make recommendations using analytical tools and techniques. You will be asked questions on performing root cause analysis, business process modeling, requirements traceability, impact analysis, and gap analysis.
Traceability and Monitoring (15%)
- The ability to trace information from one element to another using various tracing techniques. You will be asked questions on creating a requirements traceability matrix and how to monitor and report on requirement status.
Evaluation (10%)
- The ability to evaluate the deployed solutions of a business analysis effort and make recommendations for improvements. You will be asked questions on how to conduct a post-implementation review and determine whether the solutions successfully met the business case and value proposition.
PBA Certification Maintenance
The PBA Certification is designed to ensure that PBA credential holders remain current in business analysis and continue to contribute to the profession. It is also important to note that your certification is valid for only three years from its date.
So to maintain the credential in good standing, certificate holders must earn and report 60 professional development units (PDUs) every three years. You can earn PDUs through various activities, including attending conferences, taking courses, and conducting training sessions.
PBA Certification Renewal
To renew your PBA credential, you must log in to the PMI website and complete the renewal process. You will be asked to provide information about your PDU activities and pay the renewal fee. Once your renewal is processed, you can download a certificate with your updated expiration date.
However, if you haven't completed your 60 PDUs within three years from the date your credential was issued, you will be given a one-year suspension period to earn the required PDUs. If you still haven't reached the required PDUs at the end of the suspension period, your credentials will be revoked, and you will need to restart the process.
Getting your professional business analyst certification can be a great way to improve your career prospects and earnings potential. Being the gold standard in business analysis, the PBA credential can help you command a higher salary, enjoy greater job satisfaction, and have a more global impact. Though the process of becoming certified may seem daunting, the benefits are definitely worth the investment.