Project Management Professional (PMP)® Renewal Package
PMP re-certification (renewal) requires 60 Professional Development Units (PDUs). The PDUs need to be a minimum of 8 PDUs in Technical domain, 8 PDUs in Leadership domain, and 8 PDUs in Strategic & Business Management domain. A maximum of 8 PDUs can be accrued working as a professional.
PMTI PMP renewal package includes two courses providing 53 PDUs and satisfies all the category PDUs as well as the minimum needed to recertify.
You will receive:
PMO Course with 45 PDUs as follows:
29 PDUs in Technical | 8 PDUs in Leadership | 8 PDUs in Strategic

OPM3 Course with 8 PDUs as follows:
2 PDUs in Technical | 4 PDUs in Leadership | 2 PDUs in Strategic
PMI awards 8 PDUs for working as a PM with PMP credential. This adds up to 61 PDUs needed to recertify. And, you satisfy minimum category PDU requirements as well. Both the courses are online and can be done at your time at your pace. These two courses are registered with PMI to satisfy all needed criteria to get approved for a recertification of 3 more years. Here are the links from PMI.

PMO Course: https://ccrs.pmi.org/search/course/270153
OPM Course: https://ccrs.pmi.org/search/course/263954
Pricing: $625
CREATING A BUSINESS UNIT PMO (45 PDUs)
This course is designed for middle and upper management who wish to advance their knowledge (the what and why) and understanding of the steps (the how, who, and whom) required for establishing a Project Management Office in an enterprise business unit for practical application in the marketplace. Ideally, course participants should have previously passed the Project Management Institute's (PMI) Project Management Professional (PMP), Program Management Professional (PgMP), Portfolio Management Professional (PfMP) or similar exam, and/or have had significant experience in running projects, and programs or portfolios.
This course incorporates our highly acclaimed adult accelerated learning techniques developed by Colin Rose. Unique & innovative learning experience combines online and self-study techniques. The course requires participants to complete an in-depth case-study and conduct several group surveys for project staff evaluation and project management maturity using dozens of templates and self-study tools presented as part of the course.
The course provides a total of 45 PDUs (29 Technical, 8 Leadership, and 8 Strategic)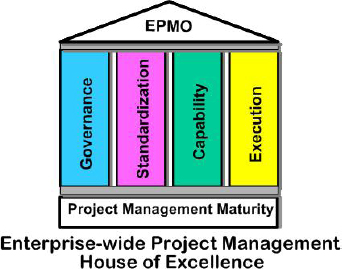 Course Audience:
The course is ideal for Executives, Functional Managers, Program Managers, and Project Managers.
What is a Project Management Office?
What is a Project Management Office?
PMI Definitions
The Growth of Project Management
Project Management Standards
Project Management Maturity
Piloting the PMO
Obtaining approval for the PMO
Obtaining a Champion
Defining the Purpose
Drafting a PMO concept proposal
Developing a communication plan
Obtaining executive support
Assessing organization knowledge and skills
PMO Organizational maturity path
Identify key concerns and issues
Evaluate project management processes

Conduct a change impact analysis
Obtain approval for designing the PMO
What is the PMO design process?
What is involved in designing the PMO?
Establishing PMO role requirements
Finalizing the PMO design documents
Set-up and start-up the PMO
Create the PMO documentation
Educating the organization
Preparing for PMO deployment
Holding a kick-off meeting
Developing a PMO Project Management Methodology
Developing an Education and training Program
Establishing the PMO Readiness Review

PMO Course Modules:
1. Introduction
2. Background
3. Pilot the PMO
4. Phase One: Obtaining Approval for a PMO
5. Phase Two: Assess the Organization
6. Phase Three: Document the PMO Design
7. Phase Four: Implement the PMO Plan
8. Initiating PMO Deployment


9. Planning PMO Deployment
10. Education and Training Planning
11. Ready-Set-Go
12. Executing PMO Deployment
13. Minimum PMO Processes
14. PMO Maturity
15. PMO Research Study Results Links
16. Course Exercises


Course Exercises:
1. PMO Case Study survey
2. Project Staff Evaluation survey
3. Project Management Maturity survey
ORGANIZATIONAL PROJECT MANAGEMENT MATURITY (8 PDUs)
This course is designed for executives who are involved in organizational maturity and improvement decision-making.
The course provides a total of 8 PDUs (2 Technical, 4 Leadership, and 2 Strategic)
Course Contents:
Approximately 60% of the course is based on PMI's OPM3 Executive Overview and OPM3 Overview Guide. Additionally, our instructors, Tom Keuten, PMP and Yad Senapathy, PMP who hold coveted positions and are both sought after in the OPM3 and training fields, have incorporated their personal knowledge and experience into this course.
1. What is OPM3?
2. Benefits of OPM3?
3. Tools & Products available for OPM3
4. Is it right for your organization
5. Levels of OPM3 assessment
6. CMMI Vs. OPM3